Legendary Marketer Review: Everything You Need to Know (2023)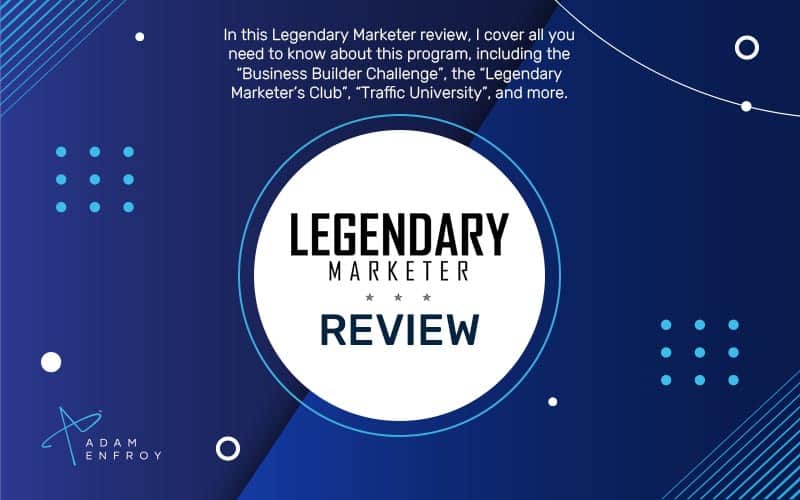 Legendary Marketer is a marketing training program created by David Sharpe to help you start your freelance digital marketing business or grow your existing business.
Sharpe is a digital marketing wizard credited for establishing three multi-million dollar companies from scratch.
The internet marketing program comes with online courses and one-on-one coaching to eBooks, live events, and social media strategies.
They guide and train you through everything you need to start your own successful online business.
You'll also get access to Sharpe's high-ticket business templates, scripts, and funnels.
Legendary Marketer training covers areas like:
High-ticket business model (Newbie Friendly).
Reasons why low-ticket business models are not working out.
Digital product business blueprint.
Affiliate marketing business blueprint.
Building sales funnels and email sequences.
Advertising on sites like Youtube, Instagram, Twitter, and Facebook.
Tips for identifying your niche and enhancing your pitch.
The online marketing training aims to improve the lives of entrepreneurs looking to create more time in their lives, get better with marketing their business online, and have the freedom to travel and retire early.
In their own words, their aim is: "To help people start an online business or grow an existing business using online and cutting edge marketing strategies."
Who is Legendary Marketer For?
The Legendary Marketer program is geared toward beginners with little experience with online marketing, but even those with some marketing background will find value in this training program.
For example, they market their 15-day online business builder "for anyone who wants to start an online business but doesn't know where to begin."
The 15 Day Online Business Builder Challenge is an action-oriented amalgamation of training videos and assignments to help you start a profitable online business.
Is Legendary Marketer Legit Or a Scam?
When joining any program, it's key to ask the right questions.
Whether you're investigating if an affiliate marketing company is legit or you want to know more about the track record of a specific agency, questions are bound to arise.
If you wish to join Legendary Marketer, there are some questions you might ask:
Are the testimonials real?
Is the company's track record legit?
Let's tackle the elephant in the room. This program is not a scam nor a pyramid scheme vying to make money through referrals and fake promises.
And there are enough reviews online and YouTube tutorials from Legendary Marketer students to affirm its legitimacy.
The program also has live one-on-one sessions (along with training materials and coaching) to help online business owners build their business from scratch.
Just like any other online, or offline for that matter, course – you'll have to put in hard work, otherwise you probably won't see desired results.
In fact, their "Income Disclaimer" page explicitly states: "This is not a get rich quick program nor do we believe in overnight success. We believe in hard work, integrity and developing your skills if you want to earn more financially."
Legendary Marketer Products.
Here's the medley of products you'll get with the Legendary Marketer program.
1. The 15-Day Online Business Builder Challenge.
The 15-day online business builder challenge is jam-packed with training videos and planned assignments.
The aim is to help users start their online business and start earning in 15 days.
You'll also get mentored by a personal Business Plan Advisor who will help you develop your business plan.
Each day of the 15-day challenge comes with new lessons, including:
The #1 Secret To Starting and Scaling A High-Ticket Business.
The "Core 4" High-Ticket Business Models.
Watch David Sharpe Build A Business In Under 30 Minutes.
How To Master The Inner-Game of Wealth.
Developing Your Business Plan!
You Got Questions, and They Got Answers!
When to Quit Job To Build Your Business Full-Time?
What Are High-Income Skills and Why Do You Need Them?
High-Income Skill #1 – Lead Generation.
High-Income Skill #2 – Copywriting.
High-Income Skill #3 – Sales and Presenting.
What, When, and Where To Outsource.
Using "OPM" To Build Your Business.
4 Ways To Avoid "Wantrepreneur Syndrome."
Your First Sale and Your Success Journey.
Once you enroll in the program, you'll also get seven high-ticket products as bonuses:
Bonus #1: A customized high-ticket business plan.
Bonus #2: FB ads templates.
Bonus #3: High-ticket email templates.
Bonus #4: High-ticket video scripts.
Bonus #5: High-ticket phone scripts.
Bonus #6: Personal 1-on-1 business plan consultation with an advisor from their team.
Bonus #7: A copy of David Sharpe's top converting high-ticket affiliate marketing funnel.
However, many of these bonuses are only available after the 15-day challenge ends.
You'll also get bombarded with some pricey upsells in between. For instance, they'll offer the Business Blueprint Bundle that costs $2,500 for extra assistance to develop a business plan.
Pricing: The builder challenge, along with all the seven bonuses, will cost you USD 7.
Legendary Marketer also gives you a 30-day money-back guarantee.
It's up to you whether you want to stick to the business plan developed in the "15-day online business builder challenge" or not.
If you don't wish to continue with the proposed business plan, they will return your money.
2. Legendary Marketer's Club.
Legendary Marketers Club is their flagship club (also called the Netflix of marketing training) that helps you learn marketing and grow your business with training and education resources by top online marketers like Nathan Lucas, Kevin Harrington, and David Sharpe.
Here's everything you'll get with this product:
Journey to 250,000 YouTube subscribers.
Sales secrets from the 5-Billion dollar man.
Real-time feedback every week on live Q&A webinars from marketing stalwarts.
Image Credit: Davidsandyofficial.com
Pricing: This flagship program costs you USD 30/month.
3. Traffic University.
Traffic University (earlier part of the Traffic Rolodex bundle) is a social media marketing program that shows you how to market your business on major digital platforms like Youtube, Google, Instagram, Facebook, and Twitter.
This program consists of nine different courses that teach you how to generate the maximum number of leads from Social Media Marketing and via paid traffic.
The courses inside the program include:
AdWords Ads.
Facebook Ads.
Google Display Network (GDN).
Instagram Ads.
Landing Pages.
Native Ads.
LinkedIn Ads.
Youtube Ads.
Twitter Ads.
These modules focus on acquiring new customers via advertising, retaining previous customers, and upselling to boost revenue.
Pricing: This program will cost you USD 1497 as a one-time payment.
4. Affiliate Marketing Business Blueprint.
If you want to jump the affiliate marketing bandwagon, this is the course for you.
The Affiliate Marketing Business Blueprint gives you a holistic overview of the entire affiliate marketing process, from setting up to filtering through countless products online to promoting the ones that align with you.
The course will also help you make your first sale and beyond.
It's an all-inclusive program that will appeal to novices and experts alike, with resources across the board that can help you make money at affiliate marketing.
You'll also get access to a step-by-step affiliate business template along with how to run ads. You can replicate that proven affiliate business model to scale your own business.
There are other bonuses as well, including live events and webinars that give you the opportunity to meet other entrepreneurs.
Pricing: This program costs you $2,500 as a one-time payment.
5. Digital Products Business Blueprint.
If you wish to start a business selling digital information products, there are some specific things you need to focus on.
You'll have to create a sales machine that converts visitors and customers into paying customers.
Aside from acquiring paying customers, it will teach you how to channel your passion into digital content – audio, video, and textual content alike.
You'll also learn how to plan your curriculum and finally deliver the product.
Pricing: The Digital Marketing Business Blueprint costs a $2,500 one-time payment.
6. Coaching and Consulting Business Blueprint.
You can take the coaching route if you don't want to become an affiliate marketer or sell a digital product.
The Coaching and Consulting Business Blueprint shows you how to turn your skills and passion into a service-based business.
Coaching or consulting-based business allows you to generate revenue via subscription-based or one-time payment models.
This program will help you set up all of that and more.
The blueprint will teach you how to identify your niche, create your offer, clarify your pitch, deliver your services – and finally, scale your business to generate maximum profit.
Pricing: $2,500 one-time payment.
7. Events and Masterminds Business Blueprint.
If you want to become a business benefiting your customers rather than simply making a living, you may want to consider event hosting.
And that's where this business blueprint helps.
Legendary Marketer's events and masterminds business blueprint will help you plan and host live events.
You'll also learn:
How to save on costs?
Where to host your events?
Whom to hire?
How to become a talented facilitator?
Pricing: $2,500 one-time payment.
8. Private Client Coaching Program With Dave Sharpe.
This program is similar to the Legendary Mastermind Private Client coaching program, but here you get monthly assistance directly from Dave Sharpe and another small group.
Dave's private coaching program is a great way for new marketers and entrepreneurs to pick up some of the skills, techniques, and methodology that Dave has developed over the years.
Plus, you will get access to Dave's Blueprint Program and the Legendary Marketer Mastermind program.
Pricing: This Private Client coaching programs start at $2,500.
Legendary Marketer Affiliate Program.
If you're an established blogger with a following that appreciates your content and want to promote Legendary Marketer, you can earn commissions by promoting the training program.
They also claim that they've paid out over $150-million in commissions to their affiliates within the past ten years.
You can choose how you'd like to partner with them:
Basic Affiliate Account – free plan with 10%-30% commission.
PRO Affiliate Account – $29.95 per month with 30%-60% commission along with advanced features and training.
Legendary Marketer Low-ticket Products.
Aside from high-end products, video training, online events, and blueprints, Legendary Marketer offers a bunch of low-ticket products for marketing novices.
Take the Copywriter's Playbook ($1), for instance:
The copywriting course comes powered with an eBook and notes to help you improve your copywriting chops.
Then they have a 90-pages long Insider's Guide to Affiliate Marketing Ebook that costs $1.99 (one-time fees). The Ebook uncovers marketing tips and tricks – coming straight from Sharpe's experience in the marketing business.
Then you have other bonuses, such as access to a Facebook Group with over 20,000 members and free one-on-one consultation.
They also have a program to help you generate leads on TikTok, called the "15 Second Free Leads ($1)" course. David will walk you through his journey of garnering 800k and more views on TikTok.
Pros

Cons

Low starting price and a flexible refund policy.
Get assistance from a personal business coach.
Win ClickFunnels commissions while promoting Legendary Marketer.

You'll get bombarded with tons of upsells.
You might get MLM (multi-level marketing company) vibes from the course.
You have to pay monthly to get accepted into the affiliate program and earn affiliate commissions.
Executive Summary.
To conclude this Legendary Marketer Review, it's viable for both current and aspiring marketing management professionals.
It's also suitable for aspiring and new business owners, wishing to make money online or generate a passive income.
It can become a go-to resource for information on businesses and trends in the industry, as it offers multiple courses for different needs.
However, it's not a get-rich-quick scheme, and the training (and results) come from the hard work required on your part.
As long as you're willing to go with the training, the program and support provided by Legendary Marketer are more than adequate.
Get started with Legendary Marketer.
Disclosure: I may receive affiliate compensation for some of the links below at no cost to you if you decide to purchase a paid plan. You can read our affiliate disclosure in our privacy policy. This site is not intending to provide financial advice. This is for entertainment only.