Social Media Marketing 101: Learn What It is + History of Social Media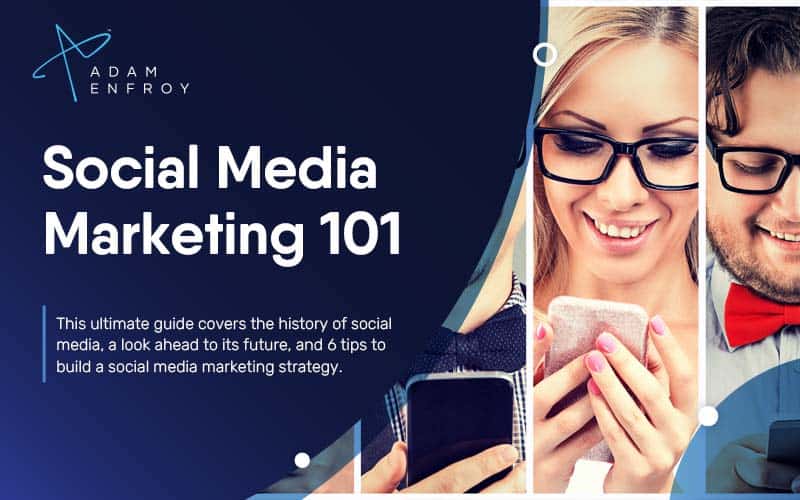 With the recent popularity of The Social Dilemma and over three billion social media users worldwide, it's clear that social media is shaping our society.
If you're anything like over half of the world's population, chances are you're on at least one social media platform.
But what does this mean for business owners and marketers?
For starters, it means it's time to hone in on your social media marketing strategy. But in today's ever-changing society, that's easier said than done.
With loads of social networks to choose from, you may be wondering which social platforms to focus your marketing efforts on or the types of content you should be sharing with your audience.
It's a competitive landscape and marketers are vying to capture the attention of users across the globe.
To have a chance at standing out from the noise, you have to be strategic and forward-thinking when it comes to crafting your social media marketing strategy.
But before we dive into the best social media marketing strategies, let's start with the basics of what social media marketing is and how it has evolved over the past decade or so.
What is Social Media Marketing?
Social media marketing is the use of social platforms (such as Facebook or Instagram) to promote your products or services.
With the average person spending an average of 2.5 hours on social media applications and 54% of social browsers using social media to research products. It's a no-brainer that it's one piece of the marketing puzzle that should not be ignored.
Social media marketing can be used to achieve many objectives from increased brand awareness and web traffic to simply engaging with your customers (and prospective customers) in a meaningful way.
All of which can also result in higher conversions and more sales, making it a win-win for your efforts.
The caveat? No two platforms are the same, meaning that each will need its own unique strategy in order to be successful.
Take Pinterest for example, an image-heavy search engine platform: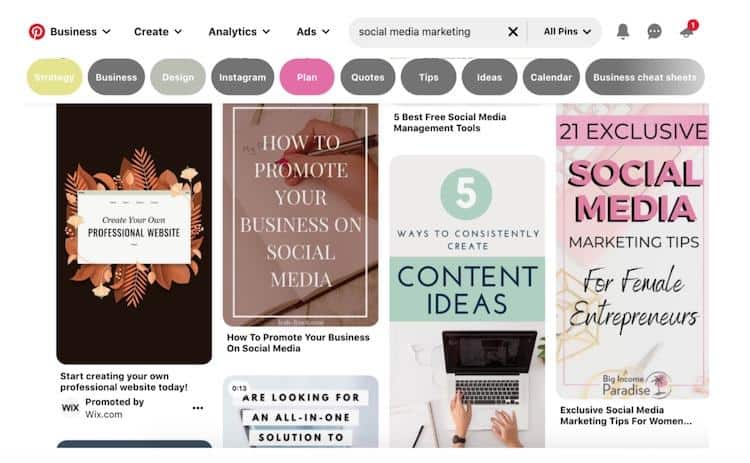 Obviously, the content you share on Pinterest isn't going to work for YouTube, a video dominant platform.
The plus side? It's likely you won't need to be on every single platform in order to be efficient with meeting your social media marketing goals.
Later, we'll cover the different types of social media marketing and an overview of the main platforms used today, as well as tips to build your social media strategy.
But first, let's take a quick tour of the history of social media marketing and how it has evolved over the years.
History of Social Media Marketing
Did you know that Myspace was actually not the first social media platform to exist?
Believe it or not, social media networks date back to the 1990s, with Six Degrees actually being the first to set the stage.
Let's take a look at where it all began and how social media has evolved since its inception.
1997: Six Degrees
In 1997, the first known social media site, Six Degrees, was born. In a nutshell, this social media site allowed users to upload photos and connect with others the way many social platforms do today.
As you'll see below, their slogan was "you're only six degrees away from everyone…" (hence the name, six degrees).
Members of Six Degrees were able to send each other messages, as well as share bulletin board posts with one another up to the third-degree connections.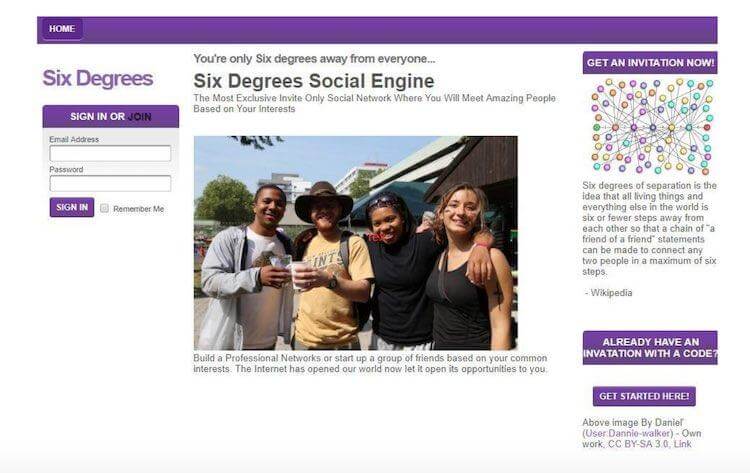 If you're wondering about the fate of this platform, it ended up selling for a whopping $125 million in 2000 and shut down shortly after in 2001.
Not all hope was lost, though, as it was brought back just a few years later.
1999: LiveJournal
The next social media platform to enter the world wide web was LiveJournal in 1999, a cross between a social media and blogging platform that encouraged users to share their life stories, as well as exchange advice and ideas.
By many, LiveJournal was viewed as a digital diary or journal, except with a social aspect that allowed its users to follow and interact with one another.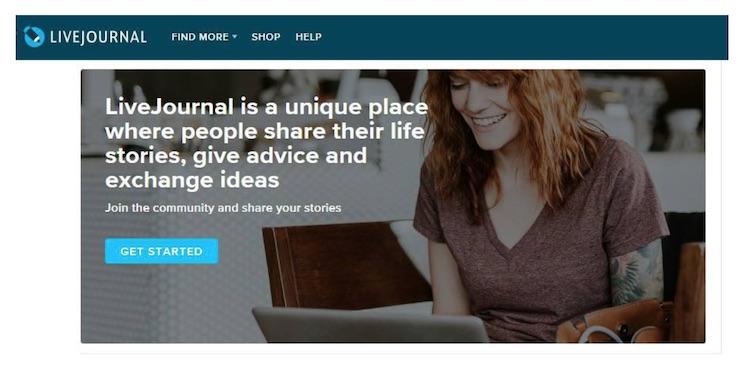 However, the rise and fall of LiveJournal is a bit of a complex story. In 2005, it was bought by a company called Six Apart, which then sold the platform to Russian-based media company, SUP Media in 2007.
From there, things got a little tricky for the majority of Russian activists and journalists the platform attracted during a time of government censorship, which you can read more about here.
2002: Friendster
Considered as one of the earliest social platforms and adopters, Friendster came about in 2002 and quickly rose in popularity.
Within just the first few months, the platform had gained three million users!
This platform was created as a typical social networking site, with additional features for dating and discovering events, bands, and more.
Despite its popularity, Friendster ultimately was unable to scale and keep up with the rising demand, resulting in its eventual fall in 2015.
2003: Myspace and LinkedIn emerge
2003 was a big year, giving birth to both Myspace and LinkedIn.
Myspace was founded thanks to inspiration from social media platform Friendster and the potential a few users saw in various social networking features.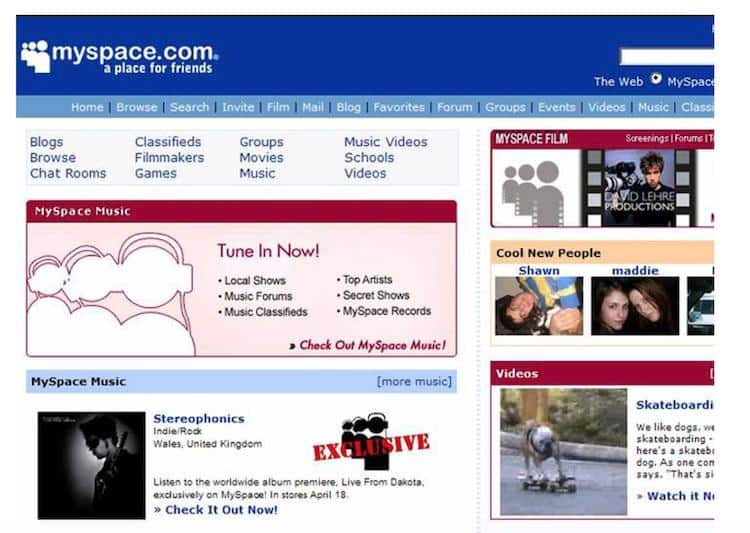 It wasn't long after that Myspace was born with even more features and room for customizability, allowing users to customize the look and feel of their profiles and pages.
It's no secret that Myspace held the position of the largest social networking site in the world from 2005-2008 with over 100 million monthly users.
However, in 2008, Myspace quickly began to fall due to its rival, Facebook and eventually shifted its focus to target exclusively musicians and creators as a way to promote themselves.
Another entrant into the social networking scene in 2003 was LinkedIn, a business-oriented platform offering a new focus for social media users.
That focus was on building professional relationships and aiding users in their job searches.
It's rather obvious how LinkedIn differs from other platforms such as Myspace or LinkedIn, but in case you weren't aware of what the platform offers.
Users are able to create profiles that resemble a resume, with the ability to add their work experience, education history, skills (as well as being endorsed for those skills by their connections), and even references / recommendations.
Connect with other users up to the third degree and expand your network, which can then be used for introductions and other networking opportunities.
Search for and apply to jobs using the 'jobs' feature of the platform, as well as see unique insights about the job and company with a LinkedIn premium subscription.
And that's just the tip of the iceberg. Still going strong, this platform boasts over 700 million members today.
2004: Facebook
It's highly likely that if you're reading this, you have a Facebook profile or page of your own.
Launched by Mark Zuckerberg in 2004, Facebook was known for quickly overtaking its rival Myspace, who was first in the game.
When it first rolled out, Facebook was limited to just Harvard students, and eventually other Boston area universities and Ivy League schools, before eventually becoming available to the rest of the world.
Facebook was quick to become the largest social media platform in the world, reaching over one billion users in 2012.
Today, Facebook is still going strong with over 2.7 billion active users and is one of the most visited sites on the web.
2005: YouTube
Founded by three Paypal employees, YouTube was created as a platform for users to upload, share, and watch video content.
YouTube was the first platform of its kind with a focus on video content and streaming, which makes it no surprise that it reached two million daily viewers just six months after its launch.

Today, YouTube has over two billion users worldwide and with video content becoming more and more in demand, it shows no signs of slowing down anytime soon.
2006: Twitter
2006 was the year that Twitter was launched, a platform considered to be a cross between microblogging and social networking.
The main concept of Twitter was to be able to communicate shorter messages or "tweets", which aren't meant to exceed 140 characters in length.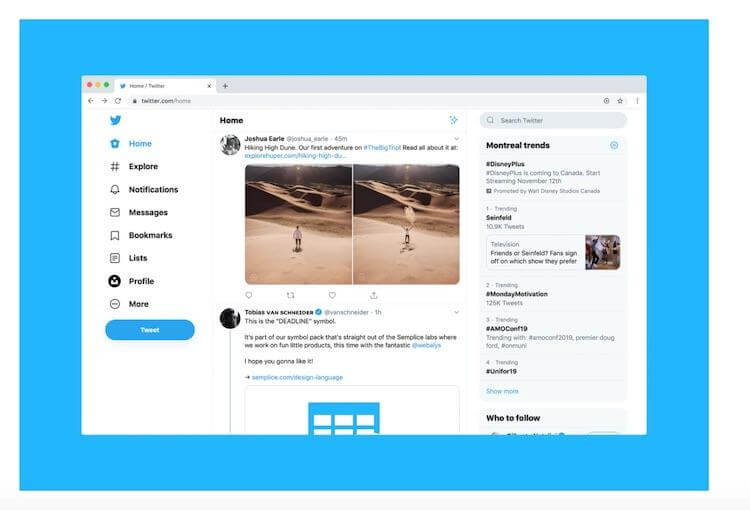 Today, the platform reaches over 330 million active users worldwide and its purpose ranges from everyday users sharing quick updates to being able to interact with celebrities.
Business owners and marketers also took notice as a way to promote their brand, and the platform has even acted as a staple communication platform in electoral campaigns.
2010: Instagram
Known as one of the biggest social media platforms in the world (and eventually was acquired by other social media giant, Facebook), Instagram entered the world in 2010 and took the world by storm.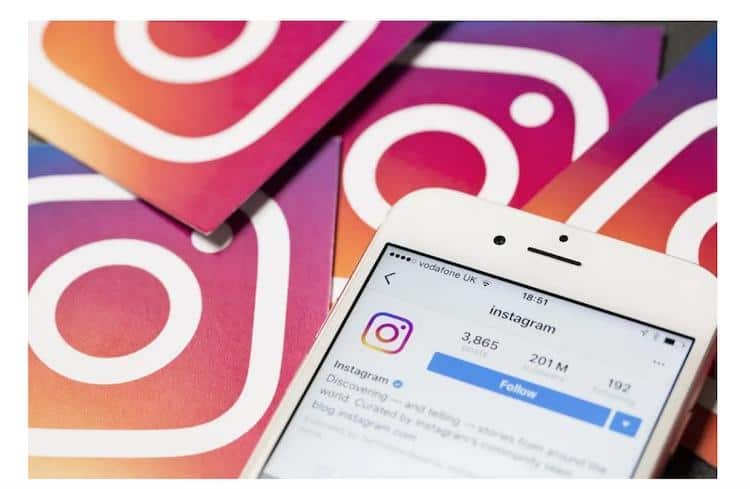 Instagram was quick to stand out as the first photo and video sharing social media platform of its kind, encouraging its users to snap photos directly from the app and share with their followers.
Today, Instagram has over one billion monthly users, and 500 million of which are using their newly popular "stories" feature every day.
2011: Snapchat
A year after Instagram's launch, Snapchat, the application known for sending disappearing photos and videos, was founded.
Essentially, Snapchat can be considered a cross between a messaging application and a social platform.
Snapchat became unique for its ability to let users send photos, videos, or text messages that disappear after a set number of seconds and quickly grew in popularity.
Along with that, Snapchat also possesses other social features such as stories, press and media discovery, advertising campaigns, and more.
Today, Snapchat has over 229 million active daily users worldwide, with over 63% of users reporting to use the app every day.
2016: TikTok
In September 2016 in Beijing, a Chinese multinational company named ByteDance launched an app called A.me, which was later renamed to Douyin. The app was built to create short looping, 3 to 60-second clips that included music, lip-sync, comedy, and dance videos.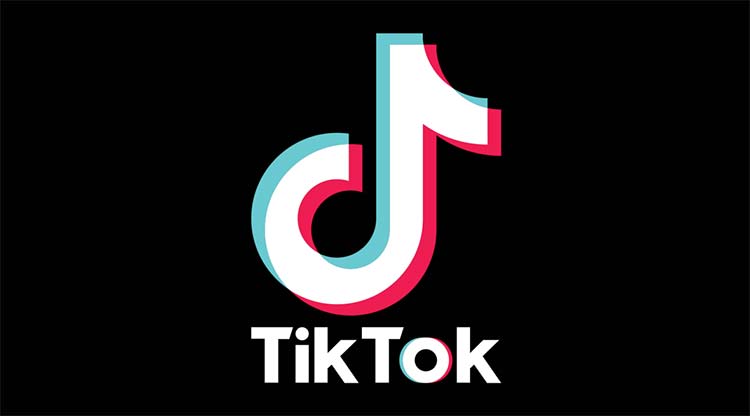 The founder of ByteDance, Zhang Yiming, was concerned with only being present in the Chinese market and stated:
"China is home to only one-fifth of Internet users globally. If we don't expand on a global scale, we are bound to lose to peers eyeing the four-fifths. So, going global is a must."
Within a year, Douyin had 100 million active users. In September 2017, TikTok entered the international market, and by 2018, it had gone global.
Today, TikTok has been downloaded over 2 billion times and has 700 million active users.
TikTok has grown exponentially and is now a legit player in the social media marketing space. Here is my guide teaching you how to make money on TikTok.
History of Social Media Marketing (SMM) Summary
Now that we've touched on the history of social media from the first platform created in 1997 up until where we are today.
Let's dive into social media marketing, starting with the two different types of SMM and how they differ from one another.
Types of Social Media Marketing
When it comes to social media marketing, there are often two approaches marketers use (or a mix of both in an ideal world):
1. Organic social media marketing
An organic social media strategy is one that tends to focus on non-paid avenues of reaching the target audience.
For example, when you share content to Facebook or Instagram and it shows up on your audience's newsfeed, that would be an example of organic reach as you didn't pay for that exposure.
It's organic.
Typically, organic social media strategies tend to focus on increasing brand awareness, as well as engaging and nurturing an audience.
Using my brand as an example, let's say that after discovering my blog, you decide to follow my Facebook page and maybe even join my free Blogpreneurs Facebook group because you are an aspiring blogger.
As a result, you may see my latest updates in your newsfeed or notifications tab whenever I share a new post.
Therefore keeping me at the forefront of your mind (and your notifications).
As any content marketer knows, the goal of every piece of content isn't always going to be for more conversions.
Sometimes you just want to engage your audience and nurture them over time, so that when you launch your next offer, they will be hot and ready to buy.
That's the beauty of an organic social strategy combined with content marketing.
Next, let's touch on paid social media strategies and how they differ from an organic approach.
2. Paid social media marketing
In short, paid social media marketing or pay-per-click (PPC) is when you pay a platform such as Facebook or Instagram to display your advertisements to its users:
However, to ensure you're getting the best return on your ad spend, your ads won't just be shown to any users.
Generally, social media ads will be shown to a group of users based on a set of target demographics or lookalike audiences: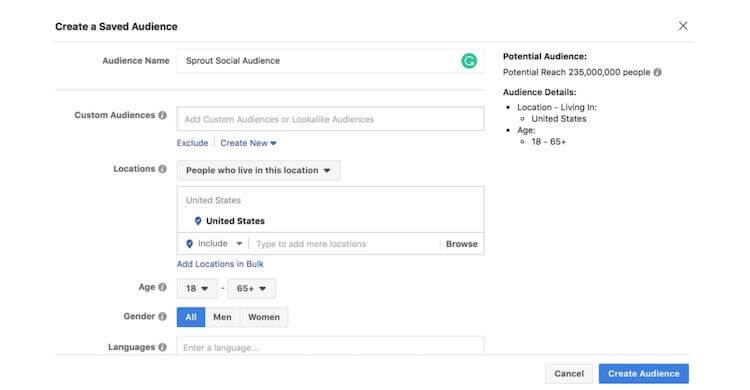 Essentially, paid ads allow you to reach new users that may not already be familiar with your brand — hence, why you pay for this new exposure.
Paid ads can be displayed in various formats depending on the platform, ranging from text or image, to carousel (great for e-commerce), and even video or story ads.
In the early days, an image or text ad was enough to convert a browser into a buyer.
But now? With video content slowly taking over and over 500 million daily users active on Instagram stories, times are changing and marketers must get creative in their approach.
Other forms of paid social media marketing
If you thought paid ads were the only form of paid social media marketing, think again.
Influencer marketing is quickly taking the world by storm and is an industry expected to grow to $9.7 billion in 2020.
In a nutshell, influencer marketing is a collaboration between a brand and an influencer with the goal of increased brand recognition or conversions from a specific audience.
If you weren't already in the know, an influencer or thought leader is someone who has a decent sized following in a particular niche and is seen as an authority figure in that space.
For example, through my personal brand and this blog, I'm viewed as a marketing influencer and am often contacted by SaaS companies looking to collaborate as I am often writing posts such as this one on the best website builders: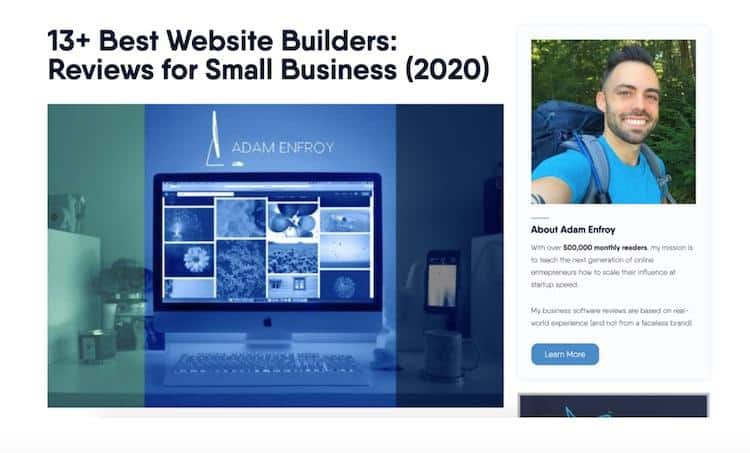 Through my SaaS software reviews on this blog, I generate hundreds of thousands of dollars in sales per month for these companies via their affiliate programs.
It's no secret that influencers are known for their ability to affect the purchasing decisions of their followers due to their authority or expertise in their niche.
Which is a big reason why 65% of influencer marketing budgets are reported to increase in 2020.
But before you start blindly throwing funds towards an influencer campaign, it's important to set goals and metrics like any other paid (or non-paid) campaign.
Measuring the ROI on influencer marketing campaigns
Depending on whether the objective of the influencer marketing campaign is on increased brand awareness or conversions, influencers are measured on a set of key performance indicators (KPIs).
When searching for an influencer to help you achieve increased brand awareness, for example, you might measure influencers based on the following metrics:
Social reach: the number of followers, subscribers, or impressions the influencer has.
Engagement: the number of likes, comments, shares, and mentions their content receives.
Press and media: any press, media mentions, or website traffic to their site.
Again, using myself as an example, a brand may reach out to me to collaborate after seeing that I have an engaged audience of over 500k monthly readers, 35K email subscribers, and media features in Forbes, Entrepreneur, and Business Insider.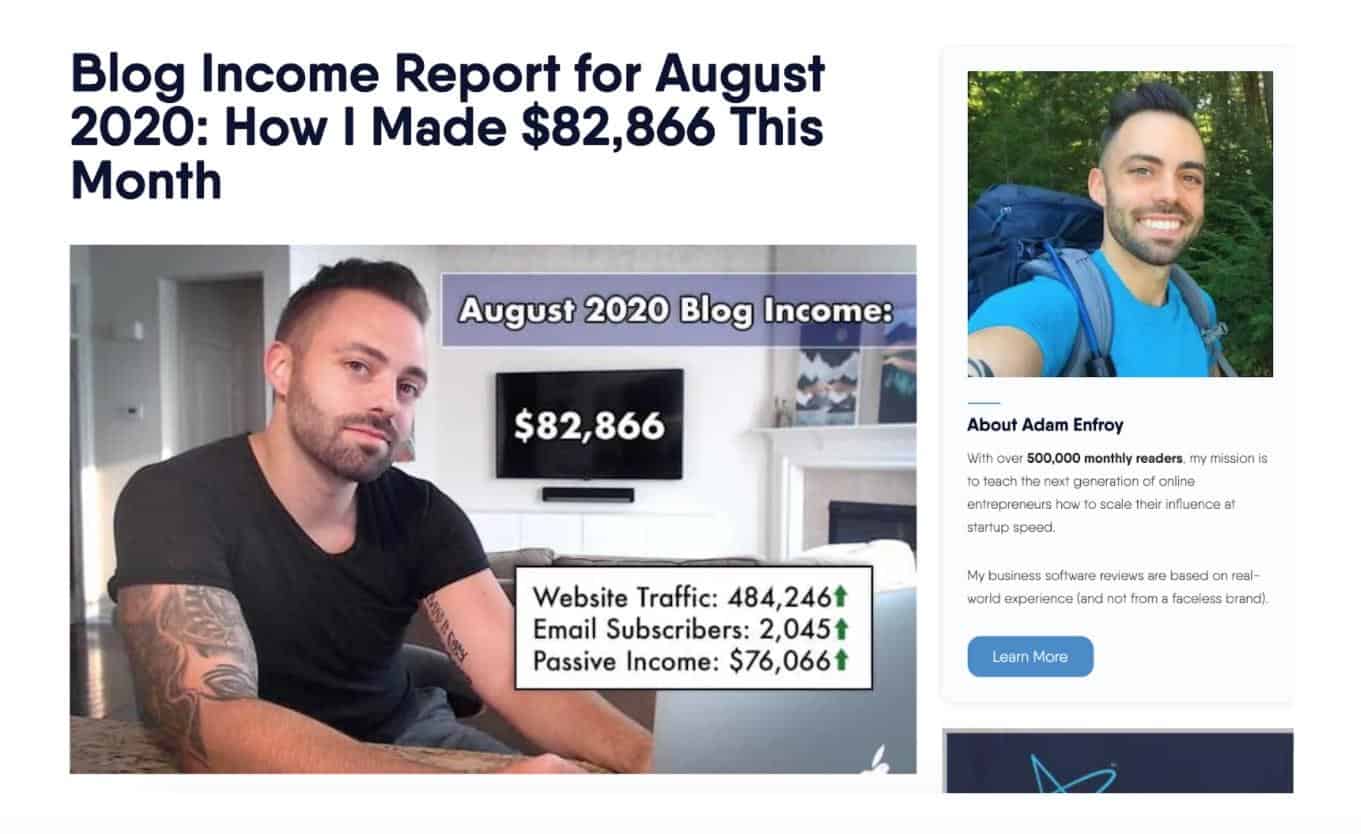 However, if your goals with an influencer marketing campaign are direct response and conversion-focused, these metrics will look a bit different.
Let's say you collaborate with an influencer to create a series of sponsored posts on Instagram, with the caption containing a direct call-to-action.
In this scenario, the influencer would be asking users to take a specific action in response to the campaign, ultimately resulting in a sale or conversion:
As you can see in the example above, the influencer entices her audience with a discount code, encouraging them to make a purchase from the aforementioned brand.
Hopefully you've come to realize that there's no one size fits all when it comes to paid social media campaigns or influencer marketing.
Now, let's recap some of the benefits of paid social media advertising.
Benefits of incorporating paid social into your social media marketing plan:
Amplify your reach and visibility through paid social ads and influencer marketing to reach new audiences and potential customers.
Improve your targeting with demographic targeting and lookalike audiences to avoid draining funds by targeting the wrong audience.
Heightened brand awareness by achieving maximum exposure. Brand awareness or recognition directly leads to increased credibility and therefore, conversions.
Options to fit every budget whether using paid ads or running an influencer marketing campaign.
Now that we've covered the different types of social media marketing and the differences between organic and paid channels, let's discuss the different social media channels at our disposal.
7 Social Media Platforms to Use in Your Marketing Strategy
When selecting a social media platform to use in your marketing strategy, part of the decision will depend on whether you're a B2B (business-to-business) or a B2C (business-to-consumer) brand.
As well as the customers you are targeting and which platforms those users are most active and engaged.
Let's go ahead and dive into the seven most popular social media platforms and how you might use each depending on your business and goals.
Facebook
The king of social media platforms, Facebook is a staple in your digital marketing toolbox for everyone from small businesses to retail giants and e-commerce stores.
Because Facebook has over two billion users, it can be an effective platform to drive traffic in both B2B and B2C industries.
Your first step in successfully using Facebook in your social media strategy is to start by creating a Facebook business page:
Once you have an official Facebook business page, the options are unlimited from inbound or organic Facebook strategies to Facebook ads and retargeting.
The type of content you post on the platform will largely depend on the above, as well as your strategy which we will discuss more later.
Once you've set up your Facebook business page, you'll have a variety of marketing tools at your disposal from a single dashboard: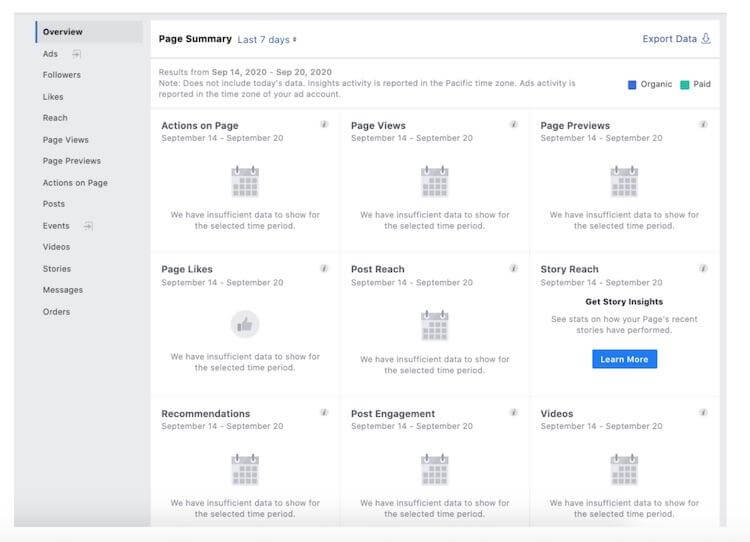 These analytics tools will be especially helpful when sharing content, so you can get insights on the types of content that resonates with your audience the most.
Organic Facebook content can be useful to keep your audience engaged and nurture them over time while slowly building trust and authority in your niche.
Facebook Ads
There was once a time when organic reach was high and one could crush it on Facebook without having to rely solely on Facebook ads.
However, times have changed and competition is ever-increasing and in order to get visible…
Facebook ads are going to play a key part of most social media marketing strategies. These days, brands are having to pay to be shown in their audience's news feeds.
On the plus side, running Facebook ads tends to be tied directly to conversion goals and are generally more responsible for an increase in sales than an organic Facebook post.
To get started with Facebook ads, you can create a campaign from your dashboard based on your goal: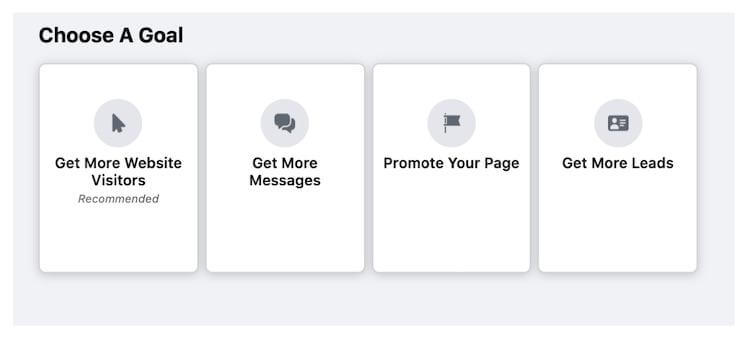 After selecting the goal for your campaign, you'll get into more advanced targeting options where you can target users based on:
Gender
Age
Location
Interests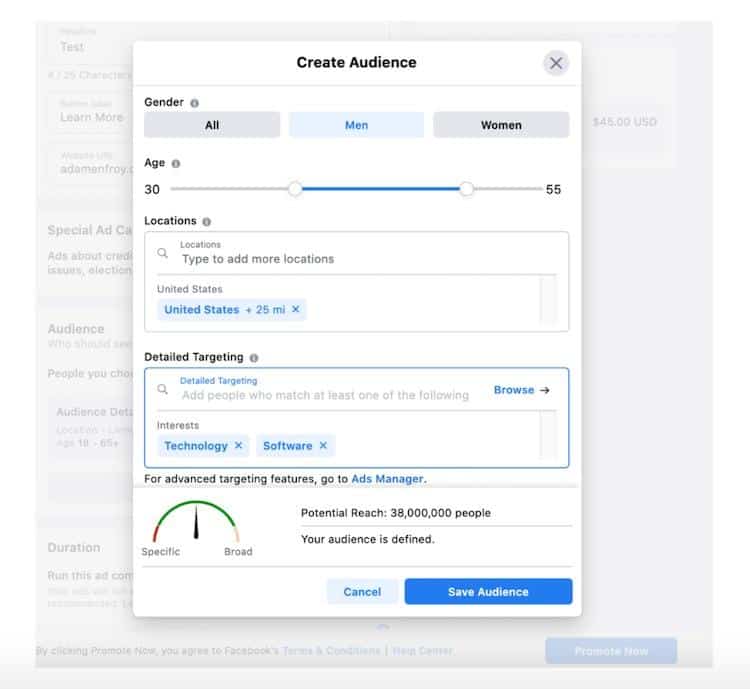 As you can see above, you can be as niche or as broad as you want with your targeting.
However, generally speaking, the more specific you are, the better chances you have at reaching the right target audience.
After honing in on the target demographics for your Facebook ad campaign, you'll be able to enter your budget per day as well as receive estimated results based on the data entered:
Overall, Facebook is still the king of social media and has powerful advertising capabilities for brands looking to achieve direct response goals.
Instagram
With over one billion active users, Instagram is yet another platform of choice when it comes to social media marketing.
In fact, Instagram ad spend is 23% higher than Facebook's and for good reason.
Not to mention, it still has great organic reach thanks to the use of hashtags and the discovery tab:
Instagram does particularly well for brands targeting B2C markets, and is especially a popular choice amongst e-commerce marketers.
With over 90% of Instagram users following at least one business on the platform and average daily use times reaching 53 minutes per day, it's a no brainer that brands should also be active on the platform.
The first step in getting started with Instagram marketing is to create an Instagram account and set it up as a business profile:
Once you've set up your business profile, you'll have access to various built-in analytics tools to track and measure your account's growth and engagement.
For example, you can have a lot of success on the platform just by incorporating targeted hashtags and by posting at the right times.
However, it's important not to leave this up to guess work.
Once your Instagram account has built up a small following, the platform itself will tell you the best times to post based on the days and times your audience is most engaged.
Inside your Instagram business profile's insights, you will also have access to your audience demographics such as their age, gender, and location:
All of this data will prove incredibly useful when creating and optimizing your Instagram marketing strategy.
If you're worried about the time involved in managing your social channels and especially your Instagram account, there's also plenty of social media scheduling tools you can use to schedule your posts in advance and grow your Instagram followers.
Along with regular feed posts, there are multiple ways to advertise on Instagram including:
Instagram Stories
As Instagram continues to evolve, so do the features that users tend to focus on the most.
If you aren't familiar, Instagram stories are similar to Snapchat stories, in that they stay visible for 24 hours after posting (that is, unless you add them to a 'highlights' on your profile):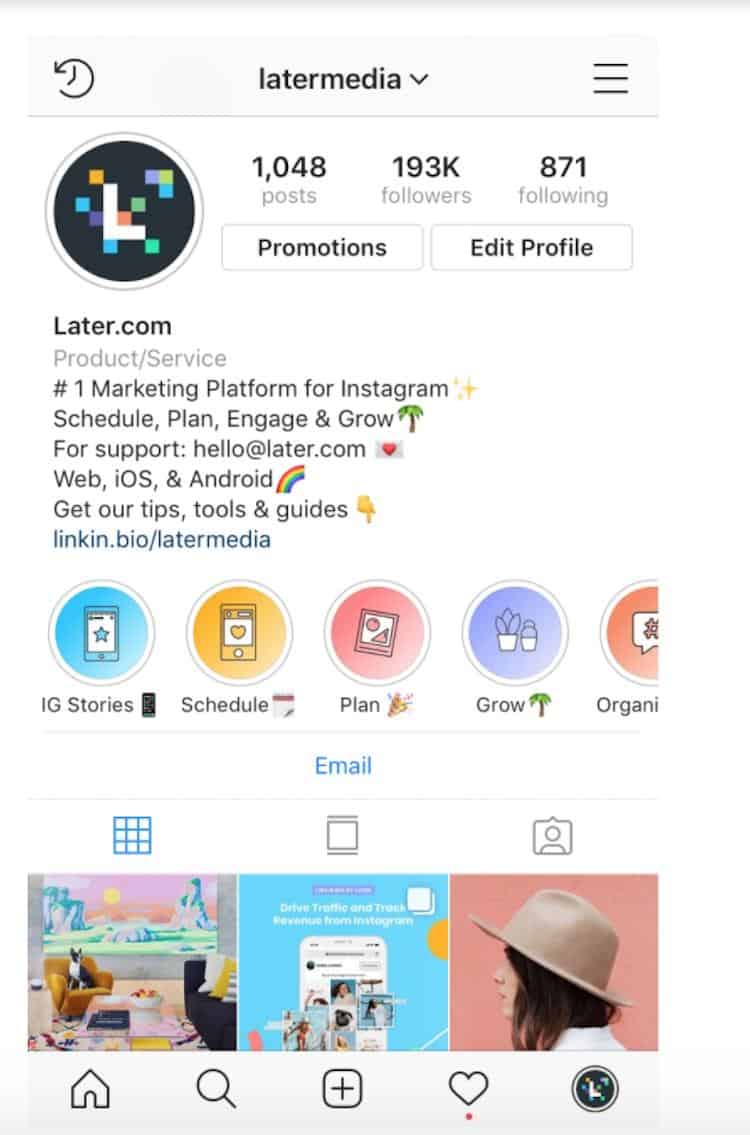 The main difference between Instagram story posts and feed posts are that stories appear in a slideshow format and tend to be more interactive than feed posts thanks to features such as live video, polls, Q&A, chat, gifs, and more.
Currently, Instagram stories has over 500 million daily users and is quickly outranking traditional feed content…
Which means brands are starting to take notice as it's a prime place for advertising on the platform to engage with users in real-time.
It's much easier to stay at the top of your target audience's mind when your story is lit up at the very top of their app, rather than having to rely on them scrolling down their feed to hopefully see your posts.
You can get creative with your stories by including direct calls-to-action for users to DM you, swipe up to sign up for your email list, and much more.
The options are truly endless with Instagram stories.
Instagram Ads
With an Instagram business account, you have the ability to create Instagram ads without having to do so through Facebook's platform (Facebook acquired Instagram in 2012).
However, you also have the ability to create Instagram ad campaigns from Facebook's ad manager as well, for those who prefer to work from a desktop.
With Instagram ads, you have several options to publish sponsored content ranging from:
Instagram Story Ads
Instagram story ads are a convenient way to casually interrupt your target audience's story viewing time and grab their attention.
That's because unlike traditional stories, users do not have to be following your account in order to see your story ad.
This is because Instagram, like Facebook, offers advanced targeting options when setting up an advertising campaign:
As a marketer, you will get the most bang for your marketing bucks by being as clear as possible on the audience you're targeting so keep that in mind when creating ad campaigns.
Once the campaign is live, users will see your story ad while browsing the stories on their feed, making it appear natural.
However, the difference between regular stories and story ads is that story ads do not disappear after 24 hours.
Instead, you can determine the length of the campaign and how often users see it.
Instagram Carousel Ads
Next up on stage is carousel ads, which have become popular on both Instagram and Facebook as of late.
In case you aren't familiar, carousel ads are unique in that they combine multiple images or videos into a single ad:
This type of ad is known to have a 72% higher click-through rate compared to traditional ads.
As you can see above, carousel ads are a great way to display multiple images with a touch of interactivity, which is great for boosting sales and conversions.
Instagram Photo Ads
Photo ads on Instagram are known as the "standard" or typical way of displaying ads on the platform:
Whenever a user is scrolling through their feed and stumbles across a sponsored post that looks like any other post (aside from having the words "Sponsored" above it), that is an Instagram photo ad.
You've likely seen dozens of these without even realizing it while browsing the platform.
Instagram Video Ads
There's a reason that video gets over 20% more interactions compared to traditional photo ads.
In this day and age, if you want to stand out from the noise, you're going to have to start producing video content.
Video ads are similar to photo ads, with the exception of the content being a video, rather than a photo:
For best results, try testing a variety of ads including both photo and video in your social media marketing strategy and comparing the results.
By using the right ad formats and tracking ROI, there are plenty of opportunities to make money with Instagram.
TikTok
If you've been keeping up with social media marketing trends lately, you'll know that TikTok is red hot right now.
But before you roll your eyes and say the platform is only for kids and teens…
Remember that TikTok currently has over 800 million active users around the world and is quickly becoming one of the fastest-growing social media platforms in the world.
Meanwhile, only 41% of its users are aged between 16-24, meaning that it can be just as effective for businesses as it is for content creators.
If you haven't already jumped on the TikTok bandwagon, allow me to fill you in…
Essentially, TikTok is a video dominant platform and is most famous for its hashtag challenges, as well as trending dance and lip sync challenges.
Generally speaking, entertainment is the name of the game when it comes to marketing on TikTok.
With 15 second videos, the goal is to keep users entertained and engaged so that they hopefully will click over to your profile for more and give you a follow.
Since it's a new platform just launched in 2016, organic reach is still in its prime.
This means that brands and businesses are able to effectively reach their target audience by sharing organic content alone and being found through the use of hashtags and the discovery tab:
For brands who don't yet have a strong following, another option is to partner with influencers in order to increase their reach and exposure.
Influencers with their own social following can prove to be beneficial partners to have, assuming they have an audience of engaged followers that match your target demographics.
For best results, I recommend starting your own #hashtag challenge and partnering with an influencer to help promote it.
When done right, it's a sure fire way of going viral, fast.
Since the platform is still new, additional advertising options are still being ironed out. So for now, it's a good idea to start capitalizing on the organic growth opportunities the platform hosts.
Snapchat
While it may seem that Instagram stories have completely overtaken Snapchat, the platform still has its place in your marketing toolbox (especially for B2C marketers).
However, this will entirely depend on your target audience. If yours happens to be millennials, you're in luck as 82% of Snapchat users are under the age of 34.
However, if your audience consists of mostly middle-aged to older folks, then you're probably better off focusing your marketing efforts elsewhere.
For those that are looking to draw in a younger audience, Snapchat can be an excellent platform to keep users engaged via Snapchat stories:
And if you weren't already sold, just think about the fact that the average Snapchatter visits the platform 18 times daily, leaving you plenty of room to be seen and heard.
When it comes to Snapchat marketing, there are a variety of methods and features you can use to promote your business.
Due to the nature of the platform, it can be great for building urgency and anticipation for launches, sales, and events:
Other popular ways to market on the platform include:
Teaming up with influencers to promote your brand and even do Snapchat takeovers: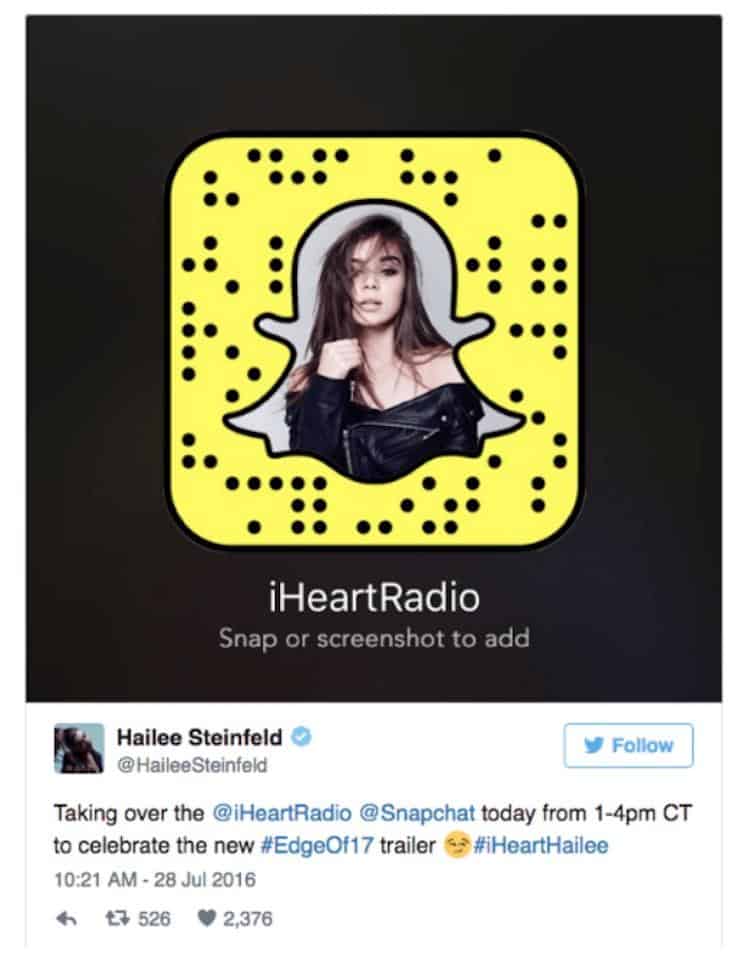 Offer discount and promotion codes to encourage users to make a purchase
Snapchatters are known for being 60% more likely to make impulse purchases on the platform.
So what better way to capitalize on that than by offering a discount code?
Try sharing a coupon and encourage users to act quickly if they want to redeem the code before the story disappears in 24 hours.
Announce new products or services, as you can see Taco Bell does below: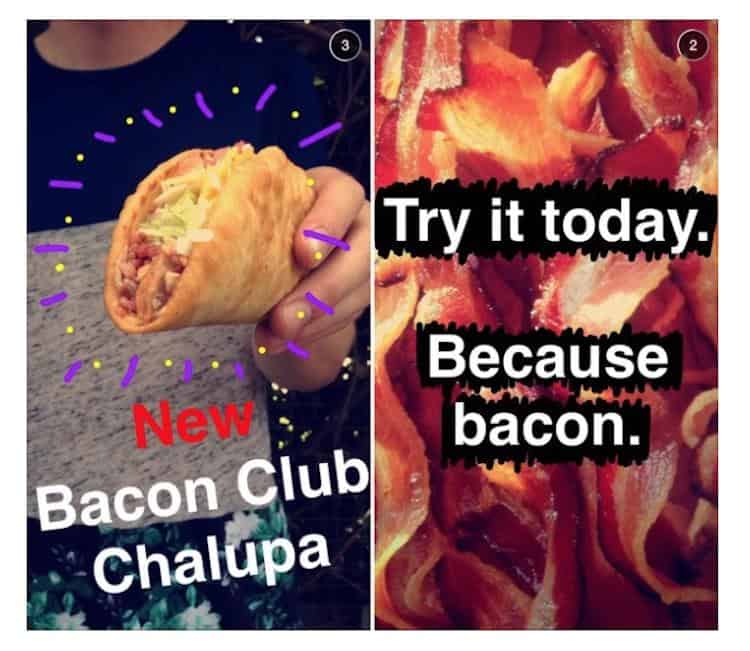 Share behind the scenes content
Give your Snapchat followers exclusive access to what is happening behind the scenes, as Refinery29 does below at the Zoolander 2's pre-release fashion show:
Respond to your Snapchat followers
If you get responses to your stories, be sure to have a team member available to respond to messages on the platform.
It adds to the customer experience and helps build loyalty.
At the end of the day, the name of the game when it comes to Snapchat is engagement and encouraging some sort of interaction from your followers.
Follow these tips and you will be successful with your Snapchat marketing endeavors.
LinkedIn
If your target audience is businesses (B2B), then LinkedIn is a platform that definitely deserves to move to the front of the line…
One thing that has remained consistent with LinkedIn is the fact that users are there for one thing and one thing only: to conduct business.
The only platform of its kind, LinkedIn is all about networking, learning and growth opportunities, as well as sharing and discovering job opportunities.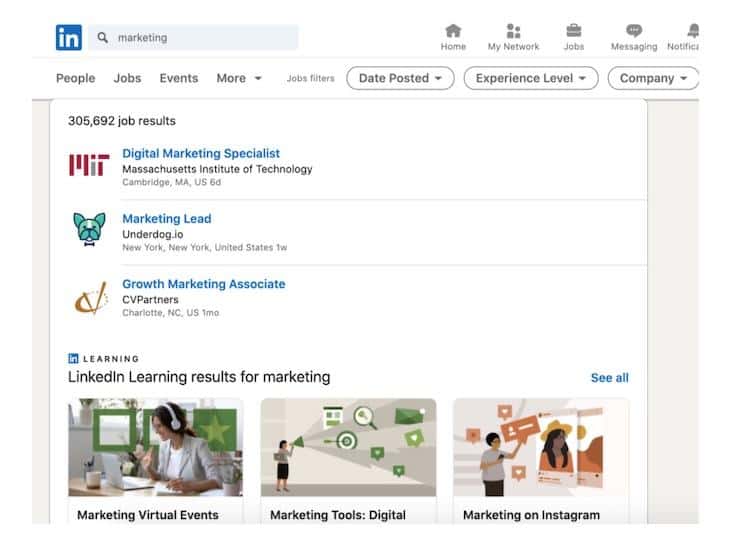 When it comes to incorporating the platform into your social media marketing strategy, there are multiple approaches one can take.
Organic LinkedIn Content
Despite the platform no longer being in its infancy, the organic reach on LinkedIn still proves to be out of this world.
Many B2B marketers are starting to realize just how easy it is to get discovered on the platform, just by following a few simple strategies.
First, the goal on this platform should always be to only post and share high quality content with your audience.
Ideally, when you share organic content on LinkedIn, your posts should either solve a problem for your audience or serve to establish you as a thought leader in said space.
Next, keep in mind that the LinkedIn algorithm favors those who are posting high-quality content consistently.
Meaning you are more likely to appear in the feeds of your connections and followers if you are doing so.
Another way you can get found with organic content is by using strategic hashtags in your LinkedIn posts:
As you can see on the left sidebar, users are able to follow hashtags to keep up with news and trends on certain topics.
By clicking on the #ecommerce hashtag, I was able to find the post above from someone not yet in my network.
LinkedIn Groups
Another way to leverage LinkedIn to your advantage is LinkedIn groups:
On LinkedIn, you can find a group for just about any industry and niche, making it a prime place to network and also build awareness for your brand.
Rather than spamming groups with advertising options, a more successful strategy will focus on providing value to group members with helpful and engaging content: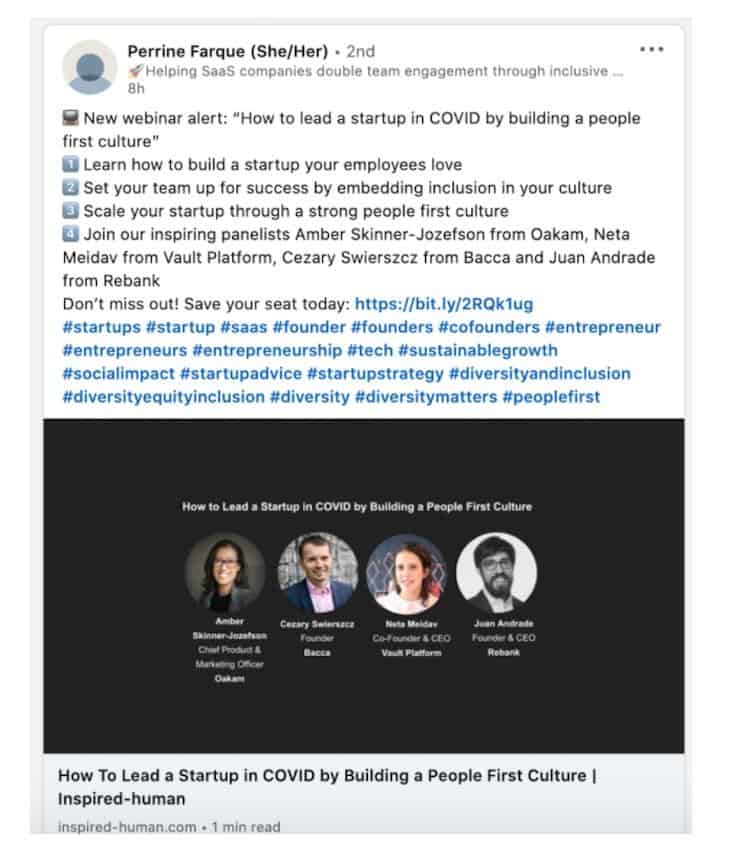 If you're not sure where to start with LinkedIn groups, try searching for groups relevant to your industry and take a browse to see what others are posting or asking questions about.
LinkedIn Advertising
Just like Facebook and Instagram, LinkedIn also offers their own version of PPC, or LinkedIn Ads.
Sharing sponsored content on the platform can be an excellent way to complement your organic LinkedIn strategy:
LinkedIn Ads offer a variety of targeting features such as job titles, job functions, company size, industry, and more to ensure you are reaching the right people with your sponsored content.
You can also choose to display ads either in feed or even in LinkedIn messaging where users are already engaged.
Twitter
These days everyone is on Twitter from Silicon Valley tech companies to presidents and prime ministers.
And the truth is, with over 145 million active daily users, you probably should be too.
If you're curious about the demographics that make up the platform, 63% of Twitter users are between 35-65 years old, making it the perfect social network to reach Generation X and baby boomers.
But if you're wondering how the platform will benefit your social media marketing strategy, consider the fact that 40% of Twitter users are reported to have purchased something after seeing it on the platform.
However, not everything on Twitter has to be direct response. This platform can also be great for building brand awareness, gaining mentions, and even driving website traffic:
With Twitter's character limits being 140 and less, it's important to keep things short and to the point on this platform.
For those who don't have the patience to rely solely on the organic nature of creating and sharing content and hoping it gets seen by their target audience…
You'll be glad to know that brands can reach their goals a stone's throw quicker thanks to Twitter ads: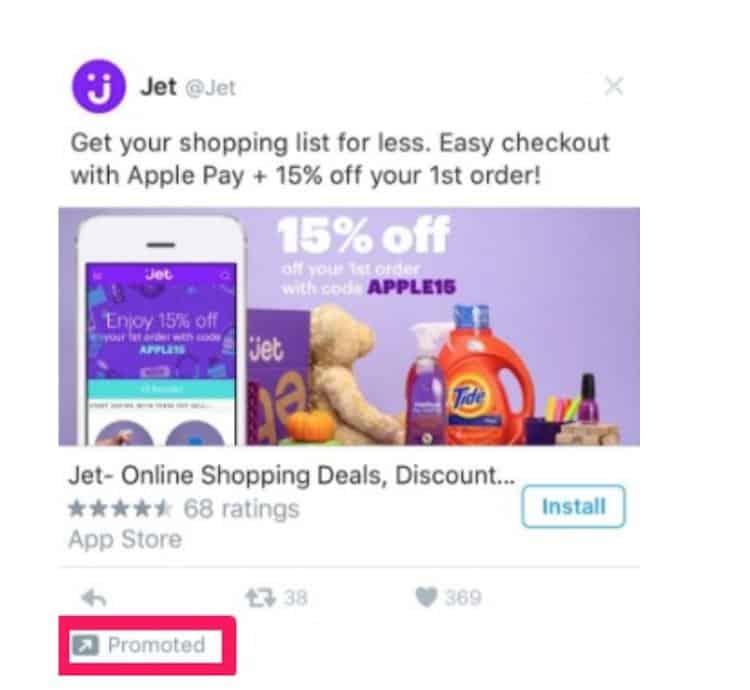 Twitter ads can be a great way to gain more visibility and followers, fast.
However, keep in mind that your content should always be of the highest quality, otherwise users won't have much of a reason to stick around and all of the visibility will go to waste.
Besides your social media marketing goals, Twitter can also assist you to provide better customer service to consumers as well.
Thanks to its DM feature, customers can easily direct message brands to solve complaints before publicly blasting them as such:
Essentially, with conversations like these, the goal should be to get them out of the public's eye as quickly as possible to prevent bad publicity.
As you can see, Twitter can be a powerful platform for both your marketing goals and for providing customer service and a positive customer experience.
YouTube
If you think YouTube is just for tutorials and music videos, think again.
YouTube is the second most popular social media platform today and most marketers consider it the best platform for video content marketing.
In fact, 62% of businesses today are using the platform to share video content and grow their business.
When it comes to marketing your business on YouTube, one can take an organic or paid approach.
For those familiar with SEO (search engine optimization), it will be important to apply the same concepts to YouTube when trying to rank your content as it is essentially another search engine platform.
Organic Search on YouTube
Things like the headline and video description will be worth their weight in gold when optimizing for certain keywords.
For example, when searching for 'social media marketing' on YouTube, let's take a look at the results:
As you can see, the top ranking videos have eye-grabbing video thumbnails and headlines, making browsers more apt to click on their video.
If you click on the top ranking video, you will see how the creator uses keywords and hashtags optimized for the keyword she is trying to rank for, which in this case, is "social media marketing":
When it comes to YouTube, the best strategy for businesses will typically be to teach and to provide value as in the videos seen above.
For example, if your company is a social media marketing tool, you could not only create "how to" videos on how to use the tool, but also create videos providing tips on social media in general with the goal of solving problems for your audience.
YouTube Ads
Another way to market your business on YouTube includes running PPC or YouTube ads.
The first type of ad you've probably encountered are In-Stream ads, which play within another YouTube video while you're waiting for the video to start: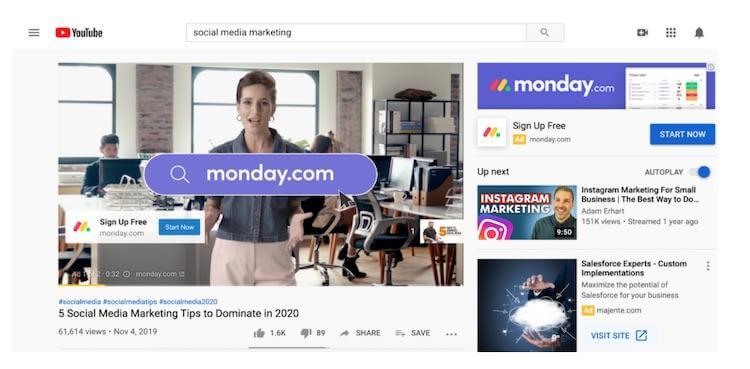 In-Stream YouTube Ads can also appear midway through videos that are over ten minutes long as well.
This type of ad can be customized with various call-to-actions (CTAs) and users typically have the topic to skip the ad after the first five seconds, meaning they may not view the entire ad.
The second type of YouTube ad are Discovery Ads, and are essentially videos "discovered" at the top of the search results (similar to how PPC ads are displayed in Google) as a related video: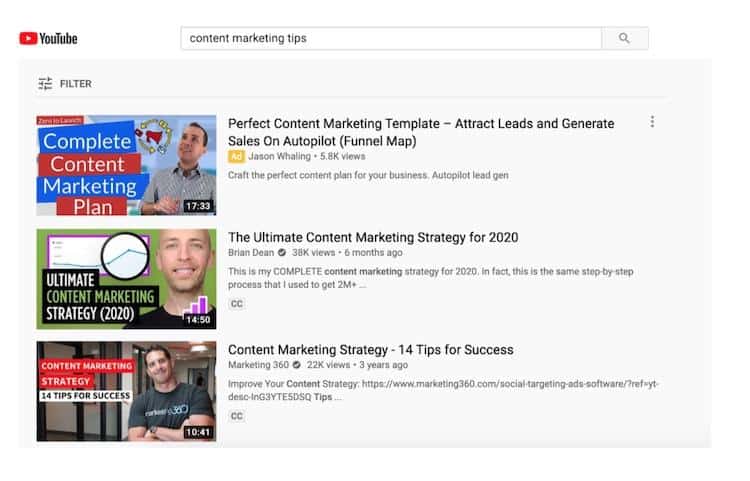 However, discovery ads do not always have to be a video. Here you can see an example of other more traditional types of ads shown above the results when searching for dropshipping videos: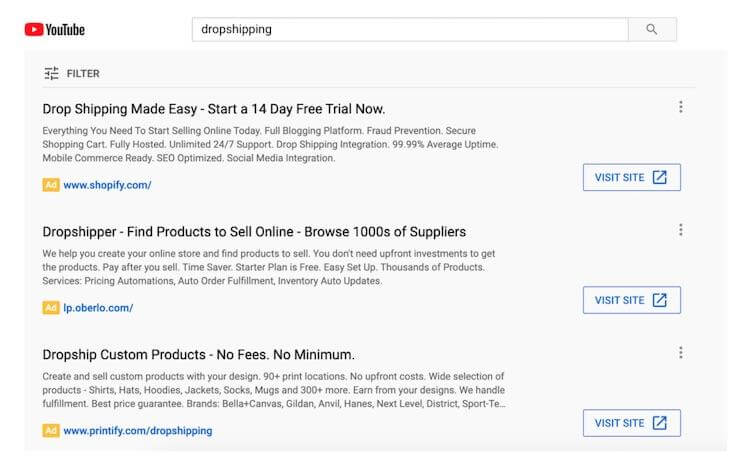 YouTube's platform offers similar targeting and campaign options as other social media platforms, allowing you to easily reach your target audience.
When leveraging YouTube as a search engine, it can be a powerful platform to drive traffic and leads for your brand. While there are a lot of YouTube alternatives on the market for video monetization, with the right organic and paid YouTube strategy, you can still make money on their platform.
The Future of Social Media Marketing
Now that we've taken a tour down memory lane when it comes to social media and discussing the most popular social media platforms for growing your brand…
You may be left wondering about the future of social media marketing and how things may look later down the road.
After all, times are constantly changing and what was once effective in 2000 is no longer the best strategy in 2020.
But one thing that stands true is that the opportunities in social media marketing remain limitless and will only continue to grow throughout time.
When the first social platforms came out, text and blogging deemed king but now we are in an interesting time that is beginning to favor video and audio content.
This is why platforms like YouTube have over two billion users worldwide and growing.
For brands looking to stay competitive, it is going to become imperative that they hop on the bandwagon or risk falling to the wayside.
Other future trends for social media include increased use of artificial intelligence (AI) and chatbots.
In fact, we may start to see chatbots and other messenger bots begin to completely replace customer service agents in some scenarios as AI becomes more robust. Currently, chatbots make up 39% of total online chats, of which 69% are reported to resolve from start to finish.
Another growing trend is the use of augmented reality as we have seen with the various filters on Facebook, Instagram, and Snapchat: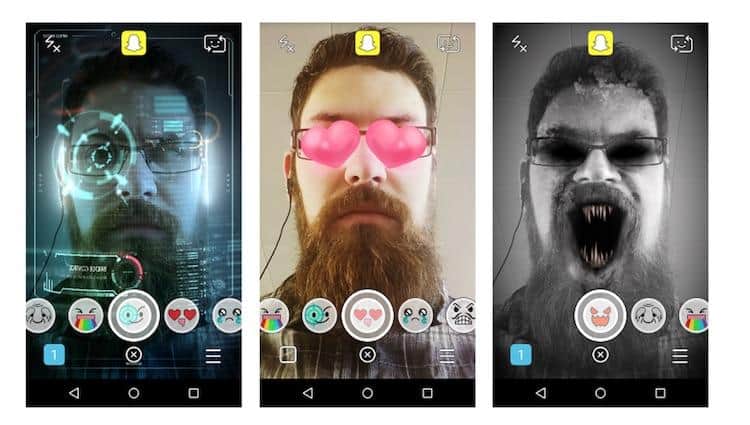 These trends will only continue to grow as technology gets smarter and faster than humans.
Also expected to continue an upward trend in social media marketing is the use of influencer marketers and influencer marketing campaigns to drive sales and revenue for brands as consumers become smarter in the way that they make purchasing decisions.
6 Tips for Building a Social Media Marketing Strategy
As any clever marketer or business owner knows, talk is cheap.
When it comes to actually implementing some of the tactics we've covered above on the various social media platforms, having a strategy is going to prove critical…
Otherwise, you're just going to be burning your marketing dollars, which nobody wants.
So let's dive into six of my best tips for building a social media marketing strategy to set you up for success.
1. Identify goals and key metrics for your social media marketing strategy
First things first, when defining your social media strategy, you're going to need to identify your goals and key metrics for measuring success.
Start off by asking the question "what are we trying to achieve?" and working backwards from there.
For example, if your goal is increased brand awareness… How much brand awareness? How will you measure the success of whatever tactics you implement to reach that goal?
The more specific the better.
A better example could be planning to invest in high quality content creation with a well-defined goal as such:
"Our goal is to increase our Facebook following by 15% over the next quarter and the number of social shares by 50%. We will use tools such as Hootsuite and Google Alerts to monitor mentions and shares. We will use marketing analytics tools to measure the success of our campaign and compile weekly reports of our growth and content performance to track progress."
Remember, at the end of the day, if you can't measure it, you can't improve it.
2. Research and identify your target audience
Once you've identified your key goals and metrics, the next step is to research and identify your target audience.
Are you going to be targeting men, women, or both? Which age bracket? Specific locations or worldwide?
Remember the advanced targeting options that social platforms such as Facebook and Instagram provide. The more specific you can be on who you are targeting, the better.
For example, if you know you are targeting men between the ages of 35-65 who live in Silicon Valley and have an interest in technology and golf, you will be much better off than only focusing on one demographic, such as men in Silicon Valley.
The more specific you can be with your target audience and knowing them inside and out, the more successful your strategy will be and the less likely to drive poor quality leads.
3. Perform a competition analysis to check out what the competition is doing
Smart marketers often realize that their competitors have already done all of the work for them.
Rather than trying to reinvent the wheel, take a look at what your competitors are doing.
Check out their social media profiles and how they are attracting their target audience, as it is likely to be very similar to your own.
Next, see how users are engaging with their content and which types of social media posts are gaining the most traction.
Now, I'm not saying to copy what your competitors are doing eye for eye, but having this knowledge can certainly help you put together an effective strategy and avoid wasting a lot of time upfront.
4. Create thoughtful and engaging content
Across all of your social media accounts, you should only seek to create and share thoughtful and engaging content.
As I like to say, don't publish content just for the sake of sharing content.
Make it meaningful to your audience.
If you're not sure what types of content to post, perform market research (as well as competition analysis), or consider running an ask campaign or survey to ask your target market directly.
5. Schedule your social media content using a social media management tool or social media manager (SMM)
Whether or not you have a team member ready to take on the responsibility for promoting your brand on social media, it helps to make use of social media management tools or a social media manager.
Certain social media tools like Hootsuite or Buffer can automate the scheduling and publishing aspect of your social media, freeing up your time to do other tasks.
By having your content running on autopilot, you'll also be more likely to keep a consistent content calendar, therefore ensuring a more successful strategy.
Remember, it pays to be consistent, and part of your research will be identifying the ideal times to post on social media — make sure you don't miss out on the prime times by having your posts scheduled in advance.
6. Evaluate your results and optimize for the future
Finally, the last step to a successful social media marketing strategy will be to evaluate your results (monthly, quarterly, etc) and see what is and isn't working.
Use various marketing tools and marketing analytics tools to track progress and create custom reports to present to your team.
After identifying your strengths and weaknesses, work towards optimizing your strategy in the future by making the necessary adjustments.
Executive Summary
We've covered a lot in this guide from defining social media and the history of social platforms, to the best social networks for marketing your business, and even what the future of social media has in store, as well as tips on creating a successful social media strategy.
Now I'm handing it over to you, what questions do you have about social media marketing or which platforms are you planning to start using in your strategy next that you aren't already?
Remember, with patience and consistency, you too can use the power of social media to drive more traffic and revenue for your business.
Further reading on AdamEnfroy.com: With the knowledge gained from spending time on the various networks, teens can start social media marketing businesses that focus on managing the accounts of small businesses, celebrities, and other public figures.
As such, social media marketing is one of the best small business ideas for teens.
Disclosure: I may receive affiliate compensation for some of the links below at no cost to you if you decide to purchase a paid plan. You can read our affiliate disclosure in our privacy policy. This site is not intending to provide financial advice. This is for entertainment only.