7 Best AdSense Alternatives of 2023 (to Make More Money)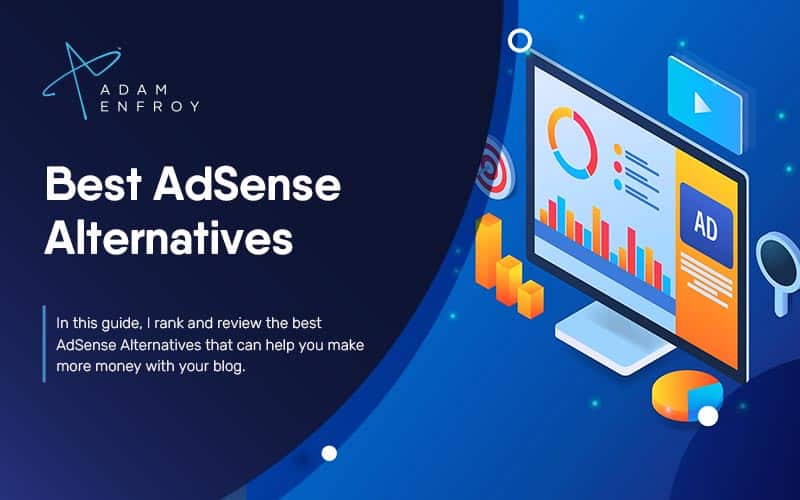 Want to jump straight to my top picks for the best AdSense alternatives? The best options are Media.net and AdThrive.
Google AdSense is a powerful advertising platform that allows you to monetize your site with CPM (cost per 1000 impressions), CPA (cost per action), and CPC (cost-per-click) advertising slots.
It's also one of the primary ways for website owners and bloggers to earn money.
And there's nothing more soothing than seeing that AdSense check every month, knowing you're doing something you love and getting paid for it.
But it's good to have a plan B when it comes to AdSense. If your AdSense account gets banned, shut off, or frozen, you'll have some extra income from your side hustle until you're back in the green.
Luckily, there are tons of AdSense alternatives available that can help you diversify and even maximize your blogging income.
You might also prefer less rigorous guidelines and more customization options than you're currently getting with Google ads. That's why I curated a list of the best AdSense alternatives.
What Are The Best Google Adsense Alternatives?
Here is my list of the best Adsense alternatives.
Best overall AdSense alternative.
Media.net is a leading contextual advertising platform and a part of the Yahoo! Bing network. The company partners with some of the most extensive ad networks like Forbes, TechCrunch, etc. making it number one on my list of Adsense alternatives.
Since it's a "Contextual Ad Network," Media.net only displays ads that are highly relevant to the keywords on your web page. This helps you avoid bombarding your website visitors with irrelevant, salesy ads.
For example, a blog post related to Discord streaming will have ads related to Discord or streaming software and equipment.
Here's an example of a contextual ad placed by Media.net:
You don't even have to use it in conjunction with AdSense since it has all of the ad formats you'd need. That said, it does fit well with AdSense.
Here are all of the ad formats you can active with Media.net:
Contextual ads.
Outstream video ads.
In-read native ads (these ads align with the look and feel of the web page, making them appear more natural).
And standard ad units, including Leaderboard (728×90), medium rectangle (300×250), rectangle (180×150), small skyscrapers (120×600), and wide skyscrapers (160×600).
Here's an overview of the IAB Standard Ad Unit formats:
You can even customize the size and design of the ads if you don't want standard ad units.
Placing all of these ads is also straightforward. Just copy and paste a simple snippet of ad code – no additional code or integration work is necessary.
Key Features:
Automatic Ad-Placement – You can leave everything on auto-pilot and let their Ad specialists take over your ad unit customization. It's one of the few platforms that provide you with a personal account manager.
Real-Time Performance Tracking – You can track the performance of your ad units in real-time. Their control panel gives you access to metrics like ad impressions, fill rate, earnings by sites, tags, location, etc.
Single Account, Unlimited Sites – You can get approved and manage ad units for unlimited sites on a single Media.net account.
However, you need to meet specific requirements to meet Media.net's approval terms.
Media.net Approval Requirements:
Your website should be navigation-friendly and have plagiarism-free content.
Most of your traffic should be from the US / UK / Canada.
Your content should be in the English language primarily.
You should receive reasonable monthly traffic.
The website/blog shouldn't contain excessive advertising units.
They usually take anywhere between 2-7 days to approve your website.
Media.net Payment Structure:
Coming to how they measure their payouts, they pay on a net 30 basis for accounts that earned $100 or more.
There's not much information available regarding the pay structure on their site. And there's no way to figure out the exact revenue you can make. However, online reviews suggest that Media.net pays about $5 per 1000 impressions.
Minimum Payout Threshold:
The minimum payout threshold is $100, and you get paid via Wire Transfer and Payoneer. This can be a downside for small websites and bloggers since it obstructs them from withdrawing payment before it scales up to $100.
Best for regular ad quality monitoring.
AdThrive is an ad management and placement network for website or blog owners with significant traffic which makes it spot number two on my Adsense alternatives list. Other than your site, AdThrive also helps you monetize your videos and even provides free video hosting.
One of their most significant selling points is that they manage everything and help you with the most optimal ad placement. They will design your ad layouts, handle the tech, place the bids, and constantly optimize your ad placement.
Plus, they make sure that ads get placed based on your specific site layout, goals, and reader behavior.
AdThrive's ad formats include:
Header Ad
Sidebar Ad
Sticky Sidebar Ad
Content Ad
Recipe Ad
Sticky Footer Ad
Video Ads
Native Shopping Ads
They also have conservative filter settings to ensure that all of the ads on your site are family-friendly. In case something spammy or objectionable gets through the filters, they immediately block the server.
Key Features:
Google Certified Publishing Partner – Their ad layouts, ad optimization, policies, business practices, and financials are all Google-approved. They also constantly update their system to align with Google's changing policies.
Ongoing Monitoring – Constant ad placement monitoring by AdThrive's ad manager ensures that you stay updated with the changing policies and trends.
In-depth Revenue Insights – The admin area lets you monitor daily ad performance, RPM (revenue per thousand impressions) for best-performing web pages, etc.
AdThrive Approval Requirements:
Your site should have an up and running Google Analytics and a minimum of 100,000 monthly pageviews.
Majority of your traffic is from the US, Canada, United Kingdom, Australia, New Zealand.
There shouldn't be any record of past advertising infringement.
Your site should be secure (HTTPS).
Content on the site should be high-quality, unique, and engaging.
AdThrive Payment Structure:
They have a 25:75 revenue share model. This means you get to take 75% of your total revenue home while they take the 25% cut.
Minimum Payout Threshold:
The minimum payout is $25 ($100 for wire transfers) via direct deposit and PayPal – a far cry from AdSense's and Media.Net's $100 minimum threshold. They also pay on a net-45 schedule (45 days after the end of each month).
Best for lifestyle bloggers with a considerable audience base.
Mediavine is a full-service ad management network that helps bloggers in every niche monetize their blog. They leverage heat mapping technology to place ads in order to generate maximum profit. Making it a no-brainer choice for my Adsense alternatives list.
You stand a chance to make nearly double on every 1000 page views as compared to AdSense. This is possible because Mediavine gives the spot to the highest bidding advertiser. And at the same time, they also use Google's network in their inventory.
They also provide you with round-the-clock customer support, and everything gets managed by their team – beginning from ad placement to optimization.
Usually, the ads are also relevant to your audience and the content you create.
Some of its standard ad units include sidebar ad units, recipe cards, in-content ad units, etc.
Mediavine Approval Requirements:
They only approve blogs that have at least 50,000 monthly pageviews (per Google Analytics).
Original and high-quality content in any lifestyle niche (fashion, world travel, DIY, personal finance, and many more).
Long-form and engaging content.
Your Google AdSense account should be in good standing.
Note that your application will get strictly reviewed by the Mediavine Publisher Support team and their top third-party advertising partners.
Key Features:
Lightweight Ad Tech – They leverage "lazy loading" to ensure that the ads don't slow down your web pages.
Data-Driven Dashboard – Their user-friendly dashboard lets you control your ads and earnings. You can upload videos, monitor your RPM, top posts, and more.
Ad Reporting Button – Every ad unit has an ad reporting button that your viewers can use to control their reading experience.
Mediavine Payment Structure:
Just like AdThrive, Mediavine also gives 75% of the revenue share to bloggers. Other than that, you can't pinpoint the exact Mediavine RPM. The final figure will depend on your niche, on-page RPM optimization strategies, etc.
Minimum Payout Threshold:
The minimum payout ACH – International is $200 and $25 for ACH – US. You can also withdraw a minimum amount of $25 via PayPal and Wire Transfer.
4. PropellerAds.
Best for push notification ad format and other high-visibility ad units.
PropellerAds is an advertising platform for both new and prominent marketers and affiliates. It works for desktop sites, mobile apps, and even mobile sites.
It is a different type of Google Adsense alternative than the other ones mentioned so far because of the mobile app functionality.
One of its most significant selling points is that they don't have any minimum page views requirement. This encourages even new bloggers with low traffic to monetize their site from the get-go.
They have standard ad units as well as more aggressive ad formats, including:
Push Notifications.
Pop-under Ads (OnClick Ads).
In-Page Push (they look like typical push notifications but appear alongside your website content).
Native Interstitials (full-page ads that appear at natural transition points in your app).
Here's an example of native, interstitial advertising from PropellerAds:
If you want a more discreet approach, you can place other ad formats: native ads, banners, smart links, and video ads.
It's also compatible with AdSense, so you can even use it alongside AdSense to make extra passive income.
PropellerAds Approval Requirements:
There is no minimum traffic requirement.
Build high-quality website UX and design.
Create an English website to generate more revenue, though they also support non-English languages.
Your content shouldn't violate any third-party copyright laws and should adhere to the guidelines.
Key Features:
MultiTag – MultiTag allows you to display your advertisements on any website. It's simple – just place a tag on your website, and PropellerAds will automatically allocate the ads to your pages.
High-Viewability Ads – Maximize revenue using high-viewability (albeit intrusive) ads for mobile and desktop.
Transparent Dashboard – You get complete access to your revenue reports and can see your income by zone, country, ad format, etc.
Multilingual Dashboard – Their dashboard is available in nine languages, providing you total control in your native language.
PropellerAds Payment Structure:
PropellerAds pays 80% of the revenue produced to their publishers.
Minimum Payout Threshold:
Their minimum payout threshold is as low as $5. And you can get paid weekly (every Thursday) via PayPal, Skrill, Payoneer, ePayments, WebMoney, and Wire Transfer.
5. BuySellAds.
Best for selling your ad space directly to the advertiser.
BuySellAds is a self-serve advertising platform that allows you to sell your ad space directly to the advertiser. You can receive competitive bids from multiple advertisers willing to pay for ad placement on your website.
This is one of the more premium Adsense alternatives on the list and is also the parent company of Carbon Ads which is another premium ad network.
Unlike other platforms on this list, BuySellAds doesn't display targeted ads, nor does it follow an automated approach. This puts you in complete control of what ad types you show on your site.
Standard ad formats include contextual ads, text ads, dedicated email ads, sponsorships, and RSS feed ads. It also allows header bidding (banner ads). However, you need to have at least 100,000 monthly page views to be able to use BuySellAds.
BuySellAds Approval Requirements:
Own your website domain.
Your website should be live and have updated and unique content.
Create fresh content on tech, web designing, development, and freelancer niche.
Your site shouldn't contain any inappropriate content.
Your site should receive 100,000 impressions every month.
The content you create should be solely in English.
Don't add many non-targeted or irrelevant ads on your site.
Key Features:
Placement Optimization Strategies – BuySellAds provide you with an ad manager to help you maximize your revenue without compromising the user experience on your site.
Ad Block Recovery – Their built-in ad-block recovery tool helps you recover revenue lost to ad blockers. You can even use BuySellAds' ad-block revenue recovery calculator to calculate your possible revenue stream.
BuySellAds Payment Structure:
BuySellAds offers publishers a 75% revenue share. The CPM can vary from $0.25 to $2.25. Although, it typically stays around $0.75.
Minimum Payout Threshold:
The minimum payout threshold is $20 for Paypal, $50 for Check, and $500 for Wire Transfer. If you opt for Wire Transfer, $35 will get deducted from your total payment.
6. Skimlinks.
Best for earning revenue through affiliate marketing.
Skimlinks is an affiliate marketing platform that helps bloggers earn revenue by adding referral links to their content. Rather than ad placement, it's more like a link placement platform.
You just have to place a code snippet on your AMP pages and website. Skimlinks will automatically scan your site and place relevant affiliate links to your content.
They have a pool of over 48,500 merchants, so the chances of finding relevant mentions are incredibly high. It also eliminates the need to deal with separate affiliate programs.
It also supports all forms of e-commerce content, including evergreen product reviews, timely deals, gift guides, and comparison-based reviews.
Skimlinks Approval Requirements:
Don't promote any sort of sensitive or illegal content/product.
Create content appropriate for commerce content monetization.
Your site should focus on online products and services so that monetization is possible.
Don't include brand or product names in your domain names.
Key Features:
Editor Toolbar – Skimlinks Editor toolbar plugin for Google Chrome displays the average commission rate and offers while you browse a merchant's site. The toolbar also helps you create a direct affiliate link.
Link Wrapper – They have their own built-in link shortening tool that lets you share shortened links on social media, via email, etc.
AMP Integration – Once you upload the AMP code, the Skimlinks AMP integration tool will automatically monetize the commerce links across your AMP articles.
Skimlinks Payment Structure:
Skimlinks will pay you 75% of the commissions earned on sales. The revenue share can also vary on the tools you write about. For example, you get 70% of the total revenue share for M101 tools (the software tools known as "Price Comparison" and "Shopping Widget").
Minimum Payout Threshold:
Skimlinks pays you after reaching a certain threshold, depending on where you live. However, if your commission exceeds $65 / €55 / £50, you can get paid at the end of each month via PayPal.
7. Infolinks.
Best for placing targeted, unobtrusive ads.
Infolinks is a contextual ad platform that targets keywords and ensures that the ads placed on your page are relevant to your content.
It's not your standard ad placement platform. Instead, Infolinks combines link placement with ad placement.
InfoLinks places links to relevant text on the web page, and the ad appears when a visitor hovers over that specific link.
Here's how it works:
In-text ads lead to more ad placement without being intrusive. This approach also helps you deliver only the relevant ads to your readers.
Other than in-text display ads, InfoLinks also displays InFold ads (bar-style ads that stick at the bottom of your web page), popup interstitial ads, InTag (contextual ads), and InFrame ads.
InfoLinks Approval Requirements:
Produce high-quality content.
Don't post unlawful or offensive content such as violent messages, spamming, obscene content, or online gambling.
Create 20-30 minimum high-quality posts to improve your chances of getting approved.
Don't forget to add Privacy, About, and Contact pages to your website.
Make sure to read their publisher website eligibility criteria as well.
They'll review your application within 48 hours.
Key Features:
Highly relevant Ads – InfoLinks uses the smart ad targeting system to place highly-targeted contextual ad units.
Responsive Mobile Ads – Mobile-responsive ads provide a high-visibility experience on mobile phones, increasing the click-through rate.
InfoLinks Payment Structure:
Infolinks offers a 65% revenue share to their publishers and pays on a NET 45 (after every 45 days) basis.
Minimum Payout Threshold:
The minimum payout threshold is $50 for Paypal, ACH (US-based bank accounts), eCheck, and Payoneer. To get paid via Bank wire transfer, you need a minimum of $100 in your account.
What to Look for in an AdSense Alternative?
AdSense is still the largest single ad network. But there are plenty of potential reasons for you to consider switching to an AdSense alternative.
Make sure to look out for these features before you pick an AdSense alternative:
Higher Revenue Share – AdSense has an abysmally low revenue share of 68%. Look for an alternative that provides a higher revenue share so you can maximize your earnings.
Ad Customization Options – Ad customization options allow advertisers to tailor a PPC ad to align with their audience. It can also help you avoid annoying ads by allowing you to choose keywords based on buyer intent rather than just search volume.
Minimum Payout Threshold – Minimum payout threshold tells you how much money you need to make before getting your cash. AdSense's payout threshold is $100, which is high for small-scale bloggers.
Targeted Ads – Your advertising network should activate ads that are tailored for your content. This will improve your click-through and conversion rate. Because if a visitor sees an advertisement for something they may want to buy, they are more likely to click.
Executive Summary.
These are some of the best Google AdSense alternatives that you might want to consider.
Before deciding on the best AdSense alternatives, you must verify some core elements. The size of the platform you wish to fix your ads for. The level of monetization you aim for. And the type of ads you want to place.
To diversify your ad revenue source and scale your earning source, check out these AdSense alternatives:
Media.net: Best overall AdSense replacement (very similar to AdSense).
AdThrive: Best for constant quality monitoring of your ads.
Mediavine: Best for lifestyle bloggers who already have a considerable number of monthly page views.
PropellerAds: Best for push-notification ads and high-visibility ad units.
BuySellAds: Best for directly buying ads for your ad spaces.
Skimlinks: Best for affiliate marketing and link-based ads.
Infolinks: Best for placing targeted, unobtrusive ads.
You can also try other website monetization networks like Revcontent, Amazon Associates, Ezoic, BidVertiser, RevenueHits, and more.
Check out other posts on the blog that can help you with your online business:
Editorial Process:
Our reviews are made by a team of experts before being written and come from real-world experience. Read our editorial process here.
Some of the links in this article may be affiliate links, which can provide compensation to us at no cost to you if you decide to purchase a paid plan. These are products we've personally used and stand behind. This site is not intended to provide financial advice. You can read our affiliate disclosure in our privacy policy.