7 Best ClickBank Alternatives (High Commission & Conversions)
There are many ways to make money online.
Some people may be looking for a more traditional route, such as freelancing from home or starting a blog.
Others may prefer to sell others' products or services through affiliate marketing.
Speaking of the latter, if you've ever seen screenshots like the one below, you might immediately recognize the network it comes from.
ClickBank used to be a leading platform for online affiliate marketing, and while it's still a popular option, there are other options to consider.
In this article, I'll explore the best ClickBank alternatives so that you can find the best fit for your online business.
What Are The Best ClickBank Alternatives?
Here are the top ClickBank alternatives right now.
1. Amazon Associates.
Best For The Sheer Number Of Products.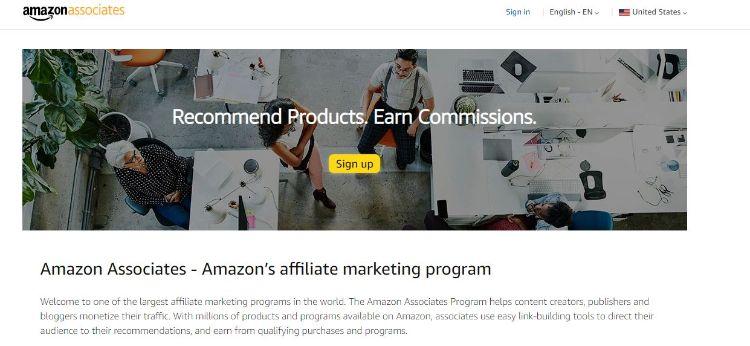 Are you a content creator, publisher, or blogger looking for ways to monetize your traffic?
The Amazon Associates Program can help.
With millions of products and programs on Amazon, you can use easy link-building tools to direct your audience to your recommendations and earn from qualifying purchases and programs.
Being a direct ClickBank alternative, The Amazon Associates Program offers customized linking tools for large publishers, individual bloggers, and social media influencers, making sharing millions of products with your audience easier.
With their tracking IDs, you can track performance over time to optimize your linking strategy better.
With the Amazon Associates Program, you can earn up to 10% associate commissions from qualifying purchases and programs.
Plus, they offer various promotional opportunities such as bonuses for sales growth or special offers on select items that will help increase conversions even further.
2. Market Health.
Best For Health-Related Products.
Market Health is a long-standing leader in performance-based health and beauty products, available with offers for specific countries.
The tracking system is robust and reliable, making it easy to track affiliate performance accurately.
With Market Health, affiliates understand they get exclusive offers with a guaranteed top payout.
The platform also ensures that customers get the best deals available since there aren't any hidden fees or commissions taken from the sale price.
The team at Market Health provides affiliates with various resources to help customize their advertising campaigns.
These resources help them stand out and attract potential customers' attention.
3. Udemy.
Best For A Variety Of Courses.
Udemy instructors come from all walks of life; however, they all have one thing in common — they are passionate about what they do and sharing their knowledge with others.
Most courses range from $15 -$200 depending on the subject area and instructor experience level.
You can also find discounts up to 95% off during promotional periods such as Black Friday or Cyber Monday sales.
Udemy also has an affiliate program that enables affiliates to promote content using provided tracking assets and tools while earning commission on valid purchases made through the affiliate links.
Signing up for their affiliate program gives you access to exclusive promotions while allowing you to earn commission on valid purchases made through your affiliate links.
Sign-up requirements are well-detailed and relatively easy to meet if you've been running an online business for a while.
4. CJ Affiliate Network.
Best For Internet Marketing-Based Products.
Commission Junction (CJ) is an all-inclusive, seamless global affiliate experience that provides customers with everything they need to succeed in their journey towards increased online freedom.
As an affiliate using CJ's real-time analytics, you can better understand how campaigns are performing and make the necessary adjustments on the fly.
Automated workflows will allow you to streamline processes for greater efficiency and accuracy.
In addition, they provide premium publisher networks for your marketing solutions with strategic partnerships with Awin and Rakuten Advertising.
You can maximize your potential earnings with various opportunities for sales growth and incentives.
5. Avangate.
Best For Promotional Material.
The Avangate Affiliate Network is a global network designed to help affiliates succeed when selling digital goods and software.
With its modular design, ease of use, and advanced reporting, it's no wonder that mThink's Blue Book has ranked it as the 1 worldwide affiliate network for eight years.
Using 2Checkout's platform, you can select from various offers to earn sales commissions.
You'll also have access to promotional materials and support, making it easy to start.
Offering a dedicated account manager to help you leverage Avangate's platform, it's no surprise that affiliates are finding success with their campaigns.
Avangate also provides detailed business reports and real-time analytics, so you can track your progress and optimize your campaigns for maximum ROI.
As many of the top software and digital goods providers are already signed up with Avangate, it's the perfect opportunity for affiliates to get in on the action and start earning.
6. JVZoo.
Best For Streamlining Affiliate Marketing.
JVZoo provides an instant affiliate program to help businesses connect with potential customers and increase their sales, primarily in the 'make money online' niche.
With over 800,000 active affiliates, JVZoo offers a streamlined process that takes care of all the details, including deposits and refunds.
JVZoo also makes it easy to set up an affiliate program for any offer.
All you have to do is sign up for free and choose the promotional offer.
As an intermediary between the vendors and affiliates, JVZoo guarantees affiliates get paid on time, every time.
The network also helps affiliates stay compliant.
Whether the FTC, CASL, GDPR, PCI, or any other legal requirements, affiliates can be assured that JVZoo's got their back.
7. Rakuten Marketing.
Best For Connecting With Big Brands.
Rakuten is a global leader in digital marketing solutions that can help you maximize your reach and performance.
With unrivaled access to inventory, data, technology, and publisher networks, Rakuten Advertising gives businesses clarity and perspective to make their mark in a fast-changing market.
Rakuten connects brands with diverse audiences across its owned premium digital media properties.
The brand's commitment to quality ensures that every campaign generates maximum engagement and impact.
Rakuten's global affiliate network is ranked 1 by mThink for its ability to drive customer acquisition for brands worldwide.
This network allows brands to connect with bloggers, influencers, content creators, publishers, and more.
As an affiliate, this connection can help you maximize your conversion rates and increase your overall ROI.
The affiliate network also provides detailed analytics to track your performance over time.
Another of the key advantages of working with Rakuten Advertising is its market intelligence capabilities.
The brand offers deep insights into consumer trends that allow businesses to stay ahead of the curve in a rapidly changing world.
With access to comprehensive market intelligence reports, companies can leverage data-driven strategies for maximum success in any industry or sector.
Other ClickBank alternatives not mentioned in this article include amazon affiliates, eBay Partner Network, Peerfly, and Shareasale.
What Are ClickBank Alternatives?
ClickBank alternatives represent other digital marketing and affiliate platforms one can use to promote products or services online.
As affiliate managers and entrepreneurs work to increase their reach, ClickBank alternatives offer various options for connecting with potential customers.
With their affiliate marketing programs, these platforms can help businesses tap into new markets while providing the same high-quality service and support that ClickBank offers.
Apart from those mentioned above, some of the best alternatives to ClickBank include big brands like eBay Partner Network, Peerfly, Shareasale, Shopify Affiliate Program, and LeadDyno.
These platforms are ideal for promoting digital products as they help affiliates with high-quality content and provide detailed analytics to track performance.
What Has Made ClickBank Popular?
Here are the top reasons why ClickBank has become so popular.
Easy-To-Use Platform
ClickBank is popular because it offers an easy-to-use platform for affiliate marketers to promote products and services.
The platform enables the ClickBank affiliate to earn a commission when they refer someone to purchase a particular product or service.
ClickBank also meets affiliates' various needs and generally provides affiliate commissions that make the latter's business model worthwhile.
ClickBank has set a standard for others to live up to, offering a wide range of products and services.
Wide Selection Of Products
As a marketing platform, ClickBank offers a wide selection of products and services for affiliates to promote.
This variety can be incredibly beneficial for beginners just starting or those looking for ways to diversify their portfolio.
ClickBank's product selection includes digital products and physical goods from different vendors worldwide.
Detailed Analytics
In addition to competitive commission rates, ClickBank offers detailed analytics that allows affiliates to monitor their performance.
This data helps them decide which products and services provide the most significant ROI.
Whether it's cost-per-action, total revenue, or other metrics, having access to these insights can be incredibly helpful for affiliates looking to optimize their campaigns and measure success.
Compared to other affiliate networks, ClickBank's detailed analytics make it easier for affiliates to track progress over time, identify new opportunities, and adjust their strategies based on real-time data.
Global Reach
ClickBank's global reach is especially beneficial for affiliates looking to tap into international markets.
Those wanting to target a specific audience with their product selection can quickly set up campaigns and earn commissions.
Secure Payments
ClickBank also offers secure payment processing for buyers and sellers, providing peace of mind to those involved in the transaction.
Using ClickBank's encrypted checkout system ensures that all sensitive information is kept safe at all times, protecting both parties from potential fraud or identity theft attempts.
High Commissions
Some products on ClickBank have a high paying 75% commission to affiliates when they refer a sale.
This high commission rate is attractive to affiliate marketers, as they can make a good amount of money with relatively little effort.
Key Product Features To Consider
The following are key features that affiliates should consider when looking for the right products to promote.
Quality Of The Product
An affiliate business thrives on good quality products.
The best affiliate networks will provide quality physical and digital products for affiliates to promote.
Ensuring that the product or service meets specific quality standards is essential.
As an affiliate, you won't be dealing with the customer service aspect of the product.so it's essential to make sure the product is worth selling.
However, you don't want to lose your commission if people start to refund the product.
Commission Structure And Rate
Affiliate marketers should look for products with high commissions.
The commission rate for each offer can vary significantly depending on the vendor, so it's essential to do research before selecting a recommendation.
Market Size
When selecting a product to promote, it's essential to consider the market size.
It is beneficial for affiliates to look for products you can promote to large audiences to maximize potential earnings.
If in doubt, an affiliate manager is essential and can help answer any questions you might have.
Generally, a global affiliate marketing network usually employs a team of professionals who can guide and help affiliates target the right markets.
Make sure you take advantage of this benefit.
Conversion Rates
A key metric for success in the affiliate marketing industry is conversion rate.
Said differently, this metric refers to how many people convert from leads to sales.
Whether dealing with a CPA network or just setting up landing pages, it's important to track conversions to measure success and optimize campaigns accordingly.
Reputation And Reviews
The reputation and reviews of an affiliate marketing business can tell you a lot about how well their products perform, its general customer service levels, and more.
With popular affiliate networks like ClickBank, for example, you can access genuine reviews from members to help you make an informed decision.
Ease Of Promotion & Setup
An affiliate marketer should look for a user-friendly, accessible platform to set up and promote.
When looking at the ease of promotion and setup, it is essential to consider how simple it is to generate links, create banners, and track sales data in real-time.
Also, look at the application process to ensure no hidden fees.
For example, ClickBank offers a seamless experience for buyers and sellers, making it one of the best platforms for affiliates.
What Are The Benefits Of Using An Affiliate Program As A Product Owner?
Let's consider this from the point of view of a product owner.
Here are some key benefits of using an affiliate program if you have created your own product.
Increased Exposure For Your Products
An affiliate program can help you reach a wider audience and increase product sales.
This broader audience means you have access to a global network of affiliates who can effectively promote your products and services to their followers and audiences.
Access To A Larger Pool Of Potential Customers
Whether selling a plugin, SAAS product, supplements, or any other type of product, partnering with an affiliate program allows you to tap into the customer base of other businesses in your industry.
Using an affiliate program can lead to more sales and revenue, as the proper commissions incentivize affiliates.
Low Overhead Costs And No Upfront Fees
Compared to traditional marketing methods, affiliate programs are much more cost-effective.
There is usually no or low upfront cost associated with joining an affiliate network, and you do not have to pay for additional advertising or promotional expenses.
Ability To Track Sales, Conversions, And Performance
An affiliate program allows affiliates to track sales, conversions, and performance – without additional expenses for the business owner.
Whether it's CPS or E-commerce tracking, affiliates can get detailed reports on various activities.
One can use this information to adjust their marketing strategy and improve overall results.
Automated Payments, Fraud Protection, And Refunds
Using an affiliate network also provides automatic prices, fraud protection, and rebates for customers who are not satisfied with their purchases.
These features ensure that business owners and affiliates have a secure platform for conducting transactions without worries about potential risks or losses.
How Do Affiliate Programs Pay Out Commissions?
Affiliate networks typically pay commissions through direct deposit, Paypal, Payoneer, wire transfer, or other payment methods.
The payment options will usually depend on the network itself and the preferences of the affiliate.
The network issues payouts on a set schedule.
Depending on the program, this schedule could be weekly, bi-weekly, or monthly.
It is essential to understand the payment terms of each program to get the most out of it.
Applying For An Affiliate Program
Here are the steps to follow when applying for an affiliate program:
Research The Company And Its Products
Before joining an affiliate program, you must research the company and its products.
Read Reviews From Other Affiliates
Reading reviews from other affiliates can give you a better idea of how the program operates.
Whether dealing with physical products or digital services, it is essential to read up on the program and see what other people think about it.
Apply Online Or Contact The Affiliate Manager Directly
After researching the company and its products, you can apply for an affiliate program online or contact the account manager directly for more information.
Ensure you provide the necessary and correct information, such as your website domain, monthly traffic, etc.
This attention to detail will help ensure that networks can send out payments promptly.
Wait For Acceptance Into The Program
Most programs take 24-48 hours to process applications after they are submitted.
It is essential to wait until you receive confirmation of your acceptance before proceeding with any promotional activities or other tasks associated with the program.
Check Your Dashboard For Promotions And Links
Once accepted into an affiliate program, you should check your dashboard for any promotions or ties that need to be shared to earn sales commissions.
Building A Successful Affiliate Marketing Campaign
These are the steps affiliates follow to build profitable marketing campaigns.
Use Effective Promotion Tactics
Choosing the most effective promotional tactics for your audience is vital.
Whether it's creating campaigns through email marketing software, monetizing blog posts, or using pay-per-click ads to drive traffic to your affiliate offers, only you can answer this question.
Track Performance With Analytics Tools To Determine What's Working
Analytics tools are essential for tracking performance and properly evaluating what's working and what isn't.
It would be best to track as much detail as possible, including referral links, impressions, clicks, conversions, sales, etc.,
This tracking helps get an accurate picture of your affiliate program's performance.
Deep linking can also be very beneficial in helping you to promote specific products or services that you want to focus on.
This term refers to a type of URL that takes users directly to the page with the desired product or service rather than landing on a general homepage.
Establish Strong Relationships With Affiliate Managers
Having solid relationships with these key people is essential for success in the world of affiliate marketing.
They can help you stay informed about promotional opportunities, provide helpful tips and advice, and even help you troubleshoot any issues that may arise.
Set Realistic Goals For Yourself And Your Affiliates
Setting realistic goals can help you to measure progress, adjust strategies as necessary, and track overall success.
Utilize The Right Technology To Ensure Smooth Operations And Accurate reporting
The right technology can help streamline your affiliate program operations, reduce errors, and provide accurate real-time reporting.
The right technology includes tracking software and analytics tools for customer relationship management (CRM) systems.
Key Affiliate Marketing Terms
Here are some of the most important terms to know when it comes to affiliate marketing:
Affiliate Link – An affiliate uses a unique URL to promote a product or service. This link will track sales and commissions for the affiliate.
Commission – The percentage of the sale paid to the affiliate as compensation for their services.
Conversion Rate – The percentage of visitors to a website who become customers or take an action that the affiliate is promoting.
Cost Per Click (CPC) – A pricing model where the advertiser pays for every click on their ad or link.
Pay Per Sale (PPS) – A pricing model where the affiliate is paid a commission for every sale they refer.
Pay Per Lead (PPL) – A pricing model where the affiliate is paid a fixed amount for each lead they generate.
Revenue Sharing – An arrangement between two or more parties to share the revenue generated.
CPA (Cost Per Action) – Refers to the amount of money an affiliate earns when a customer completes an action, such as signing up for a newsletter or making a purchase.
Wrap Up.
Affiliate marketing is a great way to increase sales, build brand awareness, and generate more revenue.
ClickBank is one of many options since there are a variety of platforms to choose from.
Evaluating each program and selecting the best one that fits your needs is essential.
By following the steps outlined above, you can create an effective affiliate marketing plan on any platform and generate more income for your business.
Further reading on AdamEnfroy.com: There are many ways to promote affiliate offers.
Here are the best ways to share your affiliate links without spamming people.
Also, once you've covered the basics, check out these high-ticket affiliate programs and products to help you earn more.
Disclosure: I may receive affiliate compensation for some of the links below at no cost to you if you decide to purchase a paid plan. You can read our affiliate disclosure in our privacy policy. This site is not intending to provide financial advice. This is for entertainment only.