10 Best ClickBank Alternatives to Make Money as an Affiliate
There are many ways to make money online.
Some people may be looking for a more traditional route, such as freelancing from home or starting a blog. Others may prefer to sell others' products or services through affiliate marketing.
If you're using the latter strategy, you might be familiar with ClickBank. It used to be a leading platform for online affiliate marketing because it offers an easy-to-use platform for affiliate marketers to promote products and services.
That said, it's not always the best option if you're looking to monetize your blog.
As the founder of a community that makes revenue through affiliate links on our blog, I've done my fair share of testing different ClickBank alternatives. Some of them have earned us hundreds of dollars in commissions; others not so much.
If you're looking for an alternative to ClickBank's affiliate program that will help you make money online, you're in the right place.
This guide shares 10 of the best ClickBank alternatives, ranked by their best features, commission rates, payment options, and minimum payout threshold.
The best ClickBank alternatives
| ClickBank alternative | Best for | Commission rates* | Minimum payout |
| --- | --- | --- | --- |
| Amazon Associates | Physical products | Between 1% and 20% | $10 |
| ShareASale | A big variety of brands | Between 4% and 50% | $50 |
| CJ Affiliate Network | Big-name brands | Depends on the merchant | $50 |
| Avangate | Digital products and software | Up to 75% | $100 |
| Partnerize | In-depth reporting | Depends on the merchant | $0 |
| JVZoo | Digital marketing products | Between 50% and 100% | $50 |
| Rakuten Advertising | Exclusive brands | Between 3% and 20% | $50 |
| Market Health | Health and beauty products | Between 30% and 50% | $20 |
| Refersion Marketplace | Products from direct-to-consumer brands | Up to 50% | $0 |
| eBay Partner Network | Second-hand goods or collectibles | Between 1% and 4% | $10 |
*In the case of an affiliate network: commission rates are set by individual brands using the platform to make money through affiliates. This is why commission can vary dramatically within the same ClickBank alternative.
1. Amazon Associates
Best for: Becoming an affiliate for physical products.
Are you a content creator, publisher, or blogger looking for ways to monetize your referral traffic? The Amazon Associates Program can help.
With millions of products and programs on Amazon, you can use easy link-building tools to direct your audience to your recommendations and earn from qualifying purchases and programs.
"ClickBank is much more focused on affiliate marketing so the process feels smoother with more helpful features and a better interface. However, Amazon destroys ClickBank with a much larger selection of products to choose from." —Maks Dereszewicz, owner of The Mak's Guide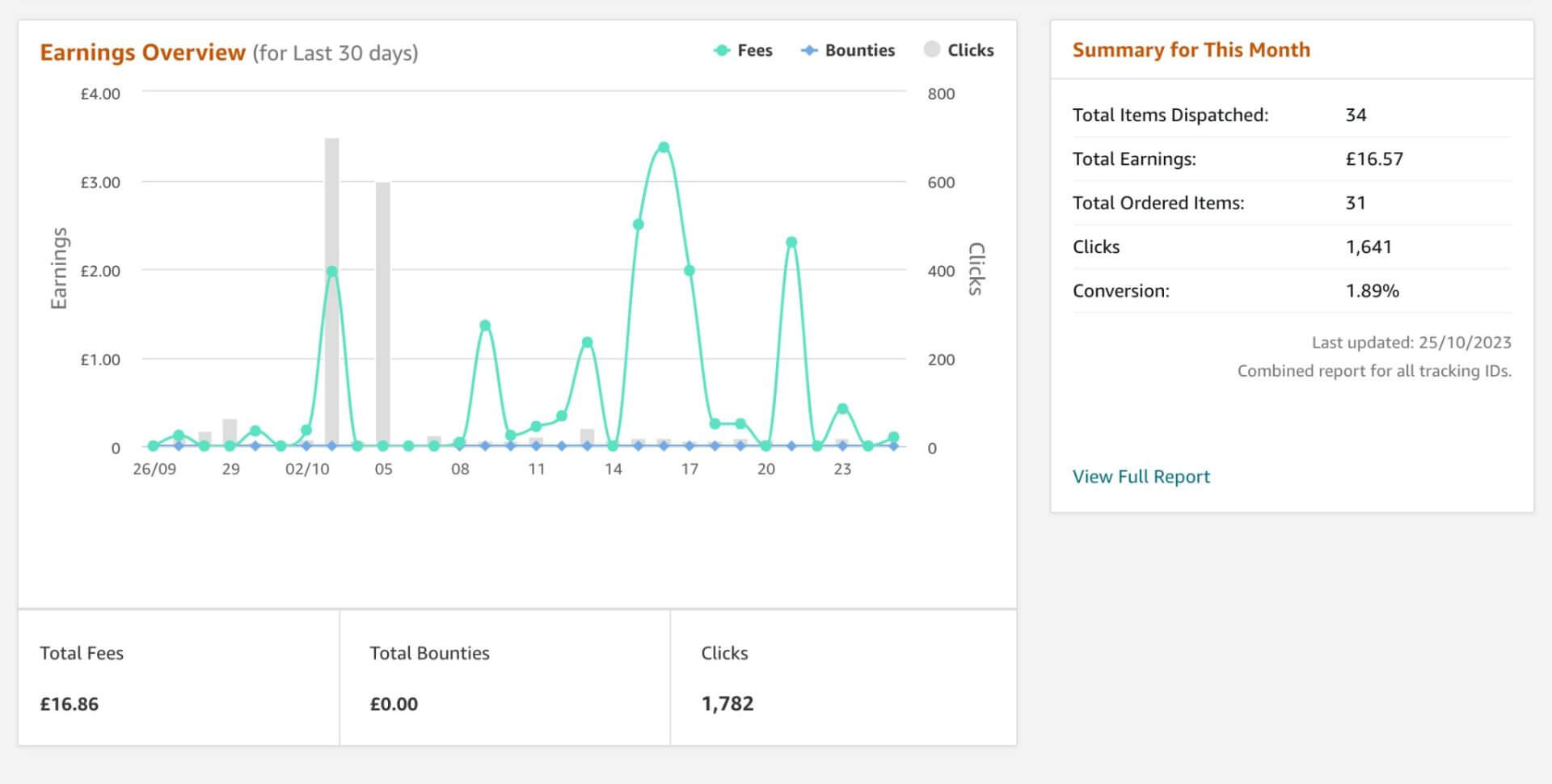 Being a direct ClickBank alternative, the Amazon Associates Program offers customized linking tools for large publishers, individual bloggers, and social media influencers, making sharing millions of products with your audience easier.
For example: I use Amazon Affiliates to monetize my niche site about dogs. I make money promoting dog toys, food, and leashes.
Other benefits of choosing Amazon Associates over ClickBank include:
Tracking IDs to monitor performance over time to optimize your linking strategy better
Various promotional opportunities—such as bonuses for sales growth or special affiliate offers on select items—to increase conversions even further
The ability to link to a product, category, or search results page
The biggest downside to Amazon is that the cookie window—the time someone has to make a purchase through your link in order to receive commission—is short. If a reader clicks your link and buys something 25 hours later, you won't get the credit for the sale.
Commission rate: Between 1% and 20% for direct qualifying purchases
Payout methods: Bank transfer, gift certificate, or check
Minimum payout: $10 for bank transfer or gift certificate; $100 USD for check
2. ShareASale
Best for: A wide variety of digital products in one network.
ShareASale is a global affiliate marketing network that connects creators with over 25,000 brands.
It's free to sign up and reportedly paid out $1.3 billion to affiliates last year, making it a great ClickBank alternative if you're looking to make money through your blog.

Some of ShareASale's best features include:
Plenty of resources to help you monetize affiliate links
Thousands of affiliate partners to choose from
Simple application process when applying for new programs
Transparent reporting across all affiliate marketing programs you've joined
Michael Giannulis, co-founder of CopyMachines, adds: "While ClickBank primarily focuses on digital products, ShareASale offers a wide variety of physical and digital products, giving affiliate marketers more options to explore and potentially monetize.
"This diversity can be especially valuable for bloggers in niche markets where physical products may be more relevant to their audience."
Michael puts this into practice with an affiliate site in the health and wellness niche: "With ClickBank, they might primarily find digital products such as eBooks or online courses. However, with ShareASale, they can also find physical products such as vitamins, nutritional supplements, or even workout equipment to promote alongside their digital offerings."
The biggest downside to ShareASale is that the interface is a little outdated. There's also a higher payment threshold than other alternatives on this list.
Commission rate: Between 4% to 50% (this depends on the individual brand)
Payout methods: Check, direct deposit, and ACH
Minimum payout: $50 USD
3. CJ Affiliate Network
Best for: Big-name brands that sell physical goods
Commission Junction (CJ) is an all-inclusive global affiliate network.
The company was founded over 20 years ago and is a legacy brand in the affiliate industry. So much so that its affiliate links reportedly generate 88% more revenue per shopper.
CJ Affiliate powers the affiliate programs of the world's biggest e-commerce brands, including J.Crew, Blue Apron, and Office Depot. It's a great option if you're looking to partner with big brands on CJ instead of ClickBank.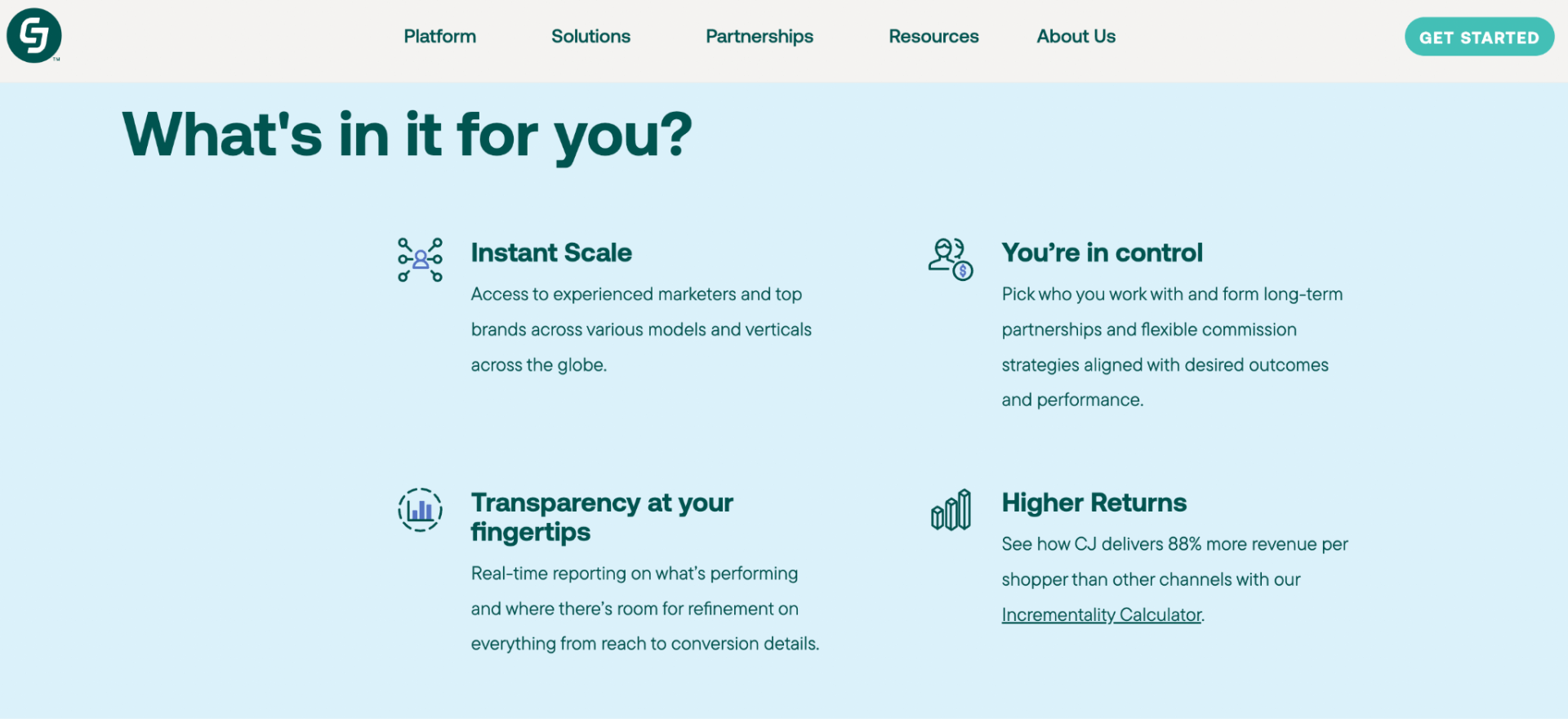 Some of Commission Junction's best features are:
Real-time analytics to better understand how campaigns are performing
Automated workflows to streamline processes for greater efficiency and accuracy
Get paid in over 150 local currencies through its Payoneer integration
Premium publisher networks with strategic partnerships with Awin and Rakuten Advertising
"ClickBank is indeed renowned for its digital products and a simplified, user-friendly approach," says Krishna Rungta, founder of Guru99.
"However, CJ offers a broader spectrum of products, including tangible goods and services which align with a wider array of content themes. This diversification allows us to cater to a more extensive reader base while ensuring relevance and quality."
"CJ's payment structure is also transparent and reliable. The affiliate dashboard provides a comprehensive view of earnings, clicks, and conversions. In contrast, while ClickBank is also efficient, I find CJ's interface and detailed analytics a notch higher." —Krishna Rungta, founder of Guru99
The biggest downside to CJ Affiliate is that commission rates aren't obvious prior to joining. You'll have to register for the network and find the right brand for your blog before finding out how much commission you can make on each sale.
Commission rate: Depends on the merchant
Payout methods: Check, direct deposit, or Payoneer
Minimum payout: $50 USD for direct deposit; $100 USD for check
4. Avangate
Best for: Affiliates of digital products and software
The Avangate Affiliate Network is a global network designed to help affiliates make money promoting digital goods and software. Once accepted into its program, you can promote software from big-name brands like Bitdefender, Movavi, and Kaspersky.
With its modular design, ease of use, and advanced reporting, it's no wonder that mThink's Blue Book has ranked Avangate as the #1 worldwide affiliate network for eight years.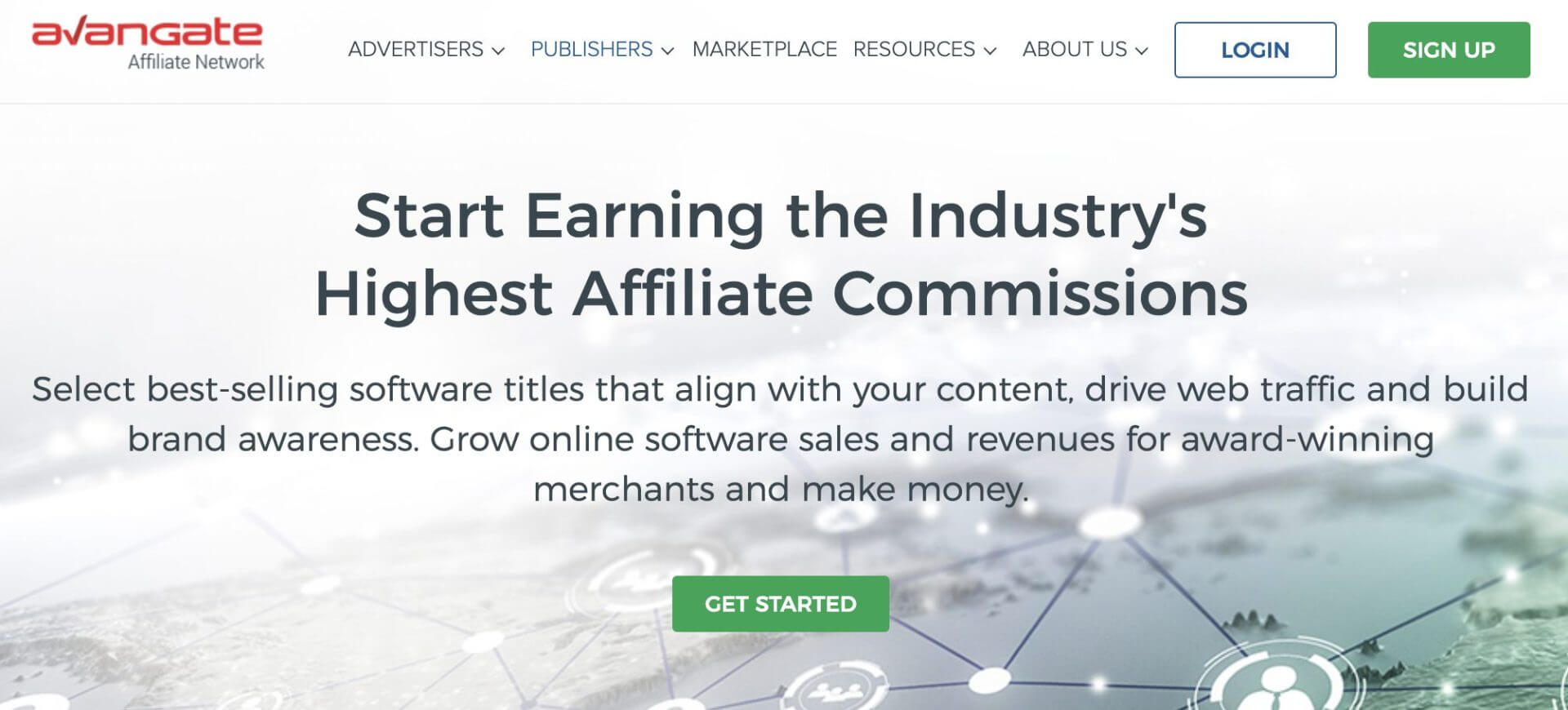 If you're considering Avangate as a ClickBank alternative, here are the features you'll get access to:
Deep linking tools that point your audience to individual product pages
Localized shopping carts to show products in a reader's currency or location
Dedicated 24/7 support from affiliate managers via email
Detailed business reports and real-time analytics, so you can track your progress and optimize your campaigns for maximum ROI
As many of the top software and digital goods providers are already signed up with Avangate, it's the perfect opportunity for affiliates to get in on the action and start earning money from your blog.
That said, Avangate does have a high minimum threshold of $100, so it might not be the best option for new bloggers who are just getting started with affiliate marketing.
Commission rate: Up to 75% (this depends on the individual brand)
Payout options: Check, wire transfer, Avangate MasterCard, or PayPal
Minimum payout: $100 USD
5. Partnerize
Best for: In-depth affiliate reporting
Partnerize is a world-leading affiliate marketing network that connects affiliates with brands in the finance, direct-to-consumer, and software industries. Each year, successful affiliates on the network generate $7 billion in sales and earn $600 million in commissions.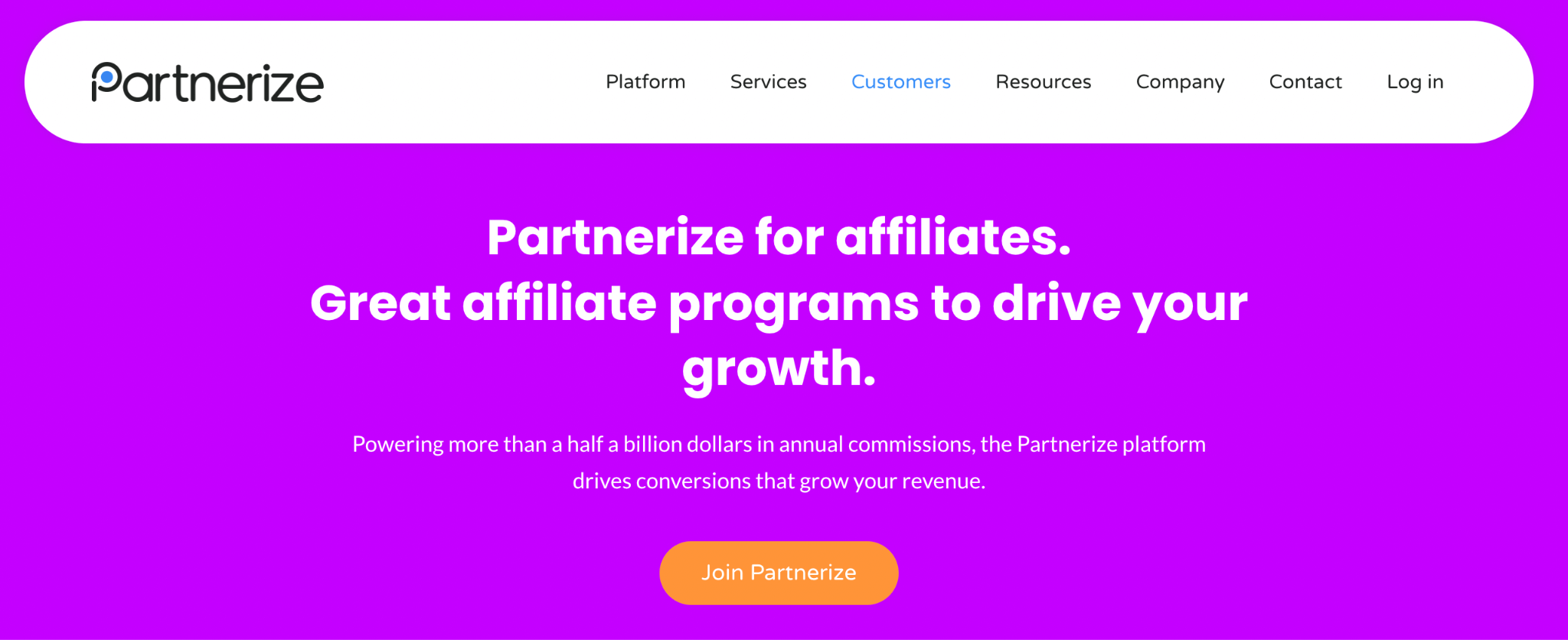 Partnerize's best features include:
Brand discovery tool to find and apply to new affiliate programs
API to import affiliate reports from other sources into the Partnerize dashboard
Daily payouts in 60 different currencies to get your money faster
Promotional materials created from each brand to promote products more effectively and on-brand
Thomas Daniel, co-founder of Fido's Favorites, has recently switched to this affiliate network because "It acts more as a hub for a bunch of different affiliate programs and tracks all of your site's statistics.
"The advantage of being able to have multiple of these smaller programs contained in one place is that they're often better for perishables," Thomas says. "Amazon has had issues in the past with items like dog food, but the smaller programs like Chewy, Ollie, or The Farmer's Dog are all reputable food distributors."
Partnerize doesn't have many downsides but it's difficult to know whether it's the right network for you without giving it a shot, as commission rates vary massively depending on the brand.
Commission rate: Depends on the merchant.
Payout options: PayPal, wire/bank transfer, and ACH.
Minimum payout: $0 USD.
6. JVZoo
Best for: Digital marketing products.
JVZoo provides an instant affiliate program to help affiliates connect with brands and earn money from product sales. The majority of its digital products fall within the digital marketing "make money online" niche.
With over 800,000 active affiliates, JVZoo offers a streamlined process that takes care of all the details, including deposits and refunds.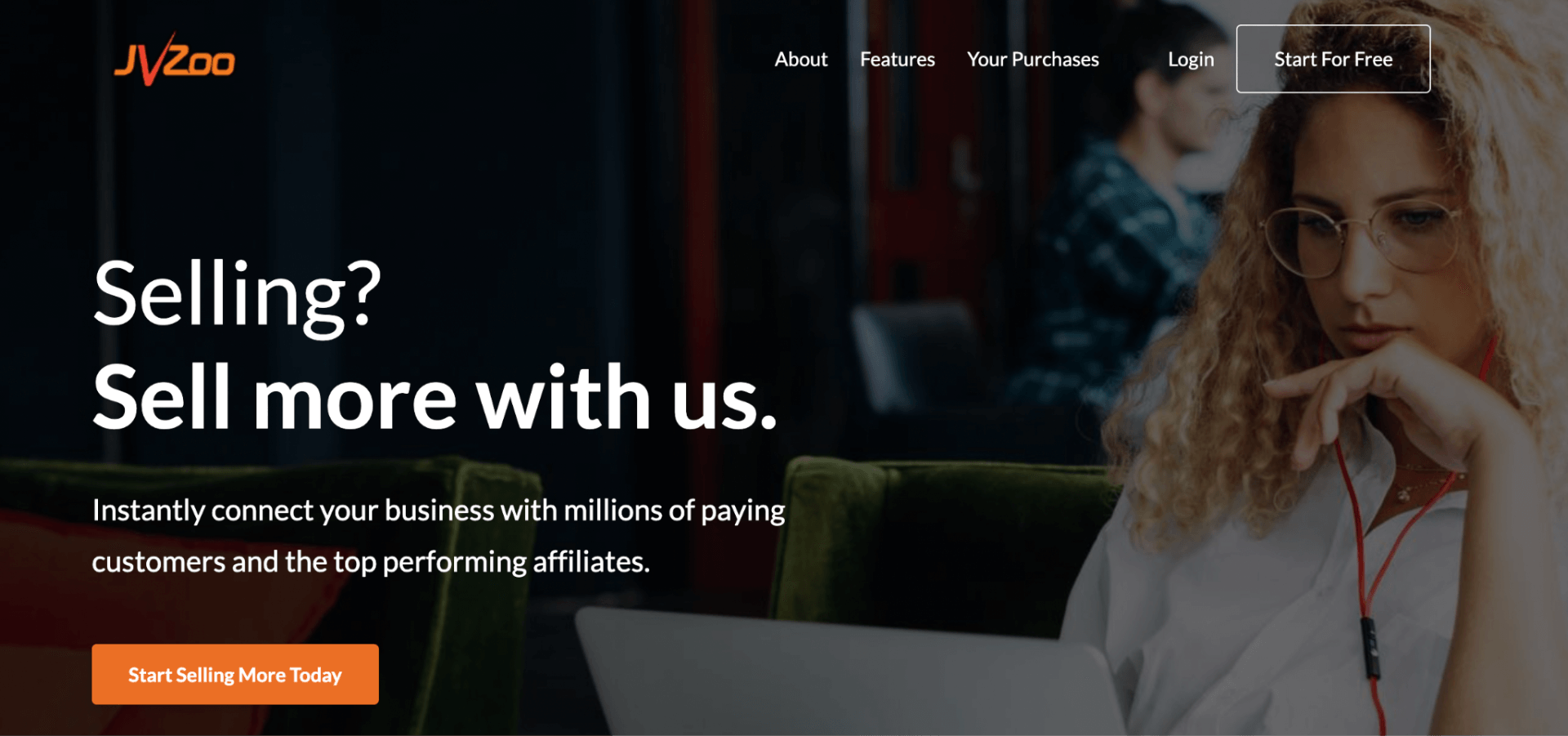 Add this affiliate network to your shortlist if the following features are important to you:
Free to join
Digital products from small indie creators
Get paid instantly via PayPal (once you become a premium affiliate)
See metrics like units sold, conversion rate, and refund rate to pick the best affiliate products
The downside to JVZoo is that the merchant application process is easy, so you might have to wade through some low-quality product before finding hidden gems on this ClickBank alternative.
Commission rate: Between 50% and 100% (depending on the brand)
Payout options: Check, direct deposit, PayPal, and Payoneer
Minimum payout: $50 USD
7. Rakuten Advertising
Best for: Exclusive brand collaborations.
Rakuten is a global leader in digital marketing solutions that can help you maximize your reach and performance. Formerly known as Linkshare, the network has paid out over $1 billion to affiliates who use its platform to promote brands' products.
The best part? The vast majority (95%) of brands host their program exclusively on Rakuten—making it one of the best ClickBank alternatives if you're looking to promote products that not every other blogger shares.
Consider this option if the following features are important to you:
Weekly payouts with no fees
Workflow and automations to track earnings and commission
Detailed analytics to track affiliate performance over time
But by far the biggest selling point of Rakuten is that the vast majority of its brands are exclusive to the network. Whether you're promoting luxury goods or travel services, you can find them all within this ClickBank alternative.
That said, the disadvantage of Rakuten Advertising is that the commission rates (of up to 20%) are significantly lower than other alternatives.
Commission rate: Between 3% and 20% (depending on the merchant)
Payout options: PayPal, ACH, or check
Minimum payout: $50 USD
8. Market Health
Best for: Health and beauty affiliates
Market Health is a long-standing leader in performance-based health and beauty products, available with offers for specific countries. It's a great alternative to ClickBank if you're looking to promote 200+ products in the health and wellness industry.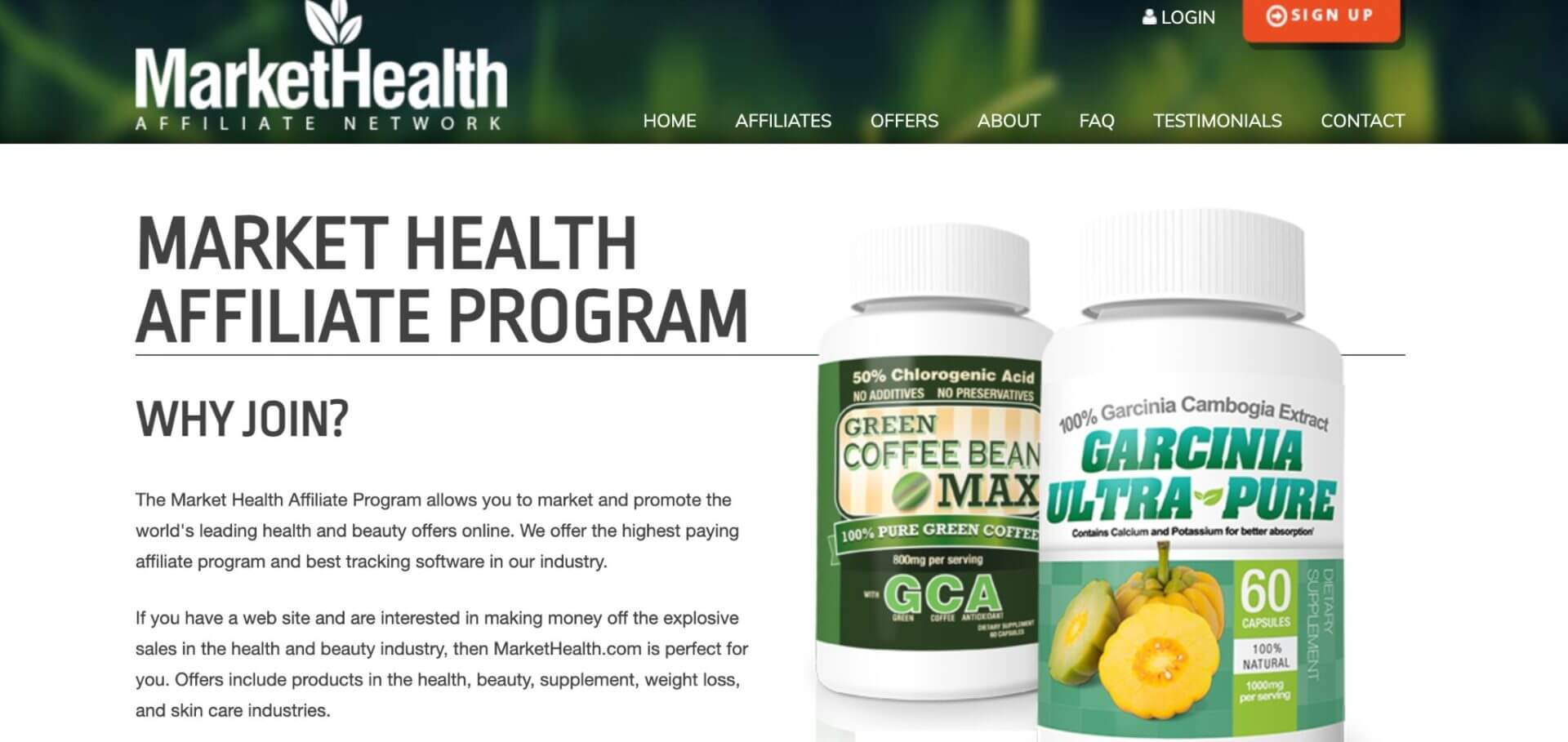 The best parts about becoming an affiliate for Market Health include:
Low payout minimum of $20
Free design services for landing pages and banners
Recurring affiliate commissions by remarketing to people with newsletters and coupons
The tracking system is robust and reliable, making it easy to track affiliate performance accurately
No hidden fees or commissions taken from the sale price
Generous cookie window of 30 days
The team at Market Health also provides affiliates with various resources to help affiliates customize their advertising campaigns. These resources help your content stand out and attract potential customers' attention.
The obvious downside to Market Health is that it's only suitable for affiliates in the health and wellness space. If you're looking to promote pet products or home decor, it's not the right one for you.
Commission rate: Between 30% and 50%
Payout options: Check, bank wire, Payoneer, or Skrill
Minimum payout: $20 USD
9. Refersion Marketplace
Best for: Promoting products from e-commerce brands.
Refersion is an affiliate marketing tool with its own marketplace to connect affiliates with 60,000 brands. More than 6.6 million affiliates use the marketplace. They've tracked over $366 million in affiliate commissions.

By joining the Refersion Marketplace you'll get access to:
A modern, easy-to-navigate interface
World-class first-party cookie tracking software
Near real-time data to see the impact of your affiliate campaigns faster
High commission rates (compared to other e-commerce affiliate programs)
Centralized reporting to see affiliate performance across different programs
To summarize: Refersion is a reputable and trustworthy brand that specializes in affiliate programs for direct-to-consumer brands, making it a great option if you're looking to promote products that can only be bought on the brand's website.
However, some affiliates report that the dashboard can be glitchy. One said: "There are so many issues with this software that require customer support to fix which is frustrating and inefficient."
Commission rate: Up to 50% (depending on the merchant)
Payout options: PayPal or bank transfer via Trolley
Minimum payout: No minimum payout
10. eBay Partner Network
Best for: Second-hand goods or collectibles
eBay is one of the world's largest online marketplaces. The platform processes more than two billion daily transactions where shoppers spend a collective $9.7 billion each year. The Partner Program is your chance to get a slice of that spending.
Anyone can join eBay's affiliate marketing platform and earn money when they recommend people to buy products from the marketplace. It's free to join and has a low payout threshold to earn money fast.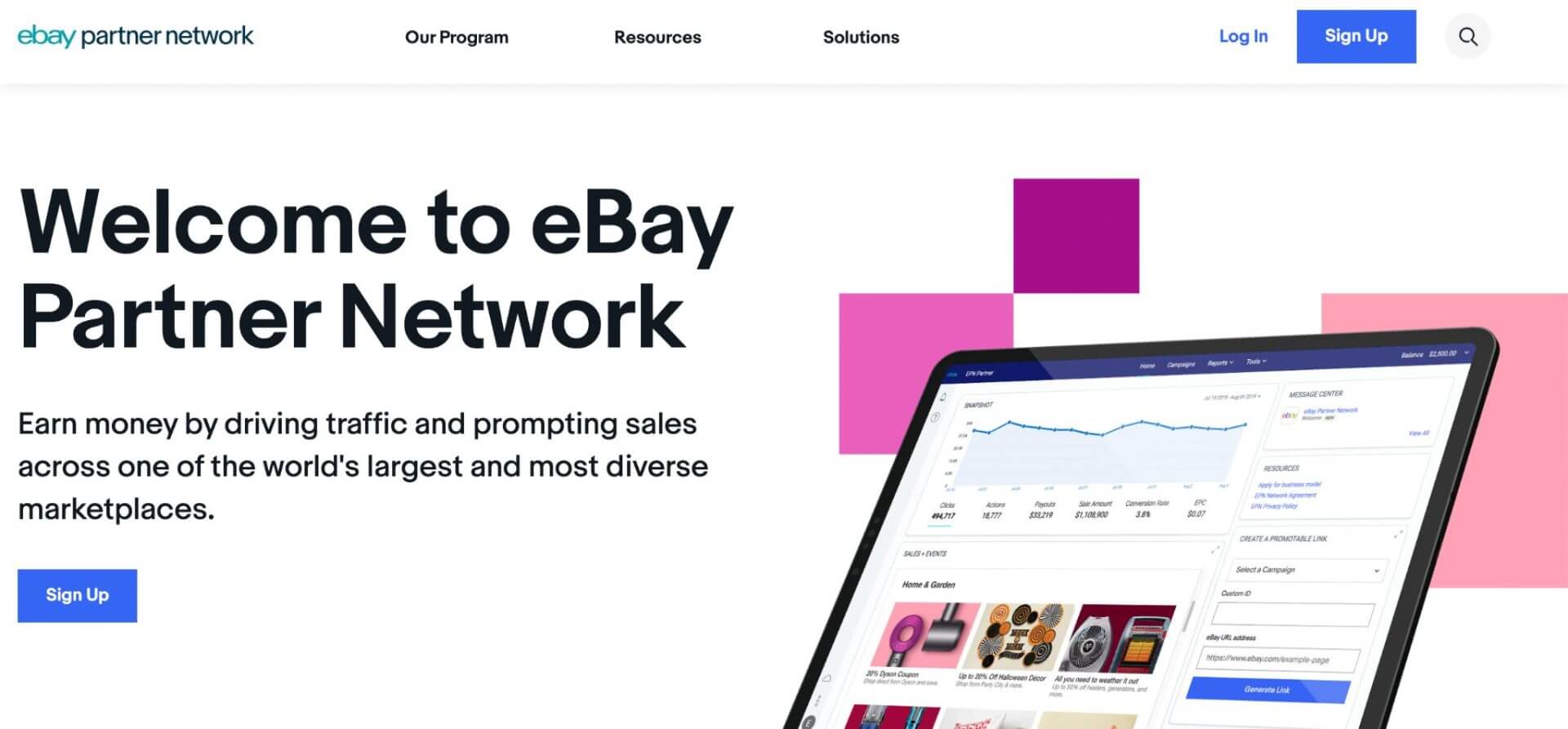 Some of the best features include:
Intuitive dashboard that's easy for new affiliates to navigate
Promote any type of product you can think of—from antiques to electronics
eBay's Best Price Guarantee can entice readers to buy through your affiliate links
Low payout threshold of just $10
Similar to Amazon Associates, eBay's affiliate program has a short cookie window of 24 hours. You'll have to prime people to make impulse purchases if you're to stand any chance at making money from this ClickBank alternative.
Commission rate: Between 1% and 4%
Payout options: Electronic funds transfer or PayPal
Minimum payout: $10 USD
How to choose the best ClickBank alternative
While the list of ClickBank alternatives we've shared are great options, just like ClickBank itself, not every affiliate program will be the right fit for your online business.
Here are seven things to consider when looking for the right affiliate products to promote.
Your niche
Experience level
Product quality
Commission structure and rates
Conversion rates
Reputation and reviews
Analytics and reporting
Your niche
Consider your blog niche before committing to any new affiliate program.
The last thing you want to do is go through a complicated application process only to discover that there's a tiny variety of products that your audience would be interested in.
Market Health, for example, only has affiliate links for health and beauty products, whereas software (SaaS) brands and apps use Avangate to promote their products using affiliates.
Experience level
When looking at the ease of promotion and setup, consider how simple it is to generate links, create banners, and track sales data in real time.
Similarly, if you don't have much experience with affiliate marketing, it might take a few months to build up enough commission. Choose an affiliate network with a low payout threshold so your money doesn't get tied up in the platform for weeks on end.
Product quality
An affiliate business thrives on good quality products.
Not only can high-quality affiliate products help increase your conversion rates, but it also minimizes the risk of losing your commission if people refund the item.
The best affiliate networks have a wide variety of products that are all high-quality products. ShareASale, in particular, has strict criteria that brands must meet before they can match with affiliates on the program.
Commission structure and rate
The higher the commission rate, the more money you'll earn when people purchase things through your affiliate links.
Prioritize ClickBank affiliate alternatives that have high commission rates, but bear in mind that this can vary significantly depending on the vendor. Some brands also have different pricing models—such as cost-per-click (CPC), where you'll get paid for every click you drive to a brand's website (as opposed to the cost-per-sale (CPS) model).
That said, there's a fine balance between commission rates and product prices. It might be better to skip the highest commission rates in favor of premium products. You'd earn much more profit on a $400 item with a 5% commission rate than a $50 product with a 20% commission.
Similarly, explore whether the affiliate program you're about to join offers recurring commissions. If you're promoting software products, for example, you could earn a commission every month for as long as your referred customer stays subscribed.
Conversion rates
A key metric for success in the affiliate marketing industry is conversion rate. This metric refers to how many people convert from leads to sales.
Whether dealing with a cost-per-acquisition (CPA) network or just setting up landing pages for products you're affiliated with, track conversions to measure success and optimize campaigns accordingly.
Data can also tell you which products tend to have the highest conversion rates. This study found that the average conversion rate for e-commerce websites is around 2.9%, but brands in the industrial and professional services industry can see much higher conversions.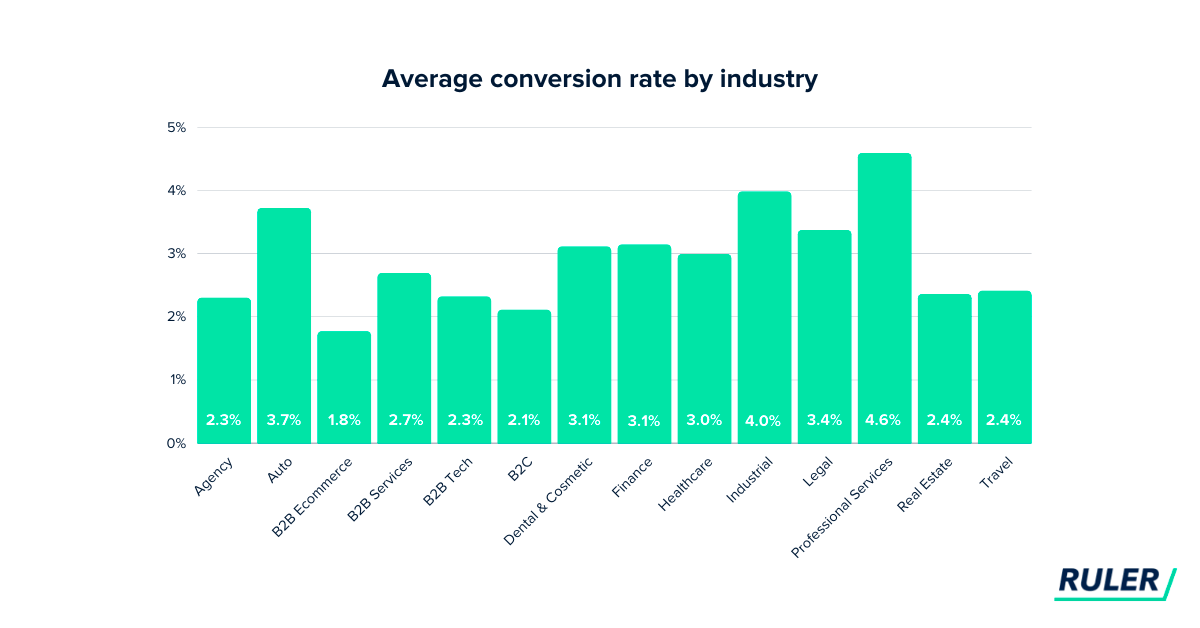 Reputation and reviews
The reputation and reviews of an affiliate marketing business can tell you a lot about how well its products perform, its general customer service levels, and whether there are any issues that prevent it from paying commission.
With popular affiliate networks like ShareASale and CJ Affiliate, for example, you can read genuine reviews from members to help you make an informed decision.
Analytics and reporting
Look for an alternative that offers detailed analytics that allows affiliates to monitor their performance.
Whether it's cost-per-action, total revenue, or other metrics, having access to these insights can be incredibly helpful for affiliates looking to optimize their campaigns and measure success.
How to apply for a new affiliate program
Once you've found a ClickBank alternative that you want to start earning money from, follow these steps to navigate the sign-up process:
Research the company. Before joining an affiliate program, you must research the company and its products. What do they sell? What's the biggest advantage of using their products? You can usually find this on their website or customer review sites.
Apply to the affiliate program. Most networks allow you to apply for an affiliate program online or contact the account manager directly for more information. Ensure you provide the necessary and correct information, such as your website domain, monthly traffic, etc. This attention to detail will help ensure that networks can send out payments promptly.
Wait for acceptance. Most programs take 24-48 hours to process applications after they are submitted. Wait until you receive confirmation of your acceptance before proceeding with any promotional activities or other tasks associated with the program.
Check your dashboard for affiliate links. Once accepted into an affiliate program, you should check your dashboard for any promotions or ties that need to be shared to earn sales commissions.
Grow your blog income with these ClickBank alternatives
Affiliate marketing is a great way to increase sales, build brand awareness, and generate more revenue—even if you only plan to do affiliate marketing as a side hustle.
But while ClickBank can help you find new brands and earn affiliate commission, it's not always the best option for your blog.
Go through the shortlist we've mentioned here and evaluate which network fits your needs. From an easy-to-use interface to minimum payout thresholds—putting in the time to determine which alternative best suits you is the best way to create an effective affiliate marketing plan on any platform and generate more passive income for your blogging business.
ClickBank alternatives FAQs
Which is the best alternative to ClickBank?
ShareASale
JVZoo
Amazon Associate
CJ Affiliate
PartnerStack
Rakuten Marketing
Is ClickBank the best affiliate marketplace?
ClickBank is one of the best marketplaces if you're looking to promote digital products. If you're looking for a wider variety of products to promote, consider ClickBank alternatives like Market Health, ShareASale, or Amazon Associates.
Is it hard to make money with ClickBank?
ClickBank has high commission rates of around 50%, meaning you can make a decent income out of promoting products on the affiliate network.
Editorial Process:
Our reviews are made by a team of experts before being written and come from real-world experience. Read our editorial process here.
Some of the links in this article may be affiliate links, which can provide compensation to us at no cost to you if you decide to purchase a paid plan. These are products we've personally used and stand behind. This site is not intended to provide financial advice. You can read our affiliate disclosure in our privacy policy.