Is It Worth Promoting ClickFunnels As An Affiliate In 2023?
Are you looking for a way to monetize your website or blog?
Do you want to earn a predictable, recurring income every month while knowing you are offering your target audience a quality product they need?
If so, the ClickFunnels affiliate program could be the answer.
In this review, I'll explore the ins and outs of the ClickFunnels affiliate program and reveal how you can use it to make money.
What Is ClickFunnels Affiliate Program?
Russell Brunson, an experienced entrepreneur and digital marketer who has authored several sales and marketing books, founded ClickFunnels.
ClickFunnels is a SaaS-based platform that offers a variety of tools and features, including email marketing, web hosting, payment processing, and more.
Entrepreneurs and businesses use this platform to create high-converting sales funnels.
The ClickFunnels Affiliate Program allows individuals to earn commission by promoting ClickFunnels products and services through their unique affiliate dashboard.
To participate as an affiliate, individuals must have an active ClickFunnels account, which allows them to access and create custom affiliate links for various ClickFunnels products and services.
Once an affiliate has generated an affiliate link, they can share it with their audience via social media, email, or their website and earn a commission for any resulting ClickFunnels purchases made through their link.
The affiliate program allows you to earn up to 40% monthly recurring commission on all accounts and pricing tiers signed up under your ID.
So, every time someone signs up for ClickFunnels using your affiliate link, you will earn a commission as long as their account is active.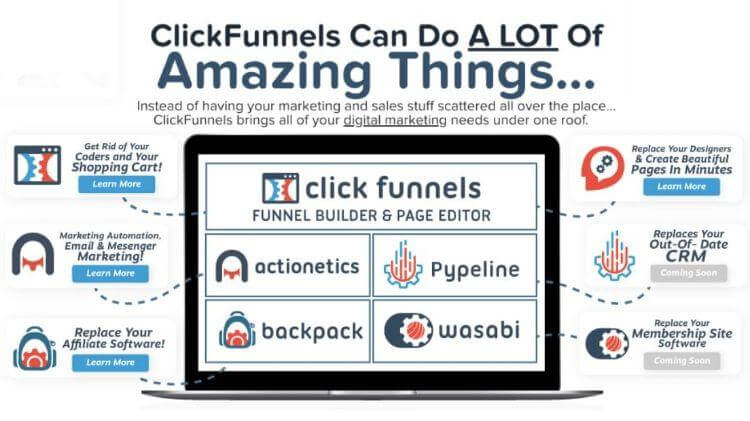 Image credit: https://herpaperroute.com
By promoting ClickFunnels as an affiliate, you can leverage the brand's reputation and earn a steady monthly income.
Signing Up For The ClickFunnels 2.0 Affiliate Program
So how does the ClickFunnels affiliate program work?
You'll first need to sign up for it.
Here is the simple step-by-step walkthrough to become a ClickFunnels affiliate, so you can start earning an affiliate income:
Head to the website and hit the "Sign Up To Promote CF2.0!" button: The first step is to head to the ClickFunnels 2.0 website and click the "Sign Up To Promote CF2.0!" button. Once you click the button, it will take you to the affiliate sign-up page.
Enter Your Name, Email, and Phone Number: Once on the affiliate sign-up page, enter your name, email, and phone number to create your account and enable communication.
Click "Become An Affiliate!": After you've entered your details, click the "Become An Affiliate!" button. It will take you to the affiliate center.
Press "Go To The Affiliate Portal": Once in the affiliate center, click the "Go To The Affiliate Portal" button to access your account.
Sign in to your account or use "Or Login with Password": Next, you'll sign in or use the "Log in With Password" button. If you don't have an account, you can create one easily by following the prompts.
Complete the checklist in the Affiliate Center: Once logged in to your account, you'll get a checklist of items to complete in the affiliate center. Follow the prompts and complete each item on the list.
Hit "Set Up Payments": After completing the checklist, you'll set up your payment options. Click the "Set Up Payments" button to start.
"Setup Tipalti": Click "Setup Tipalti" to set up your payment details.
Fill in Your Address, Payment Methods, and Tax Details: Next, you'll need to fill in your address, payment methods, and tax details. Make sure to fill everything out accurately and provide any necessary documentation.
Accept the Affiliate Agreement: Once you've filled in all your details, it's time to accept the affiliate agreement. Make sure to read it carefully before accepting.
Review the terms, then accept: Once you've accepted the agreement, you're officially a ClickFunnels affiliate! Congratulations, you can now start promoting ClickFunnels and earning high commission rates.
Earning Money With ClickFunnels
You can earn a steady monthly income by leveraging the ClickFunnels affiliate program.
The brand's reputation and quality of service mean your referrals will keep using the software for a long time.
Here are the key benefits of the ClickFunnels affiliate program.
Recurring Commissions
One of the most attractive things about the ClickFunnels affiliate program is its recurring commission structure.
As an approved ClickFunnels affiliate, you can generate recurring commissions through their affiliate program.
By building a targeted email list, you can effectively promote ClickFunnels to your audience and earn passive income.
With a commission rate of up to 40%, ClickFunnels offers a lucrative opportunity for affiliates to earn significant income over time.
High Converting Landing Pages
ClickFunnels offers high-converting landing pages that enable affiliates to earn lucrative affiliate commissions by promoting exclusive offers to new ClickFunnels affiliates.
As a personal affiliate, you can enjoy even more benefits, such as significant commission bumps, access to high-quality marketing materials, and dedicated support from the ClickFunnels team to ensure success in your affiliate marketing efforts.
Excellent Customer Support
The ClickFunnels support team is famous for its excellent customer support, providing resources and assistance to users and affiliates alike.
This level of support translates to a positive experience for ClickFunnels affiliates, establishing a solid foundation for successful affiliate sales.
Through the convenient support icon on the ClickFunnels dashboard, affiliates can easily refer to the resources provided by ClickFunnels and troubleshoot any technical issues quickly.
Multiple Products
As a ClickFunnels affiliate, you can promote multiple products with various upgrades.
These upgrades allow you to offer upsells to website visitors, increasing the overall value of each sale.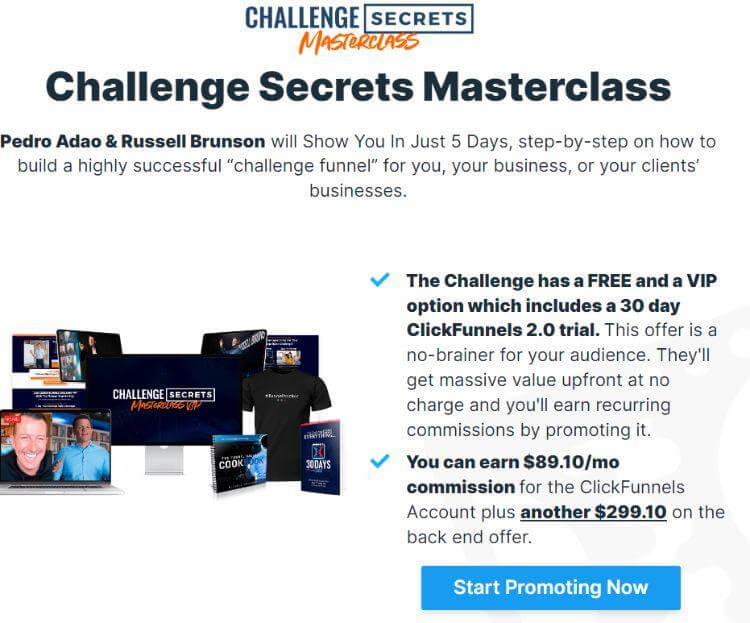 By offering relevant upsells and upgrades, you enhance the customer experience and boost your earnings potential as a ClickFunnels affiliate.
Whether you're promoting Traffic Secrets, Challenge Secrets, or any other affiliate offers on the back end through your affiliate ID, you can count on ClickFunnels to provide multiple products that best serve your audience.
Affiliate Training And Resources
Undoubtedly, succeeding in the affiliate marketing industry requires skill and expertise.
Fortunately, ClickFunnels' affiliate program offers training and resources to help you succeed as an affiliate marketer.
The training and resources cover various affiliate marketing techniques, such as lead generation, email marketing, and SEO.
With these resources, you have a better chance of succeeding with ClickFunnels.
The ClickFunnels program also offers a dedicated Facebook group for its members to connect, share insights and get support.
The group features regular live sessions, exclusive content, and helpful training materials to assist affiliates in marketing.
By joining the Facebook group, affiliates can access up-to-date information, network with fellow members, and gain the knowledge and resources needed to succeed in their promotions.
Get Your Dream Car With ClickFunnels' Affiliate Program
Apart from getting a steady income stream from the ClickFunnels affiliate program, you also have another great incentive to join.
This program allows you to drive your dream car while earning more commissions.

All you need to do is refer 100 or more active ClickFunnels 2.0 members, and they'll take care of your car's lease or purchase payment.
Once you've achieved this, you'll be eligible for the Dream Car bonus, which covers your car's lease or purchase payments.
You can choose any car if it meets the program's eligibility requirements.
The program also has additional bonus tiers for referring even more ClickFunnels members, so there's no limit to how much you can earn.
Make The Most Of The ClickFunnels Affiliate Program
To make the most of your ClickFunnels affiliate program, authentically promote ClickFunnels to your audience.
Here are a few tips to help you start.
Use ClickFunnels Yourself And Share Your Success Story With Your Audience
Having a personal experience with the product you're promoting is always essential.
It gives your audience a more human touch and shows that you believe in what you are selling and are passionate about it.
Share your success stories on social media platforms or create content that showcases how ClickFunnels has benefited you.
It will help establish trust between you and your followers, which is essential for successful affiliate marketing.
Create Valuable Content That Showcases The Benefits Of Using ClickFunnels
Creating content can be an effective way to promote ClickFunnels as an affiliate.
Write blog posts, articles, and videos about the different features of ClickFunnels and the advantages that come with each one.
Consider creating webinars that show people how to get the most out of ClickFunnels.
Providing your audience with valuable content is one of the best ways to promote the product and earn more commissions.
Offer Exclusive Bonuses To Those Who Sign Up Using Your ClickFunnels Affiliate Link
ClickFunnels offers various bonuses for affiliates, such as free access to their course library or discounts on their paid plans.
An effective way to increase sales and maximize revenue is by offering these bonuses exclusively to those who sign up through your affiliate link.
It can be an excellent incentive for potential customers, providing additional value when signing up through you.
By offering exclusive bonuses to potential customers who sign up through your link, you can increase your chances of converting them into paying customers.
Use Social Media Platforms, Email Marketing, And Other Marketing Techniques
Use social media platforms and email marketing to promote ClickFunnels effectively.
These channels help you reach a wider audience and get more people interested in the product.
Consider running paid ads on social media or Google AdWords, which can help you target potential customers based on their interests or demographics.
Additionally, participating in forums related to digital marketing or entrepreneurship can be beneficial for increasing exposure and building a network of contacts that could lead to more sales.
Once you have your ClickFunnels affiliate account, you can access all the ads and banners provided by the platform to promote your referral link on different channels further.
Utilizing all these marketing techniques can help you maximize your earnings and get more people to sign up through your referral link.
No matter how you promote ClickFunnels, having access to all their resources makes it easier for affiliates to succeed with the program.
Building High-Converting Sales Funnels
ClickFunnels offer a user-friendly website and sales funnel builder designed for maximum conversion and customer satisfaction.
ClickFunnels handles the technical aspects of building a sales funnel, so you don't have to.
You don't need coding or design skills to create a professional-looking funnel.
ClickFunnels' drag-and-drop editor allows you to customize every element of your funnel, from the landing page to the checkout page.
You can also choose from hundreds of templates, so you don't have to start from scratch.
ClickFunnels has all the tools you need to convert visitors into customers.
It features a shopping cart integrating major payment gateways like PayPal and Stripe.
It also has marketing automation features that allow you to follow up with leads, send targeted emails, and segment your audience based on their behavior.
ClickFunnels' primary goal is to help you generate leads and close sales.
With its conversion-optimized templates and sales funnel building blocks, you can create a funnel that guides visitors through each stage of the conversion process.
From the awareness stage to the decision stage, ClickFunnels helps visitors make the right decision by providing them with the information and incentives they need.
ClickFunnels not only helps you generate leads and close sales, but it also helps you boost revenue.
You can upsell and cross-sell your products or services, increase average order value, and retain customers with ClickFunnels' membership features.
You can also integrate ClickFunnels with other marketing tools like Google Analytics and Facebook Ads to track your results and optimize your campaigns.
Building Your Dream Sales Funnel With ClickFunnels
While promoting ClickFunnels as an affiliate can be profitable, it's also important to remember that this product can help you build your high-converting sales funnels.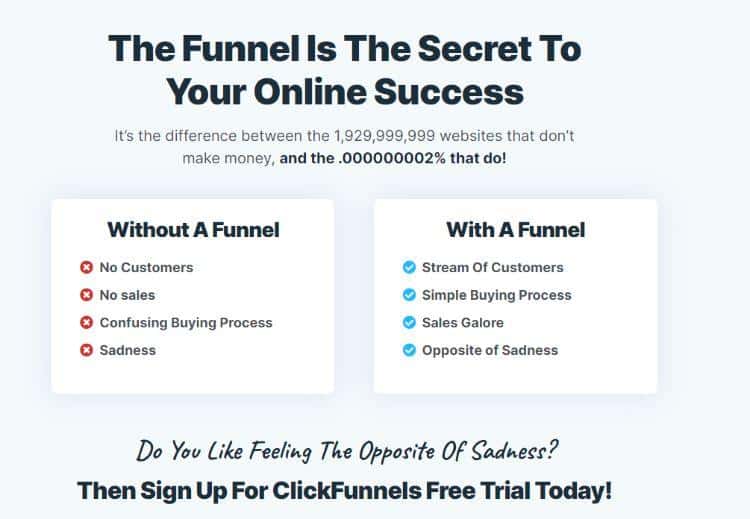 ClickFunnels makes it easy to create and manage complex marketing funnels with its intuitive user interface and range of features.
You can choose from hundreds of templates or start from scratch.
You can also customize every element of the funnel with its drag-and-drop editor.
ClickFunnels has powerful marketing automation tools like email autoresponders that help you nurture leads and close sales.
Here are the critical steps to building a sales funnel that converts.
Define Your Goals
Defining your goals is crucial before creating your sales funnel with ClickFunnels.
What are your primary objectives for your funnel?
Is it lead generation?
Increase in sales?
Or is it upselling?
Once you determine your goals, you can tailor your funnel towards these objectives.
Select A Template
ClickFunnels has several templates to choose from, and you can select one based on your niche and the type of funnel you want to create.
The templates are customizable and have proven conversion rates in mind.
Whether you're creating a lead generation funnel, sales funnel, or upsell funnel, there's a template perfect for your needs.
Customize The Template
Customizing your funnel is easy with ClickFunnels' drag-and-drop editor.
You can change the fonts, colors, and images and add videos or audio files.
Once satisfied with your design, you can add page elements, such as opt-in forms or order bumps.
ClickFunnels strategically place these elements to guide your visitors through the funnel and encourage them to take the desired action.
Integrate Marketing Automation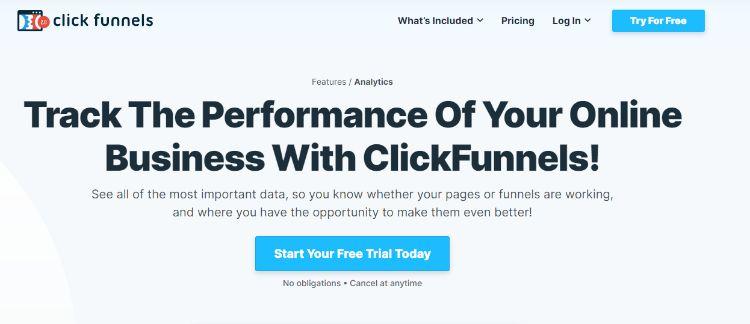 The next step is integrating marketing automation tools to optimize driving traffic to the sales funnel and converting leads into paying customers.
ClickFunnels has email autoresponders, A/B testing tools, and various integrations that help you nurture leads and maximize conversions.
Launch And Test Your Funnel
Once your funnel is ready, launch it and drive traffic.
ClickFunnels has a built-in analytics system that allows you to track the performance of each funnel step.
You can analyze the metrics and identify any areas that are underperforming.
You can make necessary changes to optimize the funnel's conversion rate and maximize your ROI.
ClickFunnels Products
The ClickFunnels affiliate program offers a recurring commission on all the sales made through referral links.
To become a successful ClickFunnels affiliate, enroll in the ClickFunnels Affiliate Bootcamp, a comprehensive training program to help affiliates thrive.
The first funnel created through ClickFunnels could be a simple opt-in page, a sales page, or a product launch funnel.
But what about the various products that affiliates can promote?
The One Funnel Away Challenge is a 30-day virtual training program that teaches entrepreneurs how to build a successful funnel from scratch.
It includes video tutorials, worksheets, and recordings from previous live challenges.
ClickFunnels Platinum Suite is the highest-level membership plan available.
It provides access to various features, including unlimited domains and funnels, advanced automation tools, and priority customer support.
Funnel Scripts is a powerful copywriting software suite that helps marketers create high-converting sales copies and web pages.
The content creation process is entirely automated and requires no technical know-how.
These are some of the products ClickFunnels offers that affiliates can promote.
ClickFunnels Pricing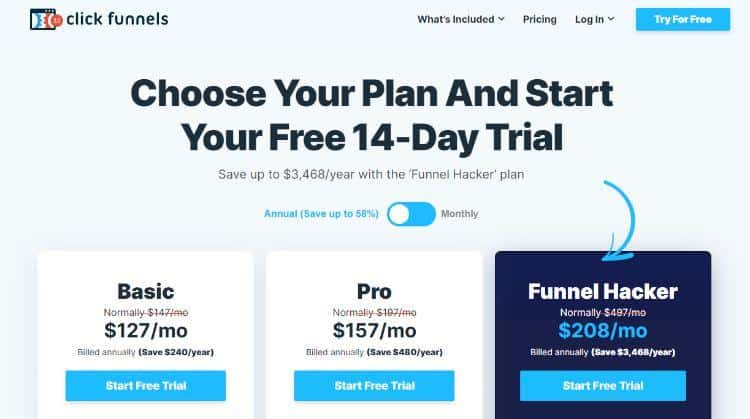 ClickFunnels offers three pricing plans:
Basic: $127 monthly
Pro: $157 monthly
Funnel Hacker: $208 monthly
ClickFunnels also comes with a free 14-day trial for potential customers.
Once the trial is over, customers can choose between a monthly or annual plan, depending on their needs and budget, and affiliates can earn a recurring commission based on the plan the customer chooses.
As a ClickFunnels affiliate, you get a unique ID that links to your account, ensuring you receive credit for any customer who signs up through your unique link.
Overall, the ClickFunnels affiliate program provides a win-win situation for affiliates and customers.
It also offers a powerful marketing solution and an opportunity for affiliates to earn consistent revenue.
ClickFunnels Vs. Other Funnel Builder Affiliate Programs
While ClickFunnels stands out as a leader in the sales funnel industry, other affiliate programs may be a better fit for you.
Depending on your goals and the type of audience you have, you may find more success with another program.
Consider researching other ClickFunnels alternative affiliate programs to compare their features and benefits before deciding which one to join.
Look at the commission rate, payout structure, promotional resources, and ease of use.
Additionally, consider how well the product fits into your offer and how likely your audience will benefit.
Platforms like Kartra, Kajabi, ActiveCampaign, Leadpages, and ConvertKit are popular among affiliate marketers.
They each offer unique features that may benefit you and your followers.
Wrap Up.
Using ClickFunnels to create and manage your sales funnels, you can ensure that each step of the customer journey is optimized for conversions.
With its intuitive user interface and range of features, ClickFunnels makes it easy to build high-converting funnels quickly.
As an affiliate, you can also promote ClickFunnels and earn generous commissions.
With its flexible commission rates and high-converting products, ClickFunnels makes it easy to make money online.
Get started with ClickFunnels.
Further reading on AdamEnfroy.com: Here's my review comparing ClickFunnels vs. Leadpages vs. Unbounce vs. Instapages.
With this post, you'll be able to compare and contrast the features and benefits of each platform.
You can also check out this ecommerce marketing strategy for more information on how to grow your online business using proven methods.
Disclosure: I may receive affiliate compensation for some of the links below at no cost to you if you decide to purchase a paid plan. You can read our affiliate disclosure in our privacy policy. This site is not intending to provide financial advice. This is for entertainment only.