Mighty Networks Review: Pricing and Features in 2023
If you've ever tried creating an online course and use community platforms at the same time, you might know how frustrating it can be to get everything working well together.
The search usually starts through the need to find a way to bring people together, create content, facilitate discussion, sell products or memberships—and preferably do it all in one place.
While Facebook groups used to be the go-to solution for this, they're increasingly difficult to manage and don't have all the necessary functionality to support a thriving community.
This is where Mighty Networks comes in.
Mighty Networks is an all-in-one membership site platform and online course platform that helps entrepreneurs build and grow their online business by bringing their content, products, and memberships together in one place.
In this Mighty Networks review, I'll take a close look at the features of this powerful platform to help you decide if it's right for your business.
Let's get right into it.
Mighty Networks Overview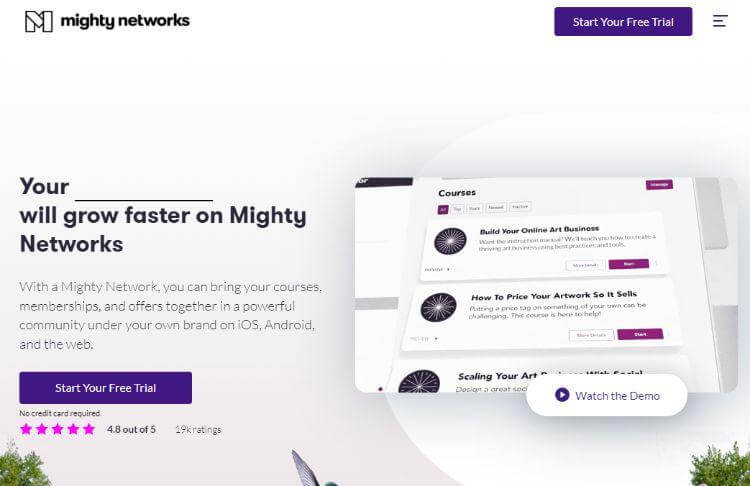 The ability to have a private space where you can share membership-based content, courses, products, and discussions in one place is incredibly valuable.
It makes things more organized and easier for your members and allows you to create a central hub for your business where people can learn more about what you do and connect with others who are interested in the same things.
Not only can you discuss and share content on Mighty Networks, but you can also sell products and memberships, host events, and even create online courses—making it a one-stop shop for everything you need to build and grow your online business.
With sales & marketing tools that can aid digital growth, integrations, and detailed analytics, Mighty Networks has everything you need to take your business to the next level.
The best thing might be that if you're familiar with social media platforms, you'll feel right at home with Mighty Networks since the platform has a similar interface, look and feel.
Mighty Networks Features
Setting up your Mighty Network portal is quick and easy and can be quickly done from the platform's intuitive dashboard.
From here, you can add an overview of your business, create custom branding, and start building your content and courses.
The following are some of the critical features that Mighty Networks offers:
Events: Not much brings a community of people together like events, and Mighty Networks makes it easy to host both online and offline events within your community. You can use the platform to create a global community committed to a cause, promote your events, sell tickets, and even facilitate discussion before and after the event takes place.
Online courses: If you sell any digital marketing products, Mighty Networks is an excellent option since it makes it easy to host and sell your lessons directly from the online community platform. You can also use the built-in payment processing to take care of everything from start to finish and even offer memberships for ongoing access to your courses.
Branding: Mighty Networks gives you complete control over the branding of your community, allowing you to upload a custom logo, change the color scheme, and add your domain name. This is valuable if you want to create a central hub for all of your online content and business activities.
Polls: Polls are a great way to engage your community and get feedback on important topics. Mighty Networks is very user-friendly when creating polls and seeing results in real-time.
Membership types: With free and paid membership options (more on this later), Mighty Networks allows you to grow your community in the way that makes the most sense for your business.
With all these community features, you can focus on building your business without worrying about the technical aspects.
Online Community Builder

One of the main features of this platform is that it helps you build an online community.
With Mighty Networks, you can discuss various topics, share content, and even host events—all in one place through the community builder.
When it comes to ease of use, the community builder makes light work of using the right features to sell courses and memberships and promote and manage events.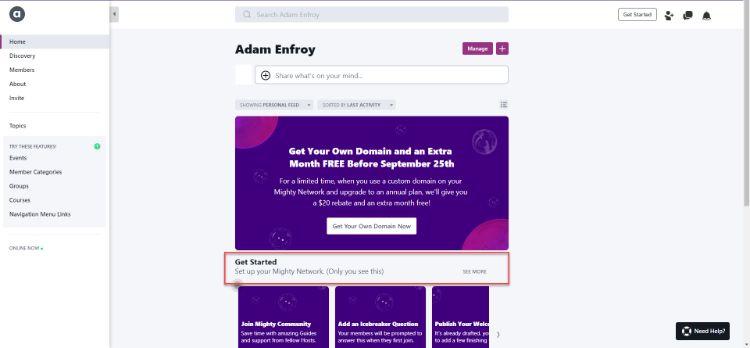 In fact, with the community's privacy settings, you can control who has access to the community and what they can see.
This is valuable if you want to create a private community for customers or clients or a public community for people interested in your industry.
There are also the 'Paid' and 'Secret' options, two more privacy settings that Mighty Networks offers.
Community Branding
From using a custom domain to ensuring that your brand colors are on-point, Mighty Networks gives you complete control over your community's branding.
This is valuable if you want to create a central hub for all of your online content and business activities.
It also ensures that your community looks and feels like an extension of your brand, which can help you attract more members and keep them engaged.
Creating Quick Posts
Have something you want to share with the community but don't want to start a discussion?
You can use Mighty Networks' 'Quick Post' feature to do just that.
This is valuable whether you have a blog post, video, or another piece of content that you want to share without starting a full-blown discussion.
With an interface similar to any social networking platform you might already be using, sending this type of messaging to your audience is easy.
Polls And Quizzes
These are great for engaging your community and getting feedback on important topics.
With this in mind, Mighty Networks makes it easy to create such elements and see their results in real-time.
With options that include "hot/cold", "percentage," and "multiple choice" types of pools, you can get the feedback you need to make the right decisions about your business.
Polls and quizzes are also valuable for gauging the community's opinion on various topics.
This can be helpful in various situations – whether you're considering a change in the general direction of your company to creating a new feature and wanting to get feedback from the people who will be affected by it, polls and quizzes can help you do it all.
Mighty Networks Events

Whether it's virtual or in-person events, Mighty Networks has you covered.
The platform includes everything you need to promote, sell tickets, and manage your events.
This is valuable if you want to grow your business by hosting meetings and connecting with people in person or online.
With Mighty Networks, you can focus on the event and leave the technical details to the platform.
With Zapier\ integration with some of the most popular online event platforms, including Zoom, Google Meet, and GoToMeeting, you can easily host your events without hassle – all directly from within Mighty Networks.
Member Contribution
You can also set the level of member contribution for your own network.
This is valuable if you want to give members the ability to contribute content or if you want to keep the community focused on discussions through moderators.

You can also decide who can create which type of content and where it will appear in the community.
This is helpful if you want to keep the quality of the content high or if you want to ensure that all members have a chance to be heard.
After a post has been created, members can then apply various filters to find the most relevant content for their interests.
Mighty Networks Groups
Have you ever wanted to create a subgroup within a larger community?
Mighty Networks has you covered with their 'Groups' feature.
Groups are perfect for discussions, collaboration, and networking.
They're also a great way to keep the community organized and focused on specific topics.
Mighty Networks Notification
Users can choose the type of notifications they want and how often they wish to receive them.
Notifications can be sent via email marketing or through the Mighty Networks app.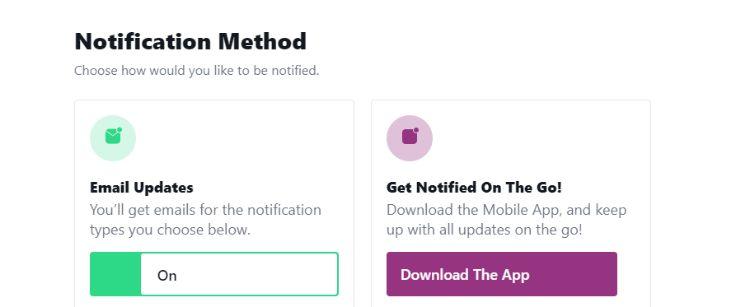 With Android and iOS devices, users can download the app and receive push notifications whenever there's an activity in their network.
This is a great way to ensure that users are kept in the loop and don't miss out on important information or announcements.
Also, those that don't want to be bothered with constant notifications can quickly turn them off with a few clicks.
Online Course Creator

Want to share your knowledge with the world?
Mighty Networks makes it easy to create and sell online courses directly from your community.
This is valuable if you want to generate passive income or build a course around a specific topic.
With Mighty Networks, you can design your courses, set prices, and sell them directly to your community members.
All you need to get started is to provide the Course Title, Tagline, and Description, then use the provided drag and drop builder to flash out the course modules, units, and lessons.
Once you're happy with your course, you can set the price and sell it to your community members.
With multiple sections and lessons that make up a course, Mighty Networks makes it easy to deliver your content and ensure that your students are learning.
There's also the lesson editor within each course, where you can input HTML, text, images, and even embed external video and audio.
Note that you can't host videos directly on MIghtyNetworks, which can feel like a deal breaker if you plan to use video as your primary teaching medium.
Fortunately, there are workarounds, like using a tool like Loom, YouTube, or others to host your videos externally and then embedding them into the lesson editor.
Also, bulk uploading and cloud import aren't currently available, so you'll need to add each lesson one at a time.
While this can be tedious, it does ensure that each lesson is formatted correctly and easy to follow for your students.
On the plus side, there are various options for how you can release content to your students.
You can choose to release it all at once or drip-feed content over some time.
This is helpful if you want to keep your students engaged and ensure they have enough time to consume the material.
These content-release options can be applied to individual lessons or whole sections, so you can control how your students access the content.
While the course creation module isn't the most advanced feature of this platform, for those that don't need a lot of bells and whistles, this functionality provides a great way to create and sell courses directly to your community members.
Membership Sites
Want to run a subscription-based model?
Mighty Networks can help you do that with its Membership Sites feature.
This feature offers exclusive content, access to groups and forums, and discounts on courses and events.
This is a great way to generate passive income from your community and simultaneously engage them.
Whether you want to build brand loyalty or create a more exclusive experience, Mighty Networks' Membership Sites feature is a great way to do it.
User Experience
The first thing one notices when logging into Mighty Networks is the personalized activity feed on the Dashboard.
As a member, this is a great way to keep track of what's happening in your community and get inspired by other members' content.
The user interface is clean and straightforward, which makes it easy to navigate and find what you're looking for.
Users can find activities near them and search for specific items that are more interesting to them than others.
They can search based on filters related to their last activity, the time something was created, the type of activity, and more.
The user interface is one of the most impressive features of Mighty Networks and makes it easy to use – even for those who are not tech-savvy.
Mighty Networks Sales and Marketing
Structuring your members' payments to suit your business goals is essential for any online platform, and Mighty Networks doesn't disappoint in this area.
Whether you charge for online courses, the community, or even subgroups within the main community, you decide how to price your content.
This fine level of control means that you can easily monetize your community in the way that makes the most sense for your business.
For example, you could have the central community free to join but then, charge for access to specific courses or events.
You could also bundle your community with online courses and membership to other platforms to create a comprehensive learning experience for your students.
With either a one-time fee or a recurring subscription, Mighty Networks makes it easy to take payments and manage your members' access.
The possibilities are endless, and it's up to you to decide what will work best for your business.
Selling Your Courses/Memberships
You can also build specific landing pages to sell your courses or promote your Mighty Network.
To facilitate this, Mighty Networks provides you with a customizable website builder that you can use to ultimately drive traffic to your site.
This is a great way to increase conversion rates and get more people signing up for your courses or joining your community.
The landing page builder is easy to use and comes with templates you can choose from.
If you want more control over the design of your landing page, you can use their built-in editor to customize your page's look and feel.
It's important not to expect much in terms of design and variations in such landing pages, as with the simplicity involved in the building process, the ability to adjust the look and feel of your landing pages is somewhat limited.
Mighty Networks Reporting
With a dedicated analytics area, Mighty Networks provides users with detailed insights into the performance of their community.
This is a valuable tool for understanding what's working well and what needs to be improved.
Knowing how your community is performing also helps you make decisions about growing and improving it.
Key metrics that can be tracked include growth, engagement, content performance, and member activity.
You can also see individual members' activities to get an idea of your most active members.
This is valuable information as it can help you target specific members that are doing well, and this knowledge can be used for various promotions or other marketing activities.
Speaking of specific users, you can have admin-level users that moderate your Mighty Network.
This ensures your community building process is safe and free from spam or inappropriate content.
There is also the ability to set network hosts, which have access to multiple settings and features.
This is perfect for those that want to give someone else the ability to help manage and grow their Mighty Network.
Mighty Networks Integrations
Native integrations with Mighty Networks are pretty limited.
While Slack is an integrated community component that allows hosts and network moderators to send notifications to a Slack channel, that's about it in terms of native integrations.
Instead, you'll have to set up Zapier integration if you want to connect Mighty Networks to other mobile apps and platforms.
While it lacks in terms of the native integrations of some of its competitors, using Zapier more than solves this problem.
With Zapier, you can connect Mighty Networks to hundreds of different apps, which gives you a lot of flexibility in how you use and grow your community.
There is also the possibility of automating tasks associated with running a Mighty Network, which can save you a lot of time in the long run.
Mighty Networks Customer Support
A dedicated support team can help you with any problems or issues using Mighty Networks.
Depending on your chosen pricing plan, you'll have access to different levels of support.
For example, email is the only way to contact the support team on the lowest-priced plan, while a live chat widget can be used to connect with someone on the highest-priced program.
The customer support team is very responsive and helpful in solving any problems.
Also, if your members have issues using Mighty Networks, they can contact support directly from within the platform.
This is an excellent feature as it means you don't have to deal with support requests.
There's also a Mighty Networks knowledge base, mostly eliminating the need for contact support.
The knowledge base contains a wealth of information on how to use Mighty Networks and troubleshoot any problems.
Overall, the customer support offered by Mighty Networks is excellent and should be able to solve any problems you (or your members) have using the platform.
Mighty Networks Pricing
While there is no free plan, there is a 14-day trial of The Business Plan.
Three paid plans are then available:
The Community Plan: $33 per month
The Business Plan: $99 per month
The Mighty Pro: Contact them for pricing
The following are some of the premium features on offer on the Mighty Pro plan:
Your own iOS & Android apps allow users to access your Mighty Network on their mobile devices through a branded app.
Branded app notifications let you send push notifications to your users through the app, so they don't miss any important announcements or updates.
Exclusive Mighty Pro web branding allows you to add your logo and color scheme to your Mighty Network website.
Strategy and migration services and support give you access to Mighty Network's team of experts to help move your community to Mighty Networks.
Online e-learning course module lets you create and sell online courses on your Mighty Network.
Live cohort course creation allows you to create live online courses perfect for workshops, retreats, and other events.
Analytics and member data give you insights into how your Mighty Network is being used and who your members are.
Mighty Networks Review – FAQ
What Are Mighty Hosts?
This is a community for Hosts on Premium Plans.
This is a place where you can connect with other Mighty Hosts, get announcements about product changes that will impact your Mighty Network, and much more.
Can You Live Stream On Mighty Networks?
Yes, you can instantly broadcast a live video inside of your Mighty Network or by using the "Live Video" link in Events and schedule your live.
Can Mighty Networks Be Used As An LMS?
Yes, Mighty Networks can be used to teach any type of content.
However, the features on offer are more geared towards online courses and membership sites than traditional e-learning platforms.
That being said, Mighty Networks does offer a few key features that make it a suitable platform for this as well.
What Are The Transaction Fees On Mighty Networks?
When members buy through payment processors like Stripe, there is usually a fee anywhere between 2.5% and 5%.
This is not a Mighty Network fee but rather a fee that all payment processors charge.
Wrap Up
As a small business, building a community can be a great way to grow your business or pursue a passion project.
Mighty Networks is one of the best platforms available for doing that.
With its easy-to-use tools and features, Mighty Networks makes it easy to create and grow an audience around any topic or interest.
While the online course builder module is the weakest part of the platform, building an all-around, engaged community is where Mighty Networks shines.
Have you ever used Mighty Networks?
What did you think of it?
Let me know in the comments below.
Further reading on AdamEnfroy.com: The right membership site platform can be the difference between a thriving business and a floundering one.
Knowing which features are most important to you and your members is critical to choosing the right platform.
On the other hand, if you're more interested in an online course platform that also offers membership site features, you should check out the following reviews:
Disclosure: I may receive affiliate compensation for some of the links below at no cost to you if you decide to purchase a paid plan. You can read our affiliate disclosure in our privacy policy. This site is not intending to provide financial advice. This is for entertainment only.
---
Last Updated on February 20, 2023 by Adam Enfroy