8 Best Enterprise CRM Software of 2023 (Ranked & Reviewed)
Choosing the right enterprise CRM software is vitally important to your business. From establishing your customer relationships to managing your sales pipeline, the best enterprise CRM software can help you meet your goals. In this guide, I ranked and reviewed the 8 best enterprise CRM software, along with my top 5 choices, so that you can pick the best one for you.

HubSpot
HubSpot Sales Hub Enterprise provides the power and capabilities to meet the needs of companies of every size. It empowers companies to manage their entire CRM needs within one platform.

Nutshell
Nutshell streamlines the sales process by providing a powerful organization system for tracking leads from entry to finish. Users can customize activities and communications for each lead depending on their stage in the buying journey.
---
We're reader-supported. When you buy through links on our site, we may earn an affiliate commission.
Do you use CRM software? Make sure it's the right one for your enterprise.
The right CRM unifies your customer experience activities from lead generation to relationship management. It helps keep your teams and departments on the same page.
Large organizations need that even more – but they need it at a scale that small business solutions aren't prepared to meet.
You wouldn't use small business solutions for your accounting or web presence.
Don't use them to manage your customer and client relationships, either.
In an economy where the CRM market worldwide has a valuation of $66.5 billion, using the right enterprise software for your business leads to success.
Read on to discover what an enterprise CRM really is, what CRM features to look for when choosing a CRM, and an overview of the eight best enterprise CRM solutions for 2023.
What is an Enterprise CRM?
CRM stands for customer relationship management. It's a system or software that helps a company manage its interactions with customers and leads. CRMs store customer information and their history of interactions with the company, then analyze that data to provide insights on the company's customer base to help relationships grow.
An enterprise CRM is a more all-encompassing software that consolidates customer-related workflows on a single platform. For example, whereas a CRM may collect a customer's purchase history, an enterprise CRM may also track all marketing campaigns that were used to nurture the lead.
Such data lets you track things like customer acquisition costs, which can help you decrease operating expenses or fine-tune your marketing strategy.
Enterprise solutions are typically geared toward larger companies, but you don't have to be an "enterprise-level" organization to take advantage of powerful tools like HubSpot Sales Hub Enterprise.
Whichever route you choose, it's more important to get the functionality that you need to grow your business.
Speaking of which…
What Makes a Good Enterprise CRM Software?
Any good enterprise CRM helps you get a "360-view" of your customer base as well as individual customers so that you can make informed, data-driven decisions that optimize revenue while improving customer satisfaction and loyalty.
According to Gartner, good CRM vendors will emphasize functionality in four critical segments within a company: sales, marketing, customer service, and ecommerce. To satisfy these, look for:
Contact management. All good CRMs will collect and organize customer data. Many will also have advanced search features that handle both structured and unstructured data.
Customer opportunity and lead management. Tracking customer interactions and the lead lifecycle helps you understand your demographics, nurture your leads, and identify the customers most likely to convert.
Reports and analytics tools. Real-time data helps you track your workflow while providing you with the information you need to make your future campaigns more effective.
Customizable screens. Tailor your workspace to the needs of your company and team.
Mobile apps. Let staff access your CRM on their mobile device even while they're working remotely or in the field. All good CRMs support both iOS and Android.
Sales and marketing functions. Automate sales and marketing-related functions, including order management and forecasting.
Integrations. Your enterprise CRM should easily integrate with your tech stack, including things like your data visualization tools or your ecommerce platform.
Cloud hosting. Eliminate the inaccessibility and inefficiencies of on-premise CRM solutions, while improving data security.
Customer support. You'll have questions, so make sure your provider is there to answer them.
Proposal Creation: Creating a proposal in an enterprise CRM can be especially helpful if you want to track how much you're spending on a project or client. By integrating with the right proposal software, you can create quotes, track time and expenses, and even accept payments.
What is the Best Enterprise CRM?
A CRM solution can be exactly what you need to organize and accelerate your business processes. Both small businesses and their larger counterparts will appreciate the power of enterprise CRM solutions.
Here are eight of the best enterprise CRM software to consider.
Enterprise Price: $120/user per month (starts at 10 users)
What's Great About HubSpot Sales Hub: HubSpot Sales Hub Enterprise is a powerful, comprehensive CRM platform capable of meeting the business needs of companies of every size. Like the rest of the HubSpot ecosystem, it blends ease of use with power, putting everything under one roof so you can get right to work.
Sales Hubs integrates with HubSpot CRM, a free cloud-based CRM, giving you additional features on top of what you already get with the Growth Platform. With its enterprise-level solution, you'll also get:
Plenty of email marketing features. From automated email sequences to customizable templates, your marketing team can generate and nurture leads from one email marketing tool.
Sales process support. From marketing automation to pipeline management, predictive lead scoring, and scheduling software, you'll have it all in one place.
Syncing with your other platforms.
Customizable reporting. Loads of metrics exist out there, and you can customize the function for high-level or granular details to your heart's content.
Sales playbooks. From scripts to beautifully formatted proposals, make sure your teams have at their fingertips everything they need to close a sale.
Workflow extensions. Need to move lots of data? Do it flawlessly with extensions that support whatever tools you use.
Dedicated customer success manager. Get help whenever and wherever you need with a dedicated HubSpot expert who understands your business and its goals.
Get started with HubSpot Sales Hub Enterprise by talking with their sales team.
Enterprise Price: $16 per user per month, 14-day free trial

What's Great About NutshellCRM: Nutshell makes it easy for sales teams to track their leads from start to finish with its streamlined pipeline organization system.
You can add new leads manually or import them from other platforms.
Depending on where each lead is in their buying journey, you can customize your list of activities.
Having this information stored in one place will make it easier for you to keep track of communications and progress with every lead.
Nutshell's extensive network offers access to hundreds of integrations, including Slack, Mailchimp, Zapier, Office 365 Outlook, and more.
Each integration gives users access to even more features that can help them save time managing their pipelines as well as collaborate more effectively with other team members.
With Nutshell's analytics dashboard feature, you can easily monitor key performance indicators (KPIs) such as the number of calls made by each salesperson or the total number of conversions per month—all in real-time.
It also offers advantages, including:
Sales quotas and activity quotas show how individual salespeople are performing.
Personal email sequences to keep leads engaged.
Embeddable web forms to capture lead information and contact details.
Drag-and-drop pipeline board and interactive lead map for visualizing sales progress.
Activity reminders to ensure that tasks are not overlooked.
Customizable single sales pipeline to manage all activities related to a particular deal.
Get started with Nutshell.
Enterprise Price: $99 per month, 14-day free trial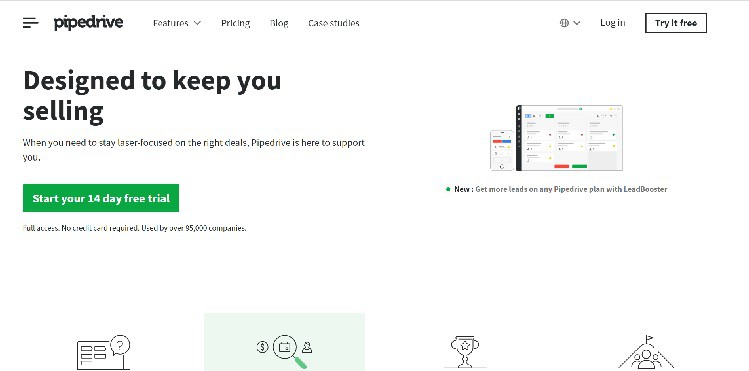 What's Great About Pipedrive: Pipedrive is known for emphasizing user experience, making its interface as intuitive and easy to use as possible. While the tool seems mainly geared toward small businesses, many enterprises like it because it's so lightweight and it plays nicely with a whole universe of other systems and applications.
While the enterprise version doesn't add any additional features to the package, it does require that you bring a team of at least 10. You'll also get custom onboarding that includes help with migration, plus custom support for your CRM. Otherwise, Pipedrive offers a few features that we think make it worth consideration:
Commitment to data privacy and security. In addition to robust data security measures, Pipedrive is GDPR-compliant.
Open API. You can build out the exact features you need to get the most out of the platform.
150+ integrations. Use Pipedrive's internal integration interface, or work with Zapier to set it up perfectly.
Advanced deal and contact visibility settings. Fully control what's visible to your team and staff at a glance.
Get started with Pipedrive.

Enterprise Price: $79/user per month, 21-day free trial
What's Great About Freshworks CRM: Freshworks CRM is part of the Freshsales suite of business applications that includes helpdesk software and IT service management software. Intended to become a part of that suite, Freshworks CRM is a little more focused than other enterprise CRM solutions available.
However, that's not at all to say that you'll be limited by the more specialized functionality. In fact, Freshworks offers a few features hard to come by in other solutions. We like the:
Multi-currency and multi-language support. Enterprise businesses that operate in more than one country will appreciate these features.
Freshcaller integration. Make calls between your teams with one click, while auto-logging the information.
Auto-profile enrichment. Get contact information, social media, and public information loaded automatically.
Dedicated account manager. Enterprises get a dedicated Freshsales CRM staff member who will help you with any needs you might have.
Get started with Freshworks CRM for free.
Enterprise Price: $150/user per month ($1500/month for 10 users), 30-day free trial

What's Great About Salesforce: Largely considered the industry leader for CRM software, Salesforce boasts a feature-rich platform that's designed to be mobile-first. That means your marketing team will have access to everything they need always, no matter where they are.
Salesforce shines in its ability to align sales, marketing, and customer service teams all under one roof where you have full visibility into customer communications and lifecycle. It also offers advantages including:
Enhanced data security. From client authentication to data encryption, Salesforce keeps your most sensitive company information safe while keeping it accessible.
Artificial intelligence-powered business insights. Salesforce Einstein provides tailored, specific recommendations for your business. It also uses machine learning with rules-based lead scoring and unlimited custom apps.
Territory management. Salesforce is unique among enterprise CRM solutions in its ability to offer territory management to keep better track of your sales teams.
Highly customizable reports. Get customized, real-time insights that use segments, cross-channel data, and more – in exactly the way that suits you.
For a more detailed look at these top tools, check out my comparison of HubSpot vs. Salesforce.
Enterprise Price: $35/user per month, 15-day free trial
What's Great About Zoho CRM: Zoho CRM powers more than 150,000 businesses in 180 countries. They're adept at meeting the needs of businesses of every size, and enterprise-level companies will find their offerings scale perfectly. They'll even help you migrate to their platform, ensuring a seamless transition between your old system and theirs.
Zoho CRM offers four levels of subscriptions – it's actually possible to get more than what the enterprise-level plan offers. If you want enhanced feature limits and advanced business intelligence, you can get the Ultimate bundle. Otherwise, the enterprise plan comes with:
Customer journey-based sales features. Improve your sales process with automated lead scoring, deal management, cross-channel communication, and more.
Artificial intelligence-powered insights. Take advantage of the AI-powered assistant for predictive sales and automatic assignment of tasks or leads to the most suited reps.
Sales meetings and presentations. Hold meetings and presentations directly from the CRM platform, letting your team connect and collaborate virtually.
Extensive customization. Set up your CRM for your team's specific needs with a whole library of features plus extensive software integrations and third-party apps.
Get started with Zoho.
Enterprise Price: Contact for quote.
What's Great About Oracle CRM On Demand: Oracle CRM On Demand is one of the oldest CRM solutions available, and it remains a popular choice for enterprise businesses. Many companies turn to it because of its simple setup process and enterprise-grade security that keeps your business data safe.
Oracle CRM On Demand may not feature as snazzy of a dashboard as some of the newer software solutions, but it's got several features that make it worth serious consideration. Overall, I love their:
Sales productivity features. You'll have access to lead qualification, sales automation, real-time reporting, progressive profiling, and everything else your marketing teams.
Inbound and outbound campaigns. An array of lead management and lead nurturing tools help you capture, convert, and retain leads.
Industry-specific features. Oracle CRM On Demand is popular among the life sciences, high technology, manufacturing, and wealth management industries due to features like revenue tracking built specifically for each.
Extensive integrations. Build out your ecosystem with Oracle's Web Services On Demand API, and provide users with rapid access to contextual data from other systems to streamline productivity across the board.
Enterprise Price: Varies by department, contact for quote.
What's Great About Microsoft Dynamics 365: Similar to the HubSpot Growth Platform, Microsoft Dynamics 365 is a set of business applications organized by function and department. Rather than providing you with an overwhelming suite of tools, you can choose from marketing, customer insights, sales, finance, operations, and more. They've combined enterprise resource planning and CRM into one cloud-based tool.
Microsoft Dynamics 365 was built to be much more than just a CRM, but it still takes a customer-focused approach. You'll find innovative technology that amplifies your sales effectiveness, including:
Marketing support. From marketing automation to lead scoring, and A/B testing, you'll get all of the features of a "traditional" CRM.
Conversational intelligence technology. Replicate successful sales calls to identify what worked and why, then use those insights to coach your staff.
Mixed reality product visualizer. Showcase a 3-D digital clone of your product in the work environment as if it's actually there.
Seamless integration with Office 365. If you already use Outlook or Microsoft 365, then Microsoft Dynamics 365 will expand your universe even further.
Enterprise Price: $85/user per month (10 user minimum)
What's Great About SugarCRM: This ecosystem of tools leverages artificial intelligence to deliver a whole host of services. We're particularly fond of the:
Predictive insights. Get AI-powered predictive insights that are proven to optimize your sales pipeline and performance.
Customer experience management tools. Study and elevate your customer experience with data, and a suite of CRM tools to keep tabs on everything.
Flexible customization. Whether you need to automate unique sales processes or take control over your system's details, you'll be able to with comprehensive APIs.
On-premise SaaS options. Want to keep your data inside the building? No problem. SugarCRM offers on-premise deployment tailored to your business.
Key Takeaways.
The right enterprise CRM solutions will help your company grow.
CRM software helps unify workflows across departments – that's critical in enterprise-level companies where sales, marketing, and other departments need to stay aligned.
While there are plenty of CRMs out there that can offer such cohesion to businesses, an enterprise CRM system can provide them to large companies at the desired scale.
We've covered eight fantastic enterprise CRM platforms, highlighting the unique features of each. So, go forth and identify your business needs – then take your pick. With any of them, you'll be in good hands and positioned to make your business thrive.
Disclosure: I may receive affiliate compensation for some of the links below at no cost to you if you decide to purchase a paid plan. You can read our affiliate disclosure in our privacy policy. This site is not intending to provide financial advice. This is for entertainment only.
---
Last Updated on March 13, 2023 by Adam Enfroy