As an ecommerce store owner, your job doesn't end after a customer orders a product – that's when it begins. You have to take care of order fulfillment services, including shipping, inventory management, packaging, handling returns, and more.
You must ensure your product delivery is handled properly so that you receive good reviews, repeat business, and improve your bottom line. This can be a complicated process involving proper management and coordination of the shipment and transportation of your goods to the end consumer.
The good news? With the rise of Amazon, two-day shipping expectations, and more ecommerce platforms on the market, there are a huge amount of order fulfillment providers.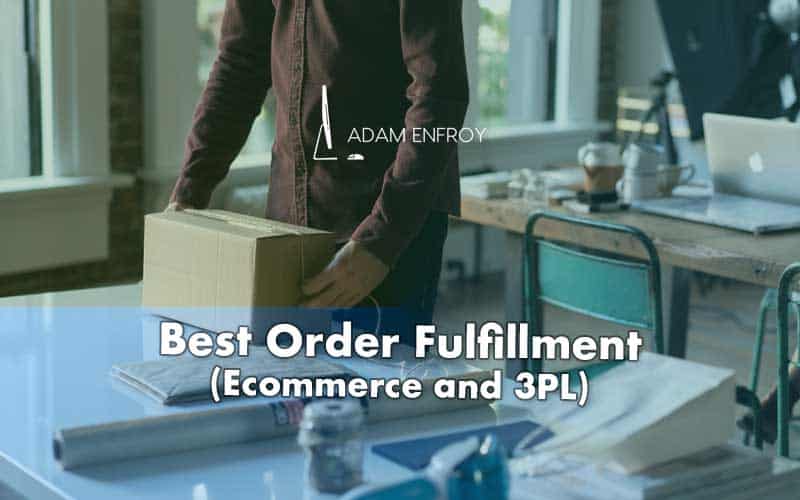 This fast-growing market is made up of companies that handle the logistics and other essential supply chain management tasks so that you can focus on marketing and running your ecommerce business. Some of their functions include inventory management, shipping, freight, ecommerce order fulfillment, import/export, and more.
To help you narrow your search, I reviewed and evaluated some of the most prominent order fulfillment services to help with your ecommerce 3PL needs.
Disclaimer: This article contains affiliate links that I receive a small commission for at no cost to you. However, these are merely the tools I fully recommend when it comes to fulfillment services. You can read my full affiliate disclosure in my privacy policy in the footer.
Let's get started.
What Are the Best Fulfillment Services?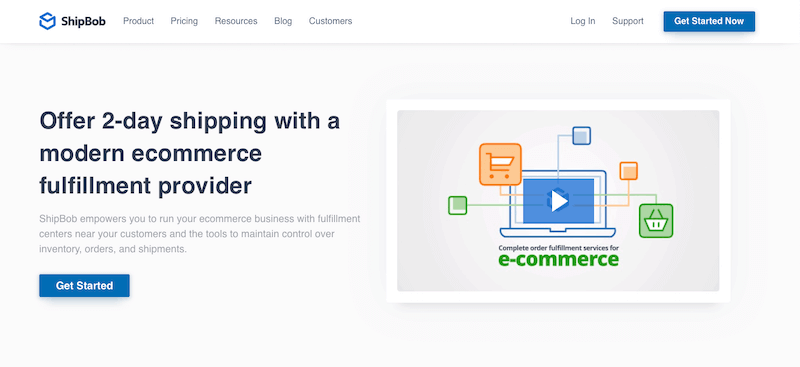 Ranked number 99 on the 2019 Inc. 5000 list of fastest-growing privately held companies in the US, ShipBob is one of the most credible 3PL logistics companies on this list.
It is known to offer the best shipping and logistics solutions at the best price. ShipBob works with both small and medium-sized businesses with its distributed fulfillment centers. The best thing about this 3PL is that it offers complete transparency in operations.
It also provides proper integration to eCommerce software tools such as WooCommerce, Shopify, Magento, BigCommerce, and many more.
Moreover, ShipBob provides high shipping speed, which is imperative for delivering the best results to the customers. Affordable shipping helps small-sized businesses drive more sales and profit.
On top of that, ShipBob allows businesses to efficiently manage their orders, inventory, SKUs, and customer handling online without any additional cost. The businesses also get their own dedicated account manager that helps them to handle all processes effectively and at the same time promotes the growth of their businesses.
ShipBob keeps full control of the warehouse management, inventory software management, and final fulfillment.
FULFILLMENT SERVICES & FEES:
Setup – The onboarding and setup are entirely free.
Receiving – ShipBob charges $35 for check-in, unpack, and inbound stock receipt.
Inbound Shipping – Inbound shipping is available at discount rates.
Returns – Returns are processed by ShipBob at free of cost.
Inventory Storage – Inventory storage prices start at $5 per month.
KEY FEATURES:
1. Inventory Management
Inventory management helps businesses get an exact idea regarding the quantity of stock they need on hand. ShipBob uses 3PL software that gives proper insight into the right distribution of inventory. For instance, you can set reorder notification in the inventory system that allows you to meet the demand of the customers accurately.
2. Order Management
The order management system of ShipBob keeps proper track of the entire shipment cycle from A to Z. From processing to delivery and the return of the products, every detail is efficiently managed.
Every order you get is processed in the order management system so that orders can be assigned to the right fulfillment centers. Plus, a proper order tracking number is accredited by the system so that both the customers and the businesses can track the progress of the order.
3. Advanced Filters
ShipBob also allows businesses to find what they need precisely for the fulfillment process and allows them to save in-depth reports. The users can filter all orders by setting order date, center location, tracking number, and country.
4. Advanced Reporting
With ShipBob's advanced and in-depth reporting, you can keep track of the entire logistics process. The reports include expense breakdowns, revenue, sales of orders, sales by channels, peak fulfillment hours, forecast revenue, and much more. On top of that, advanced filters help users make better inventory decisions.
5. Returns Management
Return management is vital to any business, as many customers today make the buying decision based on the return facility. And this is where ShipBob hits the sweet spot. It facilitates automated returns processing so that the businesses can process the returns without any hassle. A return link is sent to the website of a business that helps in generating a return shipping label by customers.
HOW TO GET STARTED:
You can easily get in touch with the staff of the company by filling out a form directly on their website.
After filling the form, a company representative will get in touch with you to discuss your requirements, sales, and goals. Next, after discerning your shipping needs, they will provide you with a pricing quote.
IN A NUTSHELL:
Without any doubt, ShipBob is one of, if not the, best 3rd party logistics companies available out there. It is mostly famous for delivering the best results while maintaining lower shipping costs, which has earned it a legion of satisfied customers.
If you want to take your business to an international level, then you can definitely rely on ShipBob as your order fulfillment company.
Get started with Shipbob.
FreightPros is one of the best freight broker companies and is especially suited for small businesses. Along with affordable prices, you also get excellent customer service, which is a great addition to any 3PL services.
FreightPros gives you access to impressive services, including, LTL (less than load), a wide array of tools that allow you to manage your shipment directly, rail carriers, and so forth.
BEST FOR:
1. Small Enterprises
FreightPros is perfect for small enterprises because it not only processes large shipments but can also ship as low as one shipment with proper management. The small level shipping is the main feature of this company that no other big 3PL offers.
2. Quickly Catching Delivery Issues
FreightPro carefully tracks the entire shipment process, from pickup right down to the final delivery. This allows them to immediately catch and resolve any delivery issues, saving plenty of time and cost.
3. Personalized Messaging
This 3PL company also actively leaves personalized messages to the users regarding the shipment and guides them through the entire process at the minimum cost. However, the company does not establish any dedicated account relationships like other top companies.
4. Correct Pricing Suggestions
The company adds freight carriers according to the needs of the users and gives them accurate suggestions keeping cheaper options in mind for their shipment.
5. Handles Process on Behalf of Client
FreightPros uses terrific online tools for the completion of the whole process, including booking, quoting, and tracking of the goods. The company also handles the entire management process on behalf of their clients.
KEY FEATURES:
1. Impressive Customer Service
FreightPros offers the best customer service by helping users with account setup, booking tools, and freight management.
2. Cost and Value
FreightPros has kept its cost system transparent so that the clients always know where their money is going. They help cover all the basics with proper freight classes and load insurance.
3. Ideal for startups
FreightPros is perfect for startups and helps a new business owner manage things easily, even if he/she does not know much about the system.
4. Simple Onboarding
FreightPros accurately guides the users with all the features of the dashboard, such as key designations, booking, scheduling, and other various tools.
5. Management Systems
You can easily manage freight rate booking, tracking, and shopping in one single dashboard. Furthermore, the system handles all tracking and booking preferences accurately.
The main benefit of using FreightPros services is that you can get many saving opportunities with its flat-rate freight classification. As a result, freight spend can be reduced to a great extent.
USER REVIEWS:
Overall, the users seem to be satisfied with FreightPros' services, customer support, pricing, and more. However, there are some negative reviews, especially related to the carrier. Reviews also suggest that the delivery is quick, and these are little or no issues when it comes to transportation.
HOW TO GET STARTED:
You can learn about the company by requesting a quote on their website. You just need to fill out a quick form.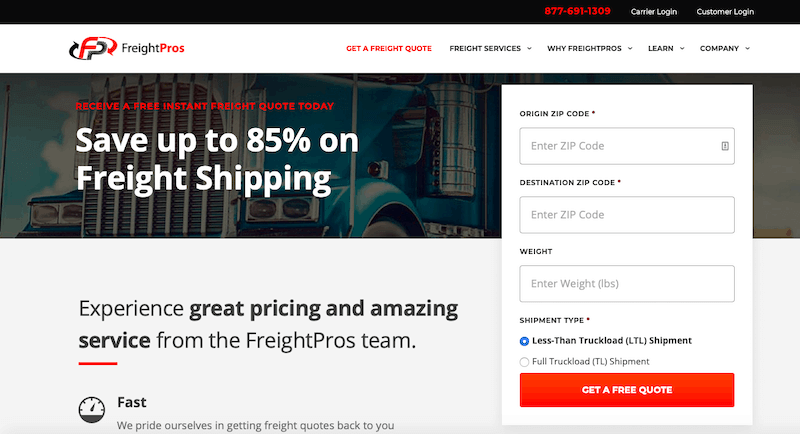 They will give you a proper quote after analyzing your requirements. Also, make sure to understand the complete process and working of the company properly before hiring them to avoid any future complications.
IN A NUTSHELL:
FreightPros is best-known for offering the best services to small businesses and excelling in everything they do. The management team of the company is exceedingly competent and know how to handle things. Furthermore, the company effectively manages every single detail of the process and offers the best pricing options.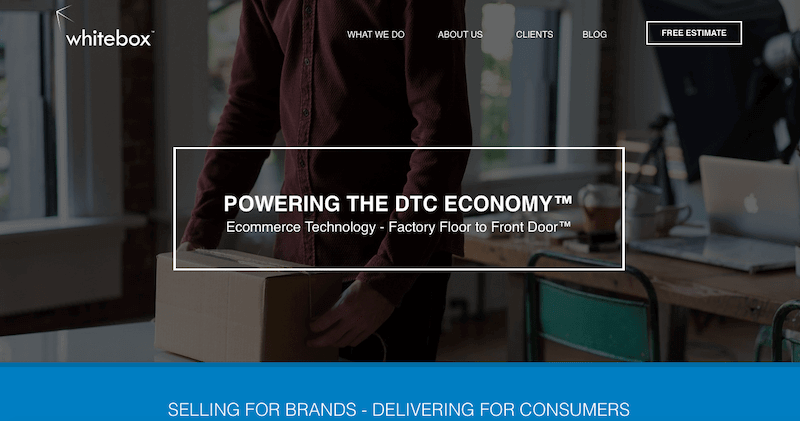 WhiteBox is one of the top ecommerce companies that combines all fulfillment solutions, shipping services, and storage fees under a single platform. If you want to scale up your business and make it reach a more global level, then WhiteBox is an excellent option for your business. The fact that it eliminates unnecessary costs makes it a perfect choice for small and medium-sized enterprises.
However, unlike other 3rd party logistics companies, WhiteBox charges an initial onboarding fee of $3,000. The fulfillment cost is 10% of total sales.
BEST FOR:
1. Beginner Level Businesses
This 3PL company is suitable for both beginner-level businesses and for those also who struggle to handle the volume of the shipment.
2. Managing Client's Tasks on his Behalf
WhiteBox offers the best customer experience by managing all the tasks efficiently on behalf of companies. This results in mitigating your in-house work and freeing up your precious time. You can now get more time for other essential tasks.
See what makes WhiteBox stands out from its counterparts:
KEY FEATURES:
1. Forecasting & Predictions
WhiteBox accurately predicts product demand in the market, which allows the users to collect stock accurately.
2. Quality Control & Kitting
WhiteBox creates a quality control document to keep a close eye on the shipment. This allows them to prepare a checklist to make sure everything is perfect and ready to be sold online.
3. Stock Maintenance
WhiteBox conducts a regular stock review to maintain the right inventory level without charging any additional fee.
4. SEO-friendly Product Listings
WhiteBox creates product listing according to SEO on eBay, Amazon, and other similar platforms.
5. Market Products and Improve Listings
WhiteBox also helps in optimizing the product listing so that the ranking of the brand and its products get improved for organic search.
USER REVIEWS:
WhiteBox has 5-star ratings, which makes it a promising option. From Facebook to Amazon seller ratings, it has received amazing reviews.
HOW TO GET STARTED:
You can get a free estimate by filling out some quick details about your products in the form on the website.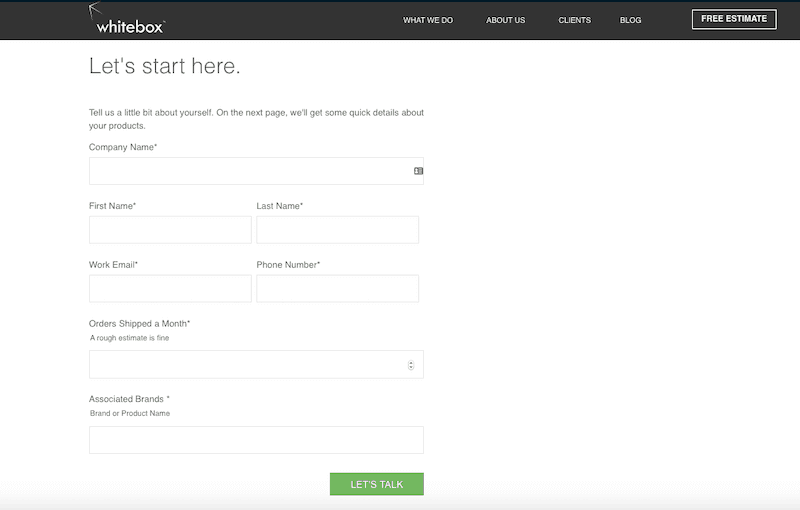 There is no hidden cost and no strings attached.
IN A NUTSHELL:
This 3PL company not only manages sales and products on Amazon but at the same time, also helps you build your brand identity. Also, WhiteBox's call center and customer support team correctly handle customer queries across all channels so the user hardly ever gets stuck amid the process.
FedEx Fulfillment offers an eCommerce solution that includes reverse logistics, packaging, warehousing, storage, and order fulfillment. FedEx is a subsidiary of FedEx Corp. that handles the inventory of many small and medium-sized businesses by integrating various selling channels.
BEST FOR:
Owing to its complete visibility and transparent policies related to inventory, products, and tracking process, FedEx Fulfillment is best for fast-growing small businesses. Furthermore, the company empowers small businesses effortlessly with the help of its trained staff. The customer support that they offer also makes a significant difference in every process, including fulfilling, warehousing, outsourced logistics, and transportation.
The best part is that they assign a dedicated professional to help out small business owners to understand and complete the entire process efficiently. Plus, you can also store your products at FedEx's warehouses, which ends up saving you a lot of time.
FULFILLMENT SERVICES & FEES:
Setup – onboarding and account setup is available at free of cost.
Receiving – FedEx offers free shipping when shipments standards are followed.
Inbound Shipping – FedEx offers parcel and freight rates at substantial discount rates.
Returns – The return and quality check charges are $2.50 per order.
Inventory Storage – FedEx charges 19 cents per cubic foot for inventory storage.
Pick and Pack – The pick and pack charges are 40 cents per unit, including filling material and shipping box.
KEY FEATURES:
Some of the main features of the FedEx Fulfillment are:
1. Ecommerce Integration
FedEx Fulfillment offers integrations with all prominent ecommerce platforms, including BigCommerce, Shopify, WooCommerce, and more.
2. Customization
FedEx offers easy customization of packaging and value-added services that helps the small businesses to fulfill customer expectations.
3. Providing tracking and visibility in one place
It allows you to utilize a single platform to aggregate all orders and inventory, which makes it simple to analyze and improve your fulfillment network.
4. Tracking and Visibility Together
Businesses can quickly analyze and improve their complete process and network by managing orders and inventory at a single network.
5. Expertise Consulting
FedEx Fulfillment also provides expert logistics professionals that can help small businesses enhance the quality of their process.
USER REVIEWS:
There are not many reviews about the company online, but the handful of them suggest that the company offers a positive experience to its clients with reviews similar to USPS.
HOW TO GET STARTED:
It is very straightforward and simple to use their services, and you can learn about the process by simply filling out a short form.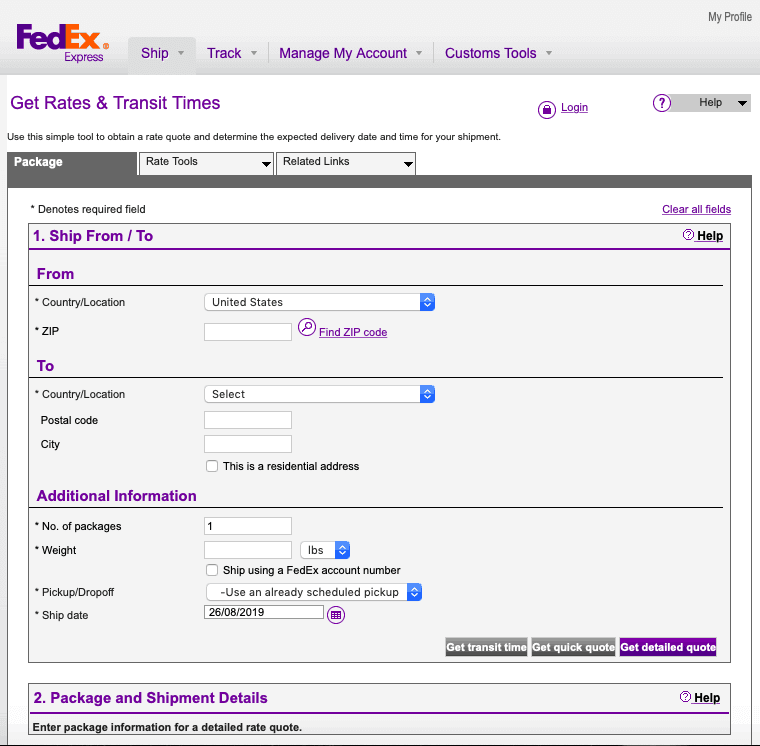 After submitting the form, a staff member will get in touch with you to give you a quick quote and explain the entire process.
IN A NUTSHELL:
FedEx Fulfillment is one of the best 3PL companies out there because it not only offers complete logistic solutions but also allows you to build your logistics network quickly. It has an extensive and robust network that helps small business owners to expand their network quickly and easily.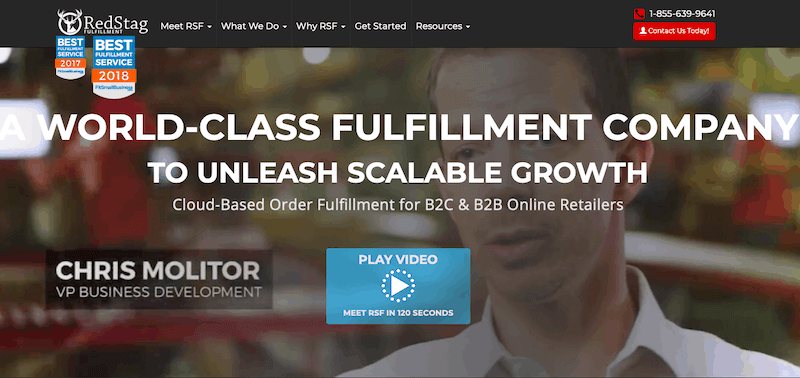 RedStag Fulfilment offers custom-fit business solutions along with a complete guarantee in terms of order accuracy, timely delivery, and inventory accuracy. This fulfillment company uses cloud-based software that makes it different from its counterparts.
BEST FOR:
1. Avoiding Fraud.
RedStag has become a top-notch 3PL logistics company due to its impressive accuracy rates. The company uses video-monitoring of the complete process, which effectively eliminates any chances of mistakes at any level. The company has positioned its cameras at every station that reduces the maximum chances of theft and fraud. Plus, the affordable rates have also made it a highly preferable 3PL company by many businesses.
2. Order Management.
The orders are managed by the RedStag Fulfillment users through a pallet delivery system that includes storage, packing, shipping, and return. Pallet delivery is a mode of packaging transportation from warehouses.
3. Guaranteed Order Completion.
RedStag offers businesses a complete same-day shipping guarantee and order completion. The company delivers goods before 5 p.m. every day.
4. Product Fulfillment Network.
RedStag has a network of various warehouses that helps them eliminate unnecessary cost. They also offer special discounts that substantially improves the customers' satisfaction.
KEY FEATURES:
1. Exceptional Customer Service
RedStag's customer service is one of the best in the industry as the company offers specialized stock storage. On top of that, they provide proper tracking and assistance to their clients over the phone.
2. Cost and Value
Owing to several specialized services, RedStag is considerably more expensive than other 3PL companies such as FedEx and ShipBob.
3. Scalability
RedStag works efficiently with startups as well as companies that process hundreds of orders daily.
4. Simple Onboarding
Using RedStag is very easy as it offers a 30-day free trial for its users so that they can understand the system clearly.
5. Integrations
RedStag allows integration with your online store and helps you with your order management, shopping carts, and seller marketplaces.
6. Management Systems
RedStag offers a highly effective management system that allows users to monitor their order status, stock level, and success rate.
OTHER PROMINENT FEATURES:
Security:
24-hour security
Secure servers
Backup generators
Metal detectors
Access control system
Professional warehouses
Off-site data servers
Technology:
Cart integrations
Unique barcodes
Video monitoring
Order tracking
Inventory tracking
RSF OPS interface
Monitor processes
USER REVIEWS:
The maximum online reviews show positive results. Most of the reviews suggest that the company offers a 100% on-time fulfillment, proper packaging, and shipping.
HOW TO GET STARTED:
You can get detailed information about the company by visiting its official website. The process is the same as other companies; you just need to fill out a short form to receive a personalized quote.
What makes it stand out from other 3PL companies is the fact that it offers a 30-day free trial that allows you to test out its services before shelling out big bucks.
You just need to follow some quick steps to get started:
IN A NUTSHELL:
RedStag is the best for fragile, big, and expensive goods that need advanced customization before shipment. Due to its collaboration with FedEx, RedStag is capable of shipping oversized products at good discounts.
Plus, the company keeps the proper video-track of the warehouses for providing quality control solutions. This proper quality control by RedStag helps in minimizing the packaging mistakes, theft, and any shipping damage.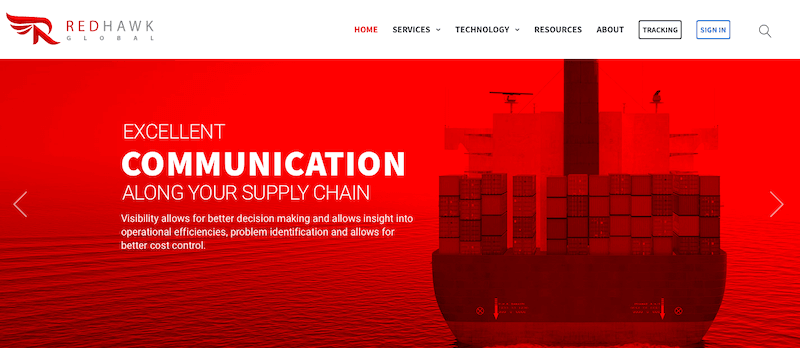 Red Hawk Global provides freight, warehousing, shipping, and distribution of goods of various small businesses across the US, Mexico, and Canada.
It is the most-suitable order fulfillment service for freight distribution and is perfect for small businesses. In fact, most of their clients consist of small companies only.
RedHawk gives tough competition to FreightPros in terms of point-to-point shipping. On top of that, RedHawk Global deals with both regional carriers and nationwide carriers for shipment, which is very common in the freight industry.
BEST FOR:
RedHawk Global is most suited for freight shipping, storage, and distribution for small businesses within the North American region, i.e., USA, Canada, and Mexico.
Furthermore, if you are running a startup and your shipment includes a small number of pallets each month, then RedHawk is best for you. The company meets all the freight needs of startups, even for low shipments.
KEY FEATURES:
1. Multiple Services.
RedHawk Global provides various services, including less than load, cross-border import/export, intermodal rail containers, flatbed, and more. Moreover, the company provides other amazing 3PL services such as sort-store-repack, freight storage, and distribution.
2. Account Representative.
RedHawk Global offers excellent customer service by assigning expert account representatives to help clients manage their accounts.
3. Fees & Service Cost.
Just like FreightPros, RedHawk Global's prices are based on freight shipping and service rates. This 3PL charges fees per shipment according to the number of goods and the clients have to pay for the shipment when they bid on a shipment. Red Hawk's service cost is highly affordable and low as compared to other top broker services.
When compared to FreightPros $250.93 shipment cost, RedHawk also offers competitive pricing at $275.59 per shipment.
The company even offers good class-based discounts and volume freight on large accounts. On top of that, you also get 3PL advanced management services, freight project oversight, warehousing, and distribution. The quotes are offered according to specific needs.
4. Easy-to-Use Booking Portal.
The freight booking portal is entirely free of cost and extremely simple to use. Plus, dedicated account representatives also help out the clients to understand the portal booking and tracking system. They usually guide users to set up an account quickly for free.
5. Real-Time Rates.
Like FreightPros, RedHawk Global shows real-time freight rates along with several eCommerce platform integrations. The real-time rates are shown for all orders shipping in your checkout.
6. Easy Management.
RedHawk Global allows small shippers to track shipments, rate shop, book, and oversee freight movement with its eFreightLine portal. Plus, the dedicated account representatives manage schedule tasks and day-to-day bookings.
RedHawk Global staff and expert professionals also help their clients grab various discounts and cost-saving opportunities. They help clients lower their freight class by guiding them to identify correct National Motor Freight Classification tariff (NMFC) numbers.
USER REVIEWS:
It is always quite hard to pinpoint the online reviews of any large and multi-tier 3PL logistics provider. Most of the time, the users operating on an enterprise-scale do not review companies frequently. However, small entrepreneurs usually tend to leave their reviews.
Going by online reviews on credible platforms such as Google Reviews and Uship, RedHawk's eFrightLine portal seems to be a big hit among small businesses.
HOW TO GET STARTED:
You can check out the official website of RedHawk Global to get the contact information of the company. Next, you can discuss your freight shipping and other shipping requirements with their representatives to get a customized quote. You can also open an account on eFreightLine without any charges.
IN A NUTSHELL:
Similar to FreightPros, RedHawk Global is mainly focused on fright rather than ecommerce fulfillment shipping. It is also worthy to note that they only offer services in the North American region, i.e., the US, Canada, and Mexico. Aside from this, its eFreight Portal, which allows you to get instant quotes, is a great hit among its users.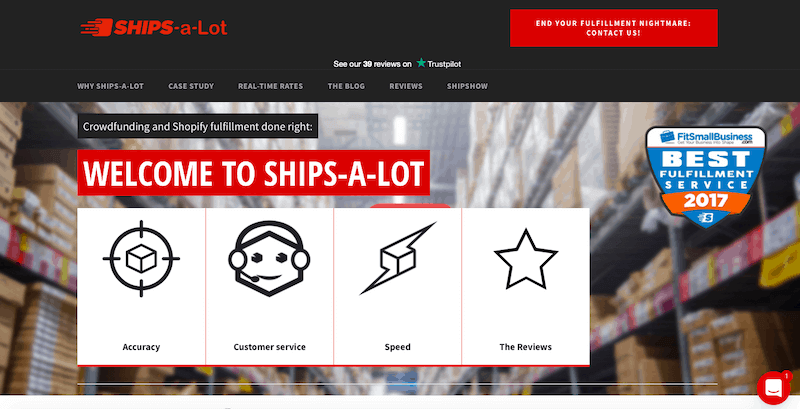 Ship-a-lot is an eCommerce fulfillment company that is mainly focused on companies with high-volume transactions. Moreover, it is a standalone fulfillment company that has rapidly gained high growth in the market. Some of its key features include crowdfunding fulfillment, warehouse services, discounted rates, and more.
BEST FOR:
1. Small Items.
The maximum clients of Ship-a lot are retailers who have their own eCommerce stores. All those retailers mostly sell small, lightweight, and easy-to-transport items. Moreover, the company offers integration with popular ecommerce platforms like Shopify, eBay, and BigCommerce. It also handles sales on platforms like Amazon.
2. Flexible Price.
The cost of the process and services are fixed depending upon the number of products that need to be shipped. A company representative will get in touch with you to properly communicate the right price. Various factors involved in setting up the prices include the packaging material, storage space, and many more.
However, there is no information about the price at the official company website. But it has a shipping rate calculator that calculates the price after analyzing various factors involved in the shipping of the items.
3. Quick & On-time Delivery.
Ship-a-lot penalizes itself if it fails to meet the delivery expectations of the clients. Thus, the company provides a guarantee that your product will be shipped within 24 hours from the warehouse. However, if the company fails to do so, then it pays $20 for each delayed delivery.
4. Warehouses with Cameras.
This 3PL company works with small operators rather than sticking with large warehouses. The company keeps the proper track of all products and ensures their adequate safety and packaging of the products by monitoring them with cameras. Moreover, shipments are tracked with the help of carriers' reports after they leave the warehouse.
KEY FEATURES:
1. User-Friendly Dashboard.
The maximum number of Ships-a-Lot clients use Shopify to monitor sales. Therefore, the company has made a straightforward user interface that includes some basic features. The dashboard shows complete data related to orders, late orders, and orders that are on hold.
2. Inventory Reports.
It shows various categories, including inventory, reports, purchase orders, shipping, and many more on the top of the menu bar. You can see all orders, customers' names, emails, and other essential data in a spreadsheet.
3. Customer Support.
Thanks to its third party support solution, Ship-a-Lot offers excellent customer support with its third party support solution. It usually helps out clients through emails and 24/7 live chats.
USER REVIEWS:
Most of the online reviews of Ship-a-Lot are positive, and customers have really appreciated their quick response time. Many customers have recommended this company and suggested that it is a reliable 3PL company. The support team always answers customer queries on time, and the company also provides excellent shipping and packaging.
HOW TO GET STARTED:
You can get in touch with the Ship-a-Lot team by visiting their official website. You can evaluate the cost according to your service requirements using the real-time rate calculator.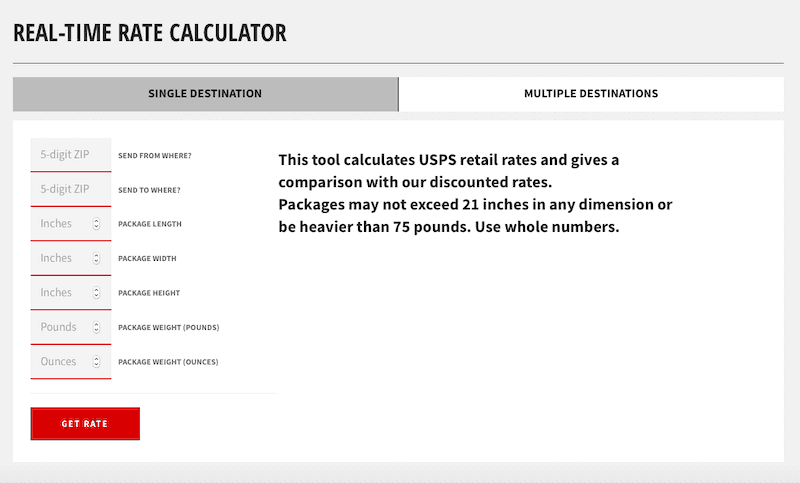 They also provide live chat and 24/7 support via phone call to hook you up with their services. Even after you get on-board with their company, their customer service is quick and handles clients' queries efficiently.
IN A NUTSHELL:
Ship-a-lot is the only 3PL company on this list that has only a single warehouse and still delivers the best results. This company is best for startups and online stores that use Shopify.
What Are the Different Types of 3PL (Third-Party Logistics) Companies?
1. Transportation Based.
Transportation based third-party logistics companies handle all the processes related to the shipment of the products. Transportation 3PL companies also handle export taxes and duties.
2. Warehouse and Distribution Based.
Warehouse and distribution based 3PL companies deal with storage, shipment, and return of the products. Smart freight services, like those provided by Rakuten Super Logistics, are a mainstay and cover everything from pick up to drop off.
3. Financial and Information Base.
Financial and information based 3PL companies handle freight auditing, inventory management, booking, tracking, and accounting tasks of the companies.
What Are the Benefits of Using an Order Fulfillment Service?
1. Business Growth.
With a 3PL company in tow, you have a team of experts who can manage your logistics and warehousing. This allows you to focus on more impending tasks related to your business. Plus, once your business starts to grow, you will already have all the resources you need.
2. Expand Your Business to International Level.
You can quickly take your business to an international level as 3PL logistics ship products at a faster pace. Logistics providers also help in boosting the market reach of the business to the local market of various countries.
3. Low Warehouse Expenses.
With 3PL companies, you do not need to invest additional money on warehouses and their management. Almost every 3PL logistics company comes with its own warehouses and staff.
What Should You Look for When Choosing an Ecommerce Fulfillment Company?
Almost every business dealing in any type of shipping could use the help of ecommerce fulfillment companies. These companies lessen your burden and eliminate extra cost by handling various essential tasks such as freight, shipping, order fulfillment, and import/export.
While big logistics companies offer all these services, companies that are considerably less prominent provides only core logistic services. Companies focusing on core services mostly deal with small businesses.
I have evaluated different ecommerce fulfillment companies keeping the following points in mind:
1. Range of Services Offered.
A maximum number of 3PL logistics that deal with small enterprises mainly focus on either freight or order fulfillment. However, FedEx Fulfillment offers a perfect combination of both.
2. Cost Transparency.
Cost transparency is one of the vital factors in evaluating 3PL services as cost mostly varies according to shipping, company size, and different functions and processes. There must be no hidden fee in any process and service.
3. Scalability and Startups-Friendly.
3PL logistics companies must provide low order minimums to cater to small businesses and startups. Plus, 3PL companies also have to ensure that they meet every demand of the company to ensure proper scalability.
4. Easy Onboarding Process.
Small businesses tend to prefer an appropriate and preplanned onboarding process along with free account setup.
5. Customer Service.
Timely delivery and management of every task are highly crucial in the logistics business. The best companies offer instant support to the customers by assigning them with a personal account representative.
6. Proper Integration.
Accuracy and timeliness are highly important in any business. However, along with it, 3PL companies should offer connectivity with accounting, website, order management systems, and popular ecommerce platforms like WooCommerce, Amazon, Shopify, and more.
7. Management Dashboards.
The best ecommerce fulfillment companies always provide management systems to businesses. The management dashboard is necessary to pull reports and check the status of overseas operations.
Wrap-Up
Most of the big and small scale companies fail to manage their logistics in-house. Therefore, it is best to outsource your logistics and lower your shipping costs with one of the best order fulfillment services. If you want to scale up your ecommerce marketing and expand it globally, it's worth looking into hiring a fulfillment partner to lessen the burden on your warehouse team.
While all of the order fulfillment services mentioned in the article are impressive in their own right, before you select one for your store, make sure to see that the company is ideal for the type of products you are selling.
For instance, if you're selling subscription boxes and need extra precautions and tracking, then you should go for a 3PL company that provides different storage and warehouse facilities to cater specifically to your fulfillment needs.
With the rise of Amazon FBA, multichannel ecommerce, and two-day shipping expected from the east coast to the west coast, find an order fulfillment service that gives you order processing, pack services, and no long-term contracts.
Which one of these order fulfillment and 3PL companies suits your business the most? Share your feedback in the comments section below.
Further Reading on AdamEnfroy.com: Check out my reviews of the best ecommerce platforms to sell more online this year.
Last Updated on